October 10, 2017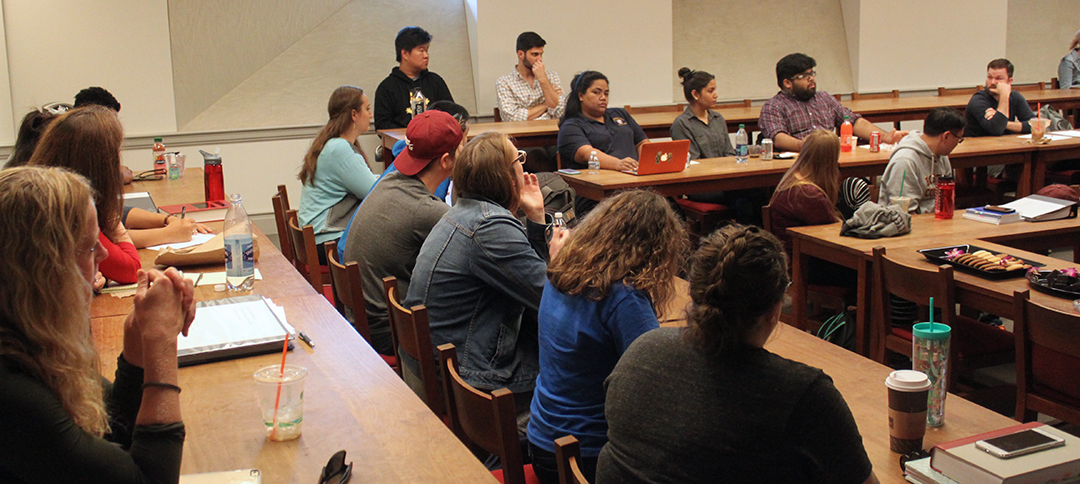 The Catholic University of America Columbus School of Law (CUA Law) hosted The Hot Topics Roundtable Luncheon entitled "The NFL & Charlottesville: The Right to Protest." The October 2 event, invited members of the law school community to share their thoughts about the events in a respectful atmosphere.

Guided by Evan Berlanti (2L) and Kwambina Coker (3L), the hour-long discussion encouraged students to ask questions, offer insights, and explore what they can do, as future lawyers, to deal with challenging issues. There were a variety of opinions expressed throughout the discussion dealing with the violence in Charlottesville, President Trump's response to the Charlottesville and NFL protests, the context of racism, and the notion of extreme polarization in the media.

"Many of us decided to attend CUA Law because of the community presence. When pressing events happen we need to be able to sit down and talk about it. We wanted to give the students an opportunity to discuss what is going on," Coker said.

One question that Coker posed the audience was: "Did you talk about the protests with someone of a different gender, race, or socioeconomic status than you?" Berlanti then asked the students their reaction to President Trump's response to the Charlottesville and NFL protests.

"The distinction I drew between the President's responses was that with regard to the NFL, President Trump ignored the fact that people were protesting something they disagree with in this country, and that on the Charlottesville side he was defending the rights of the protestors to, in fact, protest," one student said.

"I think in the current culture we live in is very individualistic. We should be thinking about how "we" can advance as a nation versus how can "I" advance. If we were able to get back to the idea of loving your neighbor it could change the conversation," another said student said.

The students were also asked: "What, as future legal practitioners, can we help to change this issue?"

"I think as future lawyers we need to shape the narrative and not let the media shape the narrative," one student said.

The discussion also focused on what an individual is permitted to do constitutionally versus what one should be doing morally. The audience agreed that having more communication and dialogue was a step in the right direction.

The Hot Topics Roundtable talks are part of an effort to help the CUA Law community come together from time to time to examine the law in the context of pressing social issues. This event was co-sponsored by the Dean of Students, the Black Law Students Association, and the Federalist Society.