October 04, 2017
CUA Law Professor Mary Leary testified before the House Judiciary Subcommittee on Oct. 3 regarding online sex trafficking and the need to amend the Communications Decency Act. CUA Law students Alex Mansfield (3L) and Robbie Cain (2L) accompanied her. Leary also spoke on an Oct. 2 Capitol Hill panel regarding the same topic. She was quoted in an Oct. 3 St. Louis Post-Dispatch article entitled "Wagner's crusade against online sex trafficking gets push - and pushback - from powerful quarters," on the same issue.
Wagner's crusade against online sex trafficking gets push - and pushback - from powerful quarters
From: St. Louis Post-Dispatch
Date: Oct. 3, 2017
By: Chuck Raasch
Rep. Ann Wagner's attack on illegal sex trafficking by trying to change federal law protecting internet sites that host others' speech has sparked intense legal debate, with the original author of the Communications Decency Act warning Tuesday of unintended legal chaos if Wagner is successful.

Her defenders say there is an urgent need to stop what one termed modern-day slavery, and that her bill is carefully written to protect "good actors" on the internet.

"This is a battle between good and evil," Wagner said Tuesday, right after shepherding a young woman, a victim of sex trafficking, into a private meeting with House Speaker Paul Ryan.

Wagner, R-Ballwin, is sponsor of legislation that would change Section 230 of the 1996 Communications Decency Act, which was passed at the dawn of the internet to fight online pornography.

Wagner's bill, and a similar one co-sponsored by Sen. Claire McCaskill, D-Mo., in the Senate, would add language that defines actions by so-called third-party hosts leading to illegal online sex trade that would not be protected under the CDA or the First Amendment.

Their efforts have split the powerful tech community, with giants like Google opposing it, and mega-tech companies like Oracle supporting it. Wagner's bill has an unusual coalition behind it, ranging from the left leaning National Organization for Women to the right-leaning Family Research Council.

Section 230 was written to provide protection for platforms hosting others' speech from being held liable for that speech. Online and e-commerce advocates give it great credit for expanding communications and commerce on the web.

Wagner's legislation, which has more than 150 co-sponsors, is primarily aimed at sites like Backpage, which has successfully used Section 230 protections to thwart prosecutions attempting to hold the site liable for sex trafficking.

Because prosecutors have been unable to win cases against Backpage under current interpretations of Section 230, Wagner said that the illegal online sex trade - including sites proliferating in the St. Louis area - has exploded.

The differences over how to combat sex trafficking were exposed here Tuesday, when a House Judiciary subcommittee heard from former California Rep. Chris Cox, a co-author of the 21-year-old Communications Decency Act.

Cox, a lawyer who now represents NetChoice, a trade association of e-commerce businesses and online consumers, said that law enforcement authorities already have legal tools to go after the illegal sex and child-trafficking. Section 230, which he co-wrote, "provides no immunity whatsoever to defendants in federal criminal cases," Cox argued.

Cox said that the best answer is not in new laws but in more vigorous prosecution under current ones. He said that federal prosecutors have not brought a single case under a 2015 law, also authored by Wagner, that criminalized the knowing distribution of advertising of sex acts outlawed under federal sex-trafficking laws.

. . .

Mary Leary, a law professor at the Catholic University's Columbus School of Law, said that "the problem we have is that a law crafted in 1996 dealing with 2017 problems is creating a struggle" between protecting good and bad actors on an internet that has exploded beyond the comprehensions of Cox and others who wrote the CDA two decades ago.

She said that Wagner's bill "does try to strike that balance" between protecting knowing purveyors of illegal sex trafficking, and those whose platforms may unknowingly and incidentally host illegal activity.

Wagner's bill "doesn't touch the immunity provision for good actors," Leary said. It seeks to define "knowing" and "reckless" activity that would be in violation of the Communications Decency Act, Leary said.

. . .
Click here to view the article.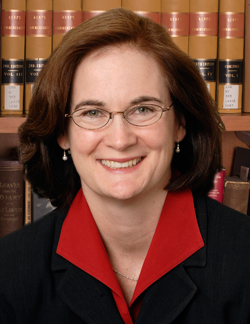 Professor Mary G. Leary's
Areas of Expertise
Criminal Law, Criminal Procedure, and Technology

Exploitation of children and women

Human Trafficking

For additional information about our professors' areas of speciality, see the Catholic University Experts page.