October 05, 2017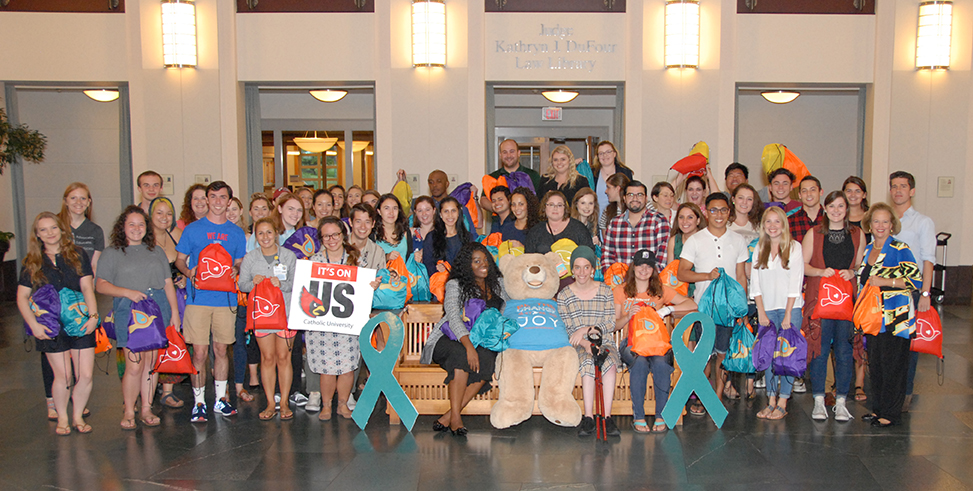 On September 21, 2017, CUA Law students dedicated their evening to assembling Fear 2 Freedom After Care Kits filled with clothes, toiletries, resource cards, "freedom bears," and personal notes for survivors of sexual assault. The Fear 2 Freedom Celebration Event, hosted by the global non-profit Fear 2 Freedom, aims to bring awareness and education about sexual assault, child abuse, domestic violence and sex trafficking on college campuses. The foundation partners hospitals and community organizations with universities to provide F2F Aftercare Kits for victims in their community.

CUA Law students Katlyn Dulles (2L), Sandra Sawan (2L), and Caitlin McClay (2L) organized the event as part of a service project with the help of the following organizations: Republican National Lawyers Association, Women's Law Caucus, Students For Public Interest Law, Democratic Law Student Society, Delta Theta Phi, Black Student Association, Phi Alpha Delta, Military and National Security Law Association, Federalist Society, Criminal Law Society, and Irish American Law Association.

"Last year the 1Ls were encouraged to find a service project to do at the Law School. The three of us decided that this event would be a good fit and reached out to Assistant Director of Student Life and Special Events Rachel Porter to get it started," Dulles said. "We really couldn't have done it without the receptiveness of the student body and the heightened interest of the student organizations to be involved in making this event as great as it was."

Rosemary Trible, founder and President of Fear 2 Freedom, was violently raped at gunpoint, shortly after hosting a television talk show on sexual assault. The rapist, who never was caught, had watched her show and was infuriated about the topic.

"Today, 1 in 5 women and 1 in 16 men will experience some type of sexual violence during their years in college. December 21, 1975, changed my life forever. Yet, I wouldn't be here today if that hadn't happened to me. Sometimes what is meant for evil can be used for good," Trible said.

Trible told the students they are making a difference in an individual's life who is perhaps more wounded than they have ever been before. "Even tonight, someone could be opening your kit and reading your note. What you are doing is so important."

CUA Law Professor Mary Leary provided a legal perspective regarding how sexual assault victims are treated differently in our legal system and in our society. Despite improvements in our country's sexual assault laws, we still suffer from what Leary refers to as a "de facto system of obstacles."

"How is it that we still have these staggering sexual assault numbers? We now have instead of a legal system of obstacles, a de facto system of obstacles. Sexual assault is an under reported crime, victims do not recognize what they have experienced as a sexual assault."

Leary urged students to attempt to identify with the victims of the sexual assault.

"All we are asking for is that sexual assault crimes be treated like every other crime. As a culture we can address the notion that non-consensual sexual contact is somehow okay. We need to condemn it. We need to condemn it when people publicly joke about it. We need to condemn it when people minimize it. When we need to condemn it when the offenders look a lot like us and when the victims do as well."

Despite the challenging process of organizing such an event, Dulles believes the effort was worth it. "We enjoyed seeing how many people came out, eager to be involved. It was very powerful to hear Rosemary's personal experience and motivation for starting the non-profit. Between her strength and Professor Leary's prosecutorial angle, the event was a major success, and we owe it all to those who attended and helped out," she said.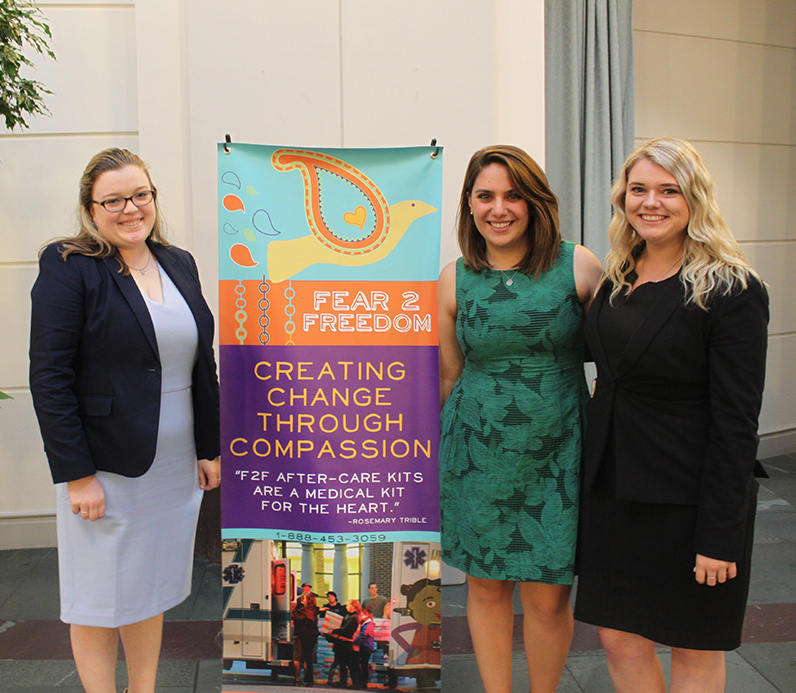 (L to R: Caitlin McClay, Sandra Sawan, and Katlyn Dulles)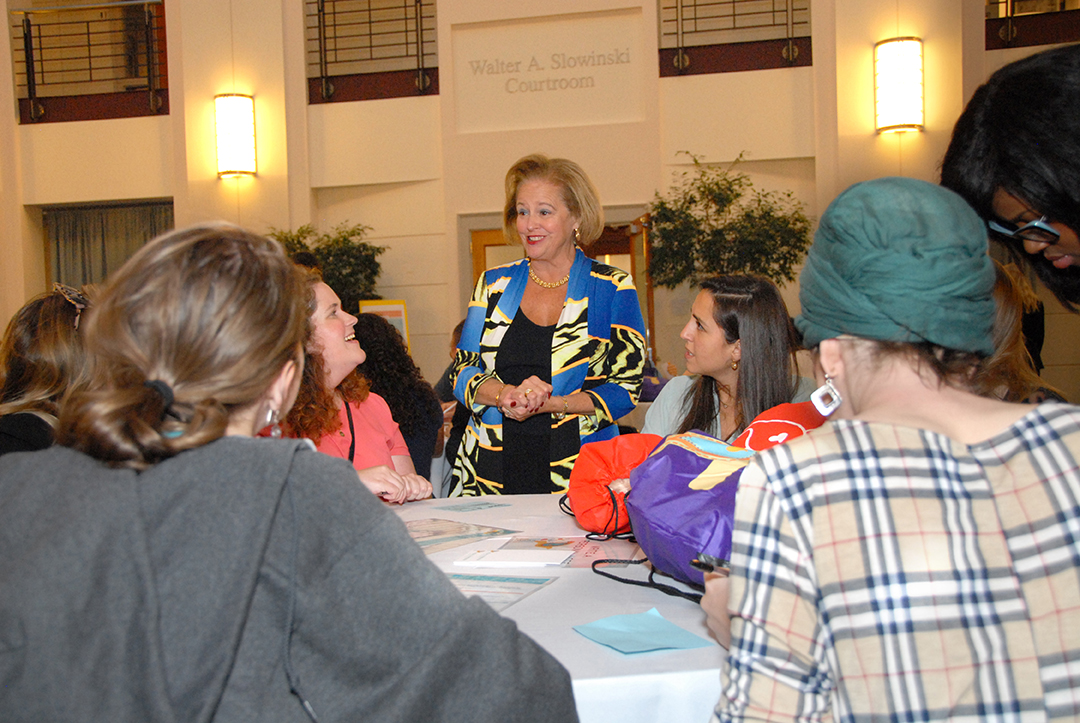 (Rosemary Trible (center)
talking with students)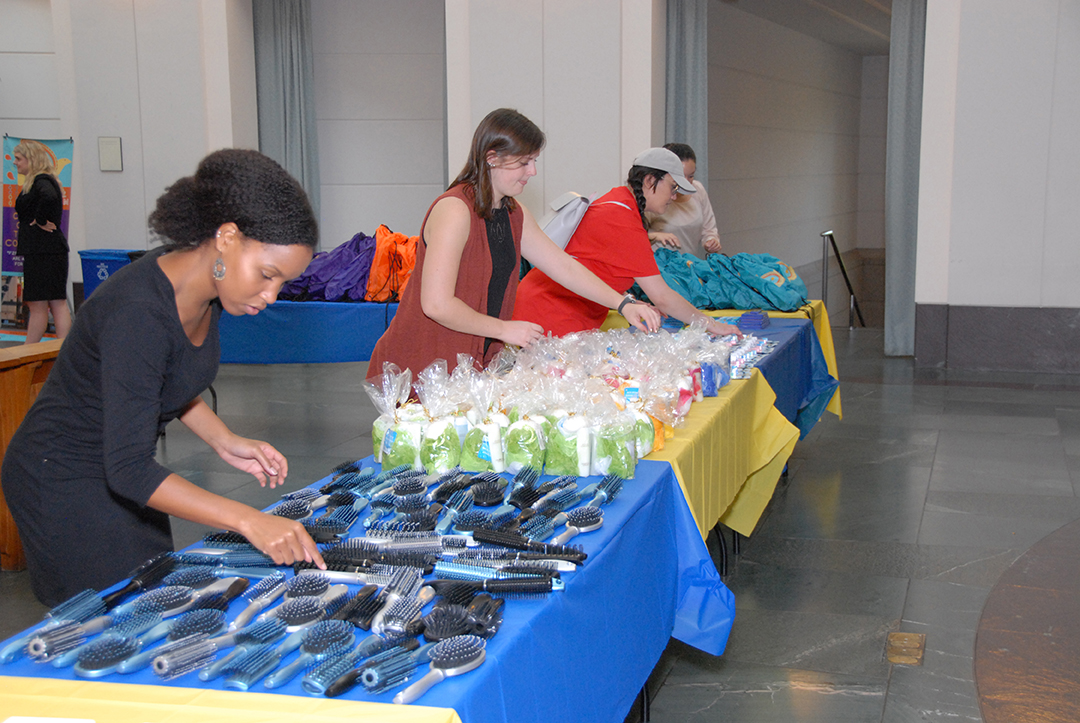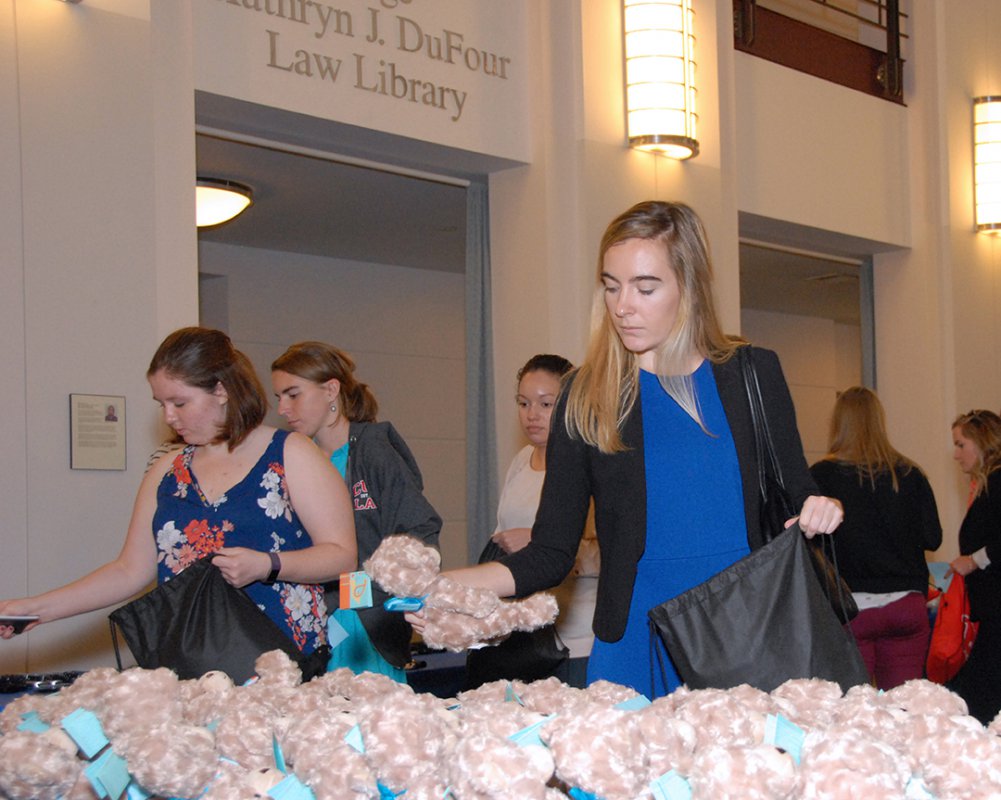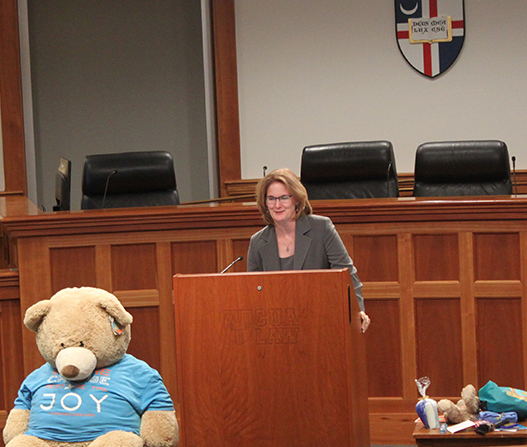 (Professor Mary Leary
addressing students)