July 27, 2017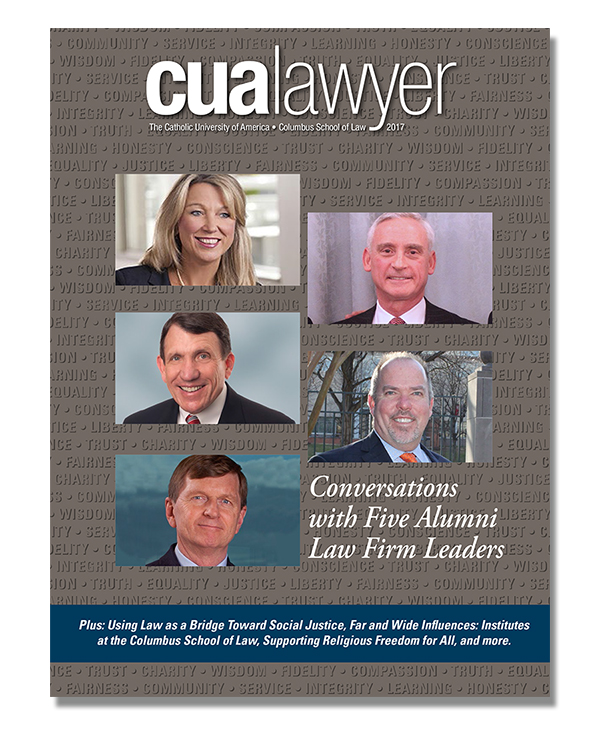 The 2017 edition of CUA Lawyer magazine is now available online. This year we want to share with you what our accomplished alumni and faculty are doing to promote social justice.

Our CUA Lawyer feature article profiles several members of the CUA Law community (Mark V. Holden '88, Professor Cara H. Drinan, and Professor Suzette M. Malveaux) who have stepped forward to address the social justice challenges of our time. Their profiles exemplify the qualities that set the CUA Law community apart.

More than 12,500 individuals have earned degrees from CUA Law since its founding 120 years ago, with many of those graduates becoming top leaders in their fields. We were proud to be able to sit down with several CUA Law firm leaders -Thomas J. Bender Jr. '77, Mitchell S. Ettinger '83, Alice Fisher '92, and Patrick D. McPherson '95 to discuss their career paths, greatest challenges, and favorite memories from CUA Law.

We also point to our practical training by noting that CUA Law Institutes and Special Programs allow students to pursue a personalized, specially focused legal education in the article "Far and Wide Influences: CUA Law Institutes." The educators behind our four institutes and special programs are proud of the generations of lawyers whose skills, careers, and lives they have shaped.

Additional sections of CUA Lawyer include: alumni news, faculty news, notable events, and others.
Click here
to access
CUA Lawyer.