May 31, 2017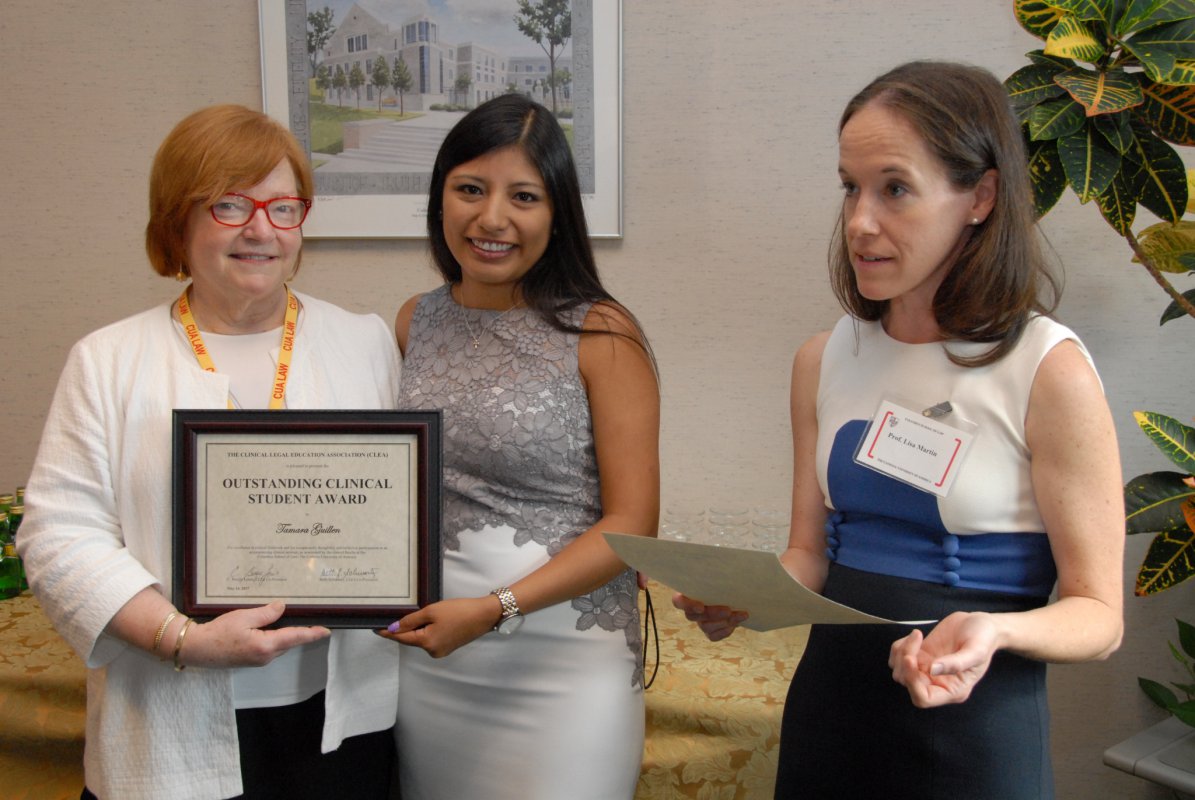 On the morning of Commencement the Columbus Community Legal Services (CCLS) held its annual breakfast reception, a Celebration of Learning Through Serving, in honor of the CCLS class of 2017 graduates.
During the breakfast, Tamara Guillen was presented with the Clinical Legal Education Association 2017 Award. The award, created by the Clinical Legal Education Association (CLEA), honors one law student at each law school who has excelled in a clinical course and who has demonstrated high quality representation of clinical clients. The full-time clinical faculty, who are members of CLEA, are asked to nominate a single nominee from their law school.

"Tamara has been an integral member of the Families and the Law Clinic ("FALC") of the Columbus School of Law, The Catholic University of America ("CUA") since January, 2016. In all aspects of her casework, studies, and contributions to the clinical program as a whole, Tamara has exceeded our expectations and set a new standard of excellence.
Tamara's work in the Families and the Law Clinic has required her to master several different complex areas of law in a short period of time. She has approached each new legal issue with gusto and proved adept at locating governing laws and interpretive guidance, identifying ambiguities and gaps in her knowledge, and effectively researching to ensure that she has full information to inform her reasoning and advice. During class sessions, Tamara demonstrated thorough preparation and provided thoughtful, valuable contributions to class discussions, simulations, and case rounds.

Tamara is an absolute pleasure to work with. She has built strong relationships with her clients, which have proved critical as she has sometimes had to deliver disappointing news and counsel them about high stakes decisions. She has handled such conversations in a manner both direct and sensitive, which has further increased the esteem and trust of her clients. Tamara exhibits the utmost professionalism, initiative, and integrity, and is also a kind, respectful, personable, and extraordinarily positive colleague. Tamara constantly challenges herself and motivates her colleagues to do more by her example. Tamara has become a go-to mentor for new clinic students and a backbone of support for the clinic's administrative office. In short, she has become an essential part of our team," the CCLS staff said.