April 25, 2017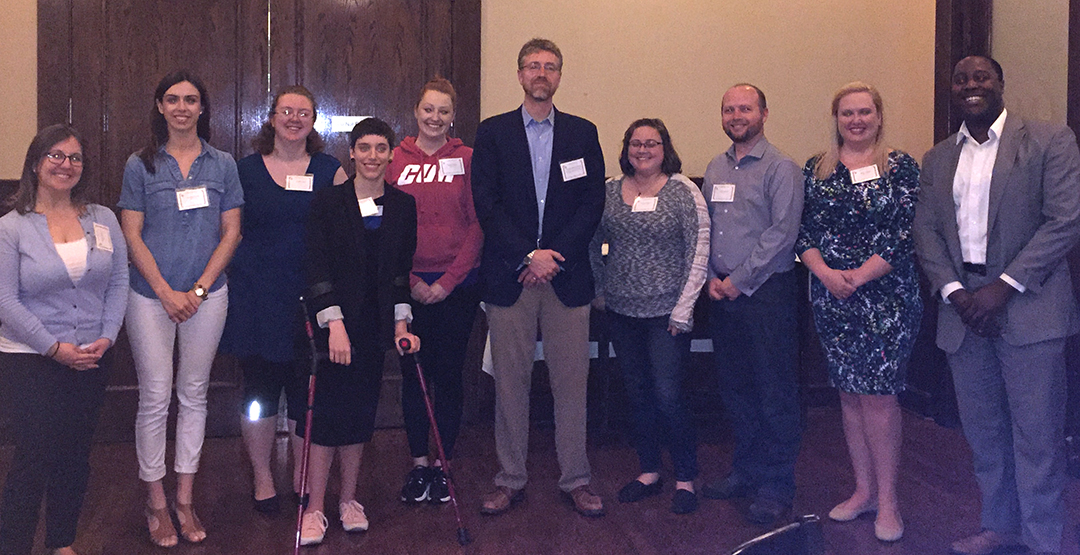 On Sunday, April 23th, the 2017 CUA Law and Public Policy Program Certificate Candidates and The Eleanore Dulin and James Clanton Haynes Memorial Fellows were honored at an annual brunch designed to congratulate students on their achievements.

Professor Roger Colinvaux, director of the Law and Public Policy Program, introduced the six 2017 Law and Public Policy Program Certificate Candidates:
Daniel Boatright received a double B.A. in Political Science and Philosophy from the California Baptist University in 2009. Daniel served in the U.S. Marine Corps (2003 -2011), reaching the rank of Sergeant. He served in Iraq with the 3rd Civil Affairs Group, HMLA 775. He also served in Afghanistan with AAR Airlift (Part 135), as an Aviation Maintenance Technician and Crew Chief. While in the military, he completed college, married, and interned at the field office for former Governor Schwarzenegger of California.

On his application to join Catholic's Law and Public Policy Program, Daniel stated that he wanted "a life of meaning." Throughout law school, he has worked to achieve his goal. In addition to rigorous coursework, he has held legal internships at the law firm of Obadal, Filler, MacLeod & Klein, the United States Senate, the Federal Aviation Administration.

Daniel's LPP project focused on how to create incentives to recruit more commercial air pilots in anticipation of a pilot shortage soon to result from mass mandatory retirements.

In celebration of Veterans Day, Daniel volunteered at CUA's pop-up pro bono clinic, an event hosted by the Veterans Consortium, Neighborhood Legal Services Program (NLSP), and Duane Morris LLP at the United States Veterans Initiative. Daniel was able to significantly help several veterans with their problems and have a real impact in their lives.

Alexandra R. Cerussi earned her Bachelor of Arts degree in Political Science from Elon University. Alexandra is passionate about the environment, and as a member of the Law and Public Policy Program, she has been developing a legislative campaign focused on industrial agriculture issues. Specifically, her campaign addresses the use of inhumane confinement methods for farm animals in Maryland. Her objectives for this proposal are to reduce animal cruelty, reduce greenhouse emissions originating from the State's industrial agricultural sector, and simultaneously minimize public risks associated with modern day industrial farming.

Alexandra has participated in a number of relevant internships, which include the Defenders of Wildlife, the Division of Parks and Wildlife at the U.S. Department of Interior, the Environmental Protection Agency, and the Environmental Council of the States. Currently, she is completing a McGrath Public Policy Internship at the Humane Society of the U.S, where she is able to witness firsthand the workings of the legislative process geared towards advocacy and public policy initiatives. Alexandra has also been actively involved with the Environmental Law Society at CUA.
Upon graduation, she plans to pursue a career as a policy maker and advocate for an environmental or animal welfare non-profit organization.

Caitlin E. Soto earned a Bachelor of Science degree in Business Administration in 2012 from the Kogod School of Business at the American University in Washington, D.C. After graduating from college, she worked as a litigation paralegal for Sterne, Kessler, Goldstein, & Fox, where she managed over ten litigation matters with special emphasis on patent challenges to abbreviated new drug applications.

As a law student, Caitlin joined the Law and Public Policy Program, was managing editor of the Journal of Law and Technology, and was a semi-finalist in the Moot Court competition. She held numerous internships, including working for Judge Diane Brenneman at The District of Columbia Superior Court, interning at the U.S. House of Representatives, Energy and Commerce Committee, and clerking at the United States Court of Federal Claims, Vaccine Claims. She was also a summer law clerk for the U.S. Senate Finance Committee. Caitlin's internships exposed her to health related issues, an area in which she is significantly interested.

Caitlin's LPP project addresses the Zika virus, which causes microcephaly in newborns. She proposes more funding for research into the use of genetically engineered mosquitoes as a tool to help stop the spread of this virus.

Whitney B. Morgan attended Wichita State University, where she earned a Bachelor of Music degree with elective studies in Business Administration.

Whitney's pledge to public service is demonstrated by her countless hours of volunteer work and her dedication to human rights and civil rights issues. Her passion to study human right took her to Rome with the Law School's International Human Rights Summer Law Program. During her first year of law school, Whitney volunteered with the Washington Legal Clinic for the Homeless, as well as the New Orleans Public Defenders Office. Throughout her law school career, she has been a member of the Students for Public Interest Law (SPIL) association. She received the SPIL stipend during her first summer, while working as a judicial intern at the DC Superior Court. Whitney is also the President of the Military and National Security Law Association, for which she has helped organize T oast Our T roops, an event that raised over $1,100 for the Special Operations Warrior Foundation.

Whitney's LPP project related to ethical issues involving unwarranted disclosure of confidential documents held by cloud-based computer systems.

Upon graduation, Whitney will clerk for the Office of Administrative Law Judges within the Department of Labor, after which she has accepted a JAG position with the Army Reserves.

James Brian Randolph graduated from the University of Virginia in 2008, earning his Bachelor of Arts in American Government. Throughout his professional career, he has demonstrated a strong commitment to public service. Upon graduating from UVA, Brian interned for the Lowcountry Environmental Education Program (LEEP), an environmental education non-profit located in Charleston, S.C. After leaving LEEP, Brian began working at the Administrative Office of the US Courts in the Office of Legislative Affairs (OLA), from 2009 to the present, where he currently serves on the Training and Career Advancement Task Force. His experience at OLA motivated him to attend law school and pursue a career as a legislative attorney.

Brian's LPP project focused on the legal changes necessary to allow parents and relatives of deceased family members to have access to the decedent's electronic and digital records that are controlled by commercial media firms.

Brian regards his internship for the CCLS: Advocacy for the Elderly Clinical Program, as one the most rewarding experiences of law school. He assisted low- income elderly individuals in seeking disability and housing, as well as resolving landlord/tenant issues. He also serves as a staff member on the CUA Law Review.

Following graduation, he plans to continue his career in public service. Brian is planning to pursue a career in administrative law and he would like to work for a federal agency.

Shelby von Hofe graduated from New College of Florida in 2013, where she earned a Bachelor of Arts degree with honors in Medieval and Renaissance History.

Throughout her law school career, Shelby has demonstrated her passion for women's rights advocacy, social justice and equal rights across all genders. Shelby's internship and work experience have included the Orleans Public Defenders Office in New Orleans, the Sex Offense and Domestic Violence section of the U.S. Attorney's Office in Washington, D.C., the Child Exploitation and Obscenity Section of the U.S. Department of Justice, the U.S. Election Assistance Commission, and the International Centre for Missing and Exploited Children. Shelby's final policy portfolio for the Law and Public Policy Program is on voting outreach and education.

During her first year at Catholic, Shelby founded the Democratic Law Association and was the first 1L law student to receive the Dean Attridge Award for Student Organizations in 2015. She has since led the Democratic Law Association and the American Constitution Society at Catholic, and has won the Dean Attridge Award two more times.

In addition to earning the certificate in Public Policy, Shelby has completed the certificate in Comparative and International Law. After graduating from law school, Shelby intends to pursue a career that will allow her to advocate for women's rights.

In addition, Alexandra R. Cerussi, Whitney B. Morgan, James Brian Randolph and Shelby von Hofe were presented with Dulin Haynes Fellowships, established in 1985 in memory of Eleanore Dulin and her husband, the Honorable James Clanton Haynes, an alumnus of the Columbus School of Law, who served as an administrative law judge in the United States government. The Dulin Haynes Memorial Fellowship is awarded each year to one or more students in the Law and Public Policy Program who are in their last year of law school. The award is based on demonstrated commitment to a career in public service; academic and professional achievement during law school; and service to the community, the law school, and the Law and Public Policy Program.