April 21, 2017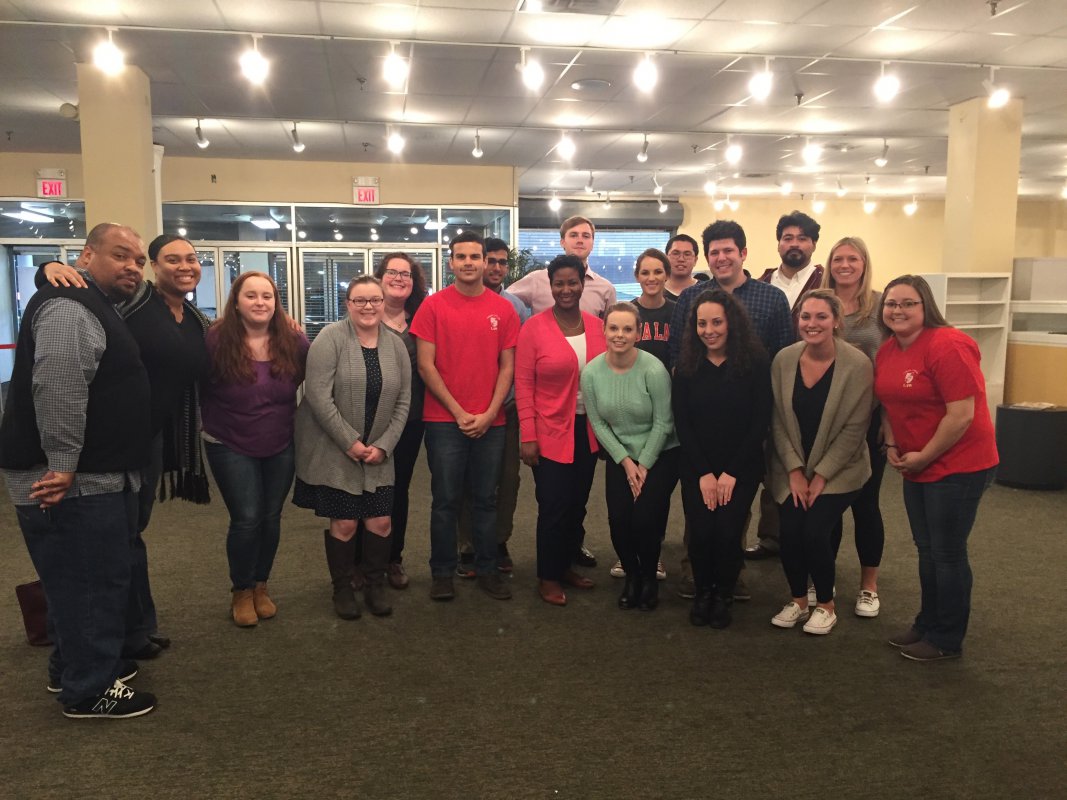 CUA Law alumni and students at the Community of Hope AME Church
Students from The Catholic University of America Columbus School of Law (CUA Law) participated in two hands on pro bono experiences during the month of April. On April 1, 2017, students attended an expungement fair at the Community of Hope AME Church. Students trained for the first hours and then completed intakes and criminal background research for the volunteer attorneys.
The students were supervised by ASA Karen Polis from the States Attorney's office. Approximately 198 people were served at the fair, with 15 current students and 3 alumni volunteering.
On April 8, 2017, CUA Law students volunteered at an Advice and Referral Clinic held at the NE and SE Bread for the City Clinics. Students volunteered at each site and were instrumental in triaging all 98 clients that were served.
According to the D.C. Bar Pro Bono Center Advice & Referral Clinic, it is estimated that about 70% of those individuals requesting free legal assistance require only brief services - and not full representation - to solve their legal problems. The D.C. Bar Pro Bono Center Advice & Referral Clinic is designed to provide those brief services by offering pro se individuals the opportunity to discuss with volunteer attorneys certain kinds of matters governed by D.C. or federal law, including bankruptcy/debt collection, consumer law, employment law, family law, health law, housing law, personal injury, probate, public benefits, and tax law.
Student Reactions:
"This fair was truly a rewarding experience because it provided students the chance to give back to those in need." - Akshay Jain, 1L
"Being able to help people in such a capacity was an incredibly fulfilling experience. Participating was a fantastic learning experience for me, and it showed me what a difference pro bono work makes in people's lives." - Rebecca Deverter, 1L
"In class recently, a professor remarked that, 'Lawyers see everything.' He meant that lawyers need to see both sides of the argument, but it got me thinking. I thought about those lawyers who don't spend time with people who can't afford lawyers and who are plagued by interactions with the criminal justice system from ten and twenty years ago. That's not the kind of lawyer I want to be, and that's why I do pro bono work and why I was so happy to spend a day helping some hard-working people get their records expunged." - Theodore Warner, 1E
"At the Record Sealing and Expungement Fair I helped guide low-income residents of the district through the complicated legal process to clear their criminal records. The clinic allowed those who successfully served their time in prison seek free attorney representation to seal their criminal record and put the past behind them. The process involved free eligibility determinations and intakes to determine the participant's record sealing eligibility. If the case was determined eligible, we connected participants with an attorney who offered to represent the client pro-bono by filing a motion with the court and handle any hearings or opposition motions that may occur as a result. I am strongly motivated by my ability to assist those who are ill-informed or unfortunate, as that is what will eventually contribute to the greater public good. The emphasis on public service and the principles behind helping the impoverished have reaffirmed my career goal of using my legal education to help those in need." - Ahad Khilji, 1L
"Participating in the Expungement Fair was an unique opportunity for me to gain real-life, hands on experience in the law, while also providing me with the valuable benefit of interacting with the local community. I assisted in the process of clearing up the bumps and hurdles that some individuals were facing in their pursuit for a productive future." - Joseph Moran, 1L
"The Advice and Referral Clinic in April was my first pro-bono opportunity and reaffirmed the reasons why I am attending law school. Having the feeling of helping, even in a small capacity, someone who was not sure where to turn to next was extremely rewarding." - Anne Ustynoski, 1E
"The Advice and Referral Clinic held at Bread for the City SE is a vital program for the underprivileged residents in DC. When you have so many things in your life to worry about, finding and affording legal services shouldn't be one of them. If at least one person left the clinic with a resolution, the whole day was worthwhile!" - Jennifer Brooker, 1E
"My experience volunteering in the Advice and Referral Clinic was very rewarding. I helped potential clients by going through initial intake questions with them before they spoke to an attorney. The people I spoke with were looking for help with various areas of law, including family, property, and housing. Being able to offer some assistance to people who were in the difficult position of needing legal advice but without the means to afford attorneys' fees was a privilege. Working in the Advice and Referral Clinic furthered my determination in pursuing a career in legal services." - Heather Doerr, 3L
"Students were tasked with 'triaging' the clients coming into the clinic. This entailed getting the name of the opposing party in the case, where the case was or would be filed, and a brief description of the legal issue. Once this was completed, a conflicts check was run and they were paired with an attorney to discuss further." - Brittany McNurlin, 1L
If you're interested in helping in Pro Bono opportunities, email Aoife Delargy, CUA Law Pro Bono Coordinator: delargy@law.edu.