April 19, 2017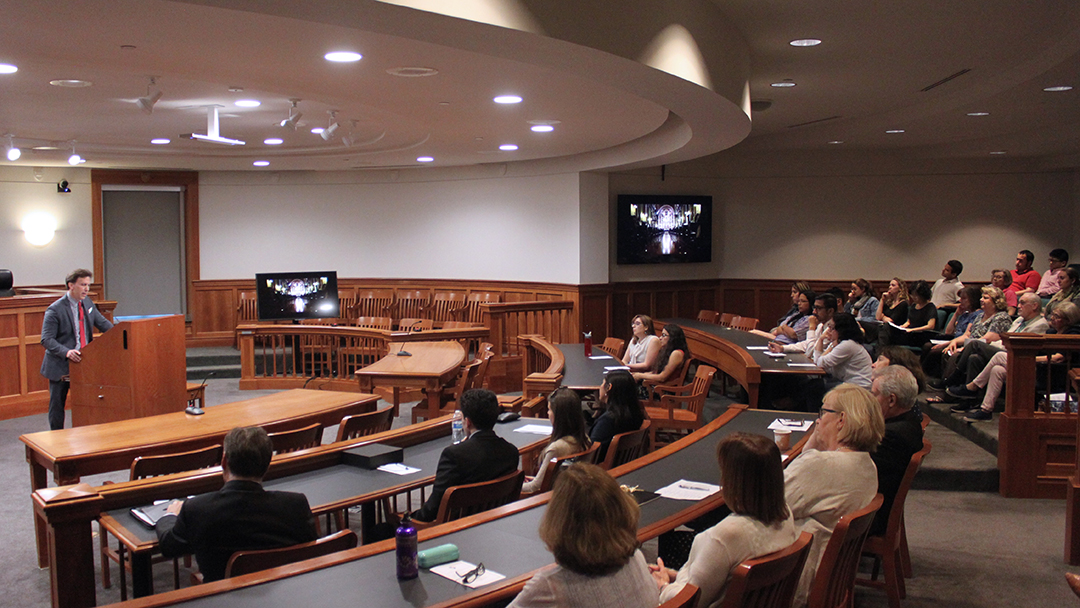 On the evening of April 11, CUA Law Clinical Associate Professor A.G. Harmon delivered the 2017 Mirror of Justice Lecture titled, "Final Judgments: What Art and Physics Reveal about Discerning Vice and Virtue."
The audience was welcomed with opening remarks from CUA Law Dean and Knights of Columbus Professor of Law, Daniel F. Attridge. "This year our lecture will be given by CUA Law Clinical Associate Professor A.G. Harmon, who is well known for his dedication to teaching and scholarship," Dean Attridge said.
President of the Saint John Paul II Guild of Catholic Lawyers, Tamara Guillen (2L) also offered remarks and introduced Professor Harmon. "The Mirror of Justice Lecture is dedicated to the ideals of charity and wisdom, both of which Professor Harmon emulates. He supports and volunteers at numerous organizations which include the Wounded Warrior Project, Christian Solidarity International, Doctors Without Borders, The Little Sisters of the Poor, St. Jude Children's Research Hospital, and his home Parish, the Cathedral of St. Thomas Moore in Arlington, Virginia," Guillen said. "He has been a supportive ear and a guiding force for CUA Law students. We are extremely blessed to have him here with us sharing his talents and gifts."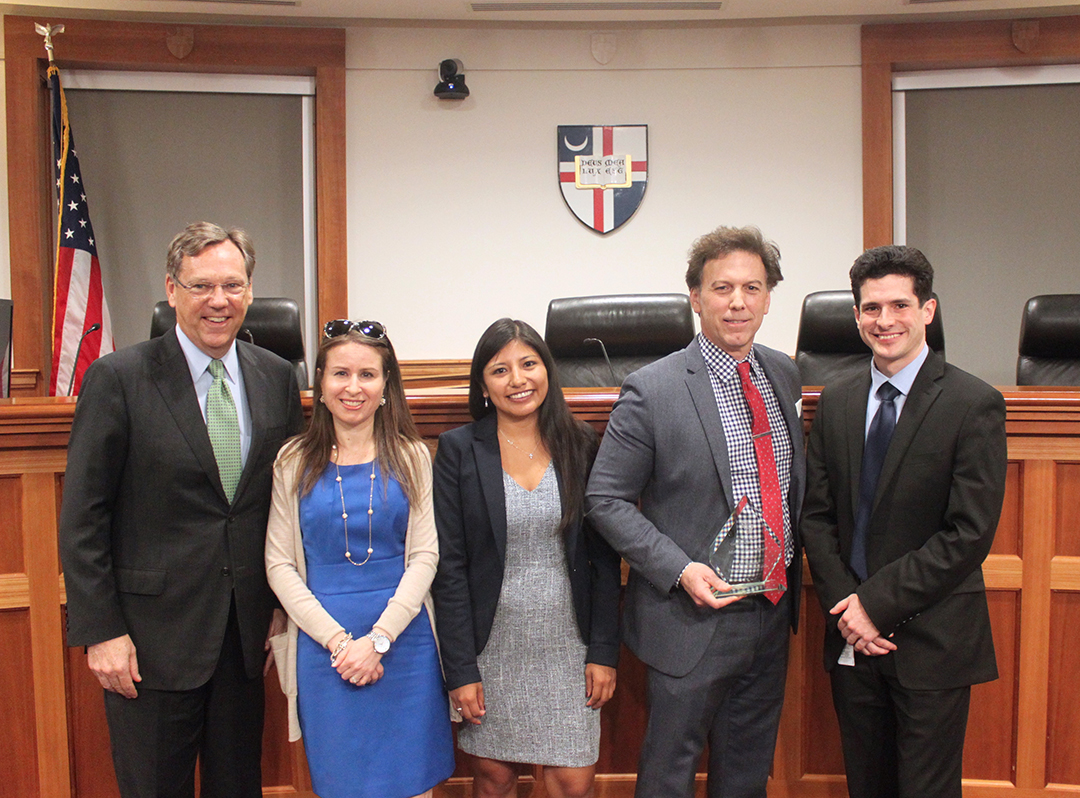 (From L to R: Daniel Attridge, Anna Logsdon Smith, Tamara Guillen, A.G. Harmon, and Alexander Mansfield)

Professor Harmon thanked the Guild for his honor. "I thank the Guild for this distinction and the courage they show in trying to be both good Catholics and good lawyers in times when it takes true fortitude to do either, let alone both," he said.
During his address, Professor Harmon spoke about how his unorthodox career, filled with various interests, led him to write about the concept of judgment. "My career has not been an orthodox one. For I have been both blessed, and perhaps cursed, with a great many interests. I keep my hand in the field of law, but also in the worlds of art and literature. As I have written in all these areas," Harmon said.
"When asked to give this talk, it occurred to me that one particular essay of mine, published some years back, transcends not only these fields but also others. It speaks to something fundamental about the human enterprises, in general and about the legal profession, in particular. That is, the concept of judging something truly and when and how such a thing should come to be.
Professor Harmon read from his essay originally published under the title "The Mass of Virtue."
"We share an unstated assumption about judgments, about how we assess things and the proper time to do so. This is not a bold claim, as it has too great a witness, too large and broad a testimony to deny. From this common perspective comes the woeful stare, the head shake, the sigh-ridden pause; from it is born the painful representation, the assessment that clearly, or so it seems, scans a person's life and pronounces what looks true of it: 'In the end, he lost his way.' And along with this appraisal, an attending image may arise from the mists of memory, present itself for a moment in all its noble pity: of one who would not hold to the known path, who smiles familiarly before he wanders off again, fading away with a lost portion of our old happiness," Harmon read.
Harmon continued to recite from his powerful essay, "In the end. What we are is what we are at the end. All that matters is where we stand at the last point-just before the falling, just before the floating. It all comes down to this: what we look like, sound like, in what direction our faces are turned, toward sun or shadow, at the point when there is no longer sun or shadow, but only the direction we have chosen to face. Where are we then? Who are we then? That is what matters."
"That would square with a merciful God, who can see better than we, and can hear more than we have spoken. Our groanings, unintelligible to us, are said to be intelligible to him, coming from places we do not even know we have been. Despite the last complexion of what they seem, despite the last testament of the one who speaks for them, they live on in the deep loam, the fertile mass, the soul of souls. They last despite their own foreswearing, love on in a rich, wet, hollow of a wound past knowing, and in a place long before endings. They weigh too much to forget," he concluded.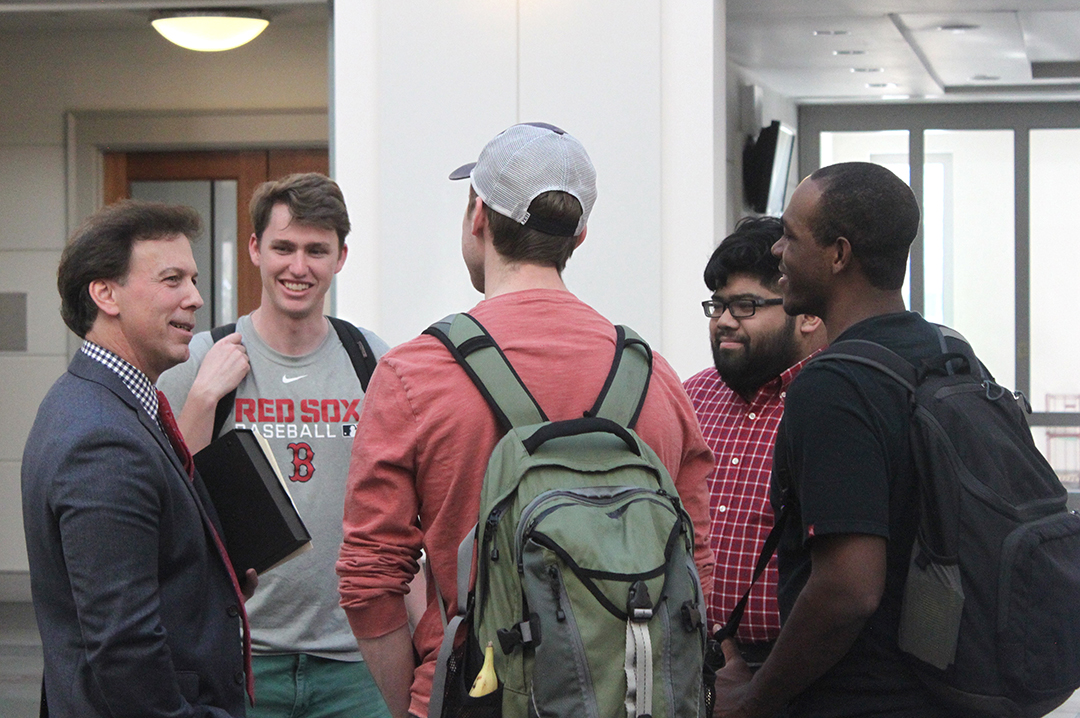 Founded in 1989 by the Saint John Paul II Guild of Catholic Lawyers, a student organization of Catholic University's Columbus School of Law, the Mirror of Justice Scholars Award recognizes law school faculty members whose commitment to the teaching of the law and whose scholarship advances our insights towards achieving justice through law in contemporary society.
The award and lecture are founded on the consciousness of the demands of justice that arise from our professional responsibility as students of law. The Mirror of Justice Award and Lecture are dedicated to the ideals of charity and wisdom that are summed up in the titled of the Guild's Patroness: Mary, Mother of Justice.