April 07, 2017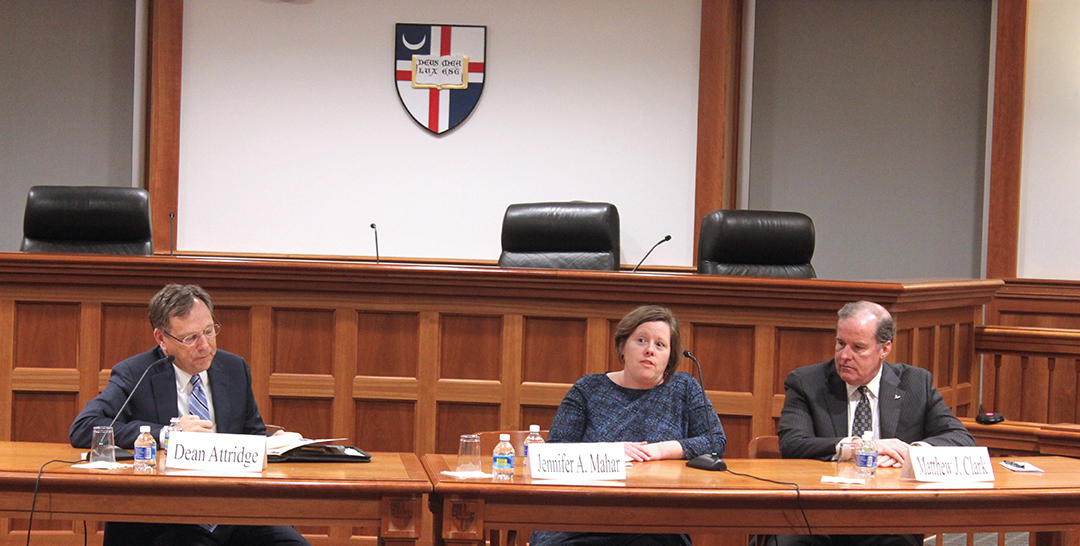 "Without question, the most important business development work you will do as a new lawyer is the assignment that is on your desk right now. There is no amount of writing, speaking, or networking that will compensate or make up for less than excellent work."
This was some of the advice that current and former managing partners offered to the students at The Catholic University of America Columbus School of Law (CUA Law) during a discussion on April 5 entitled "Managing Ethical Issues and the Business of Building a Legal Practice."
Organized by the Dean of Students Office, the Career & Professional Development, Student Life Offices and the CUA Law Alumni Association, the current and former managing partners spoke about ethical issues impacting new lawyers, tips on business development, and career advice throughout the evening. The event was moderated by CUA Law Dean Daniel F. Attridge, who has more than a decade of managing partner experience.
The partners included Jennifer A. Mahar '95, Managing Member, Smith Pachter McWhorter PLC and Matthew J. Clark '83, Partner, Executive Committee Member, and former Managing Partner at Arent Fox.
Mahar's practice focuses on commercial disputes in the government contracting and construction industries. She represents contractors, subcontractors, owners and sureties in all phases of project development and construction including contract formation, project management and dispute resolution. Clark's practice focuses on adversarial international trade proceedings, including antidumping and countervailing duty proceedings, and international arbitrations.
The panelists discussed topics such as the size of their firms, scope of management responsibilities, and ethical issues they and new lawyers may face. "It is unlikely as a new lawyer that you will be confronted with an ethical dilemma, like a managing partner would, but you will have to understand your obligations to clients in regards to the protection and preservation of their confidences," Clark said.
"In the construction industry, a lot of our clients are competing for the same contracts so that can be an issue. We have to make sure we run a solid conflicts check. If we find clients, we have to turn clients away, which can be difficult," Mahar explained.
The partners also discussed practical business matters such as billing, handling client money, specializing in a particular area of law, and general business development.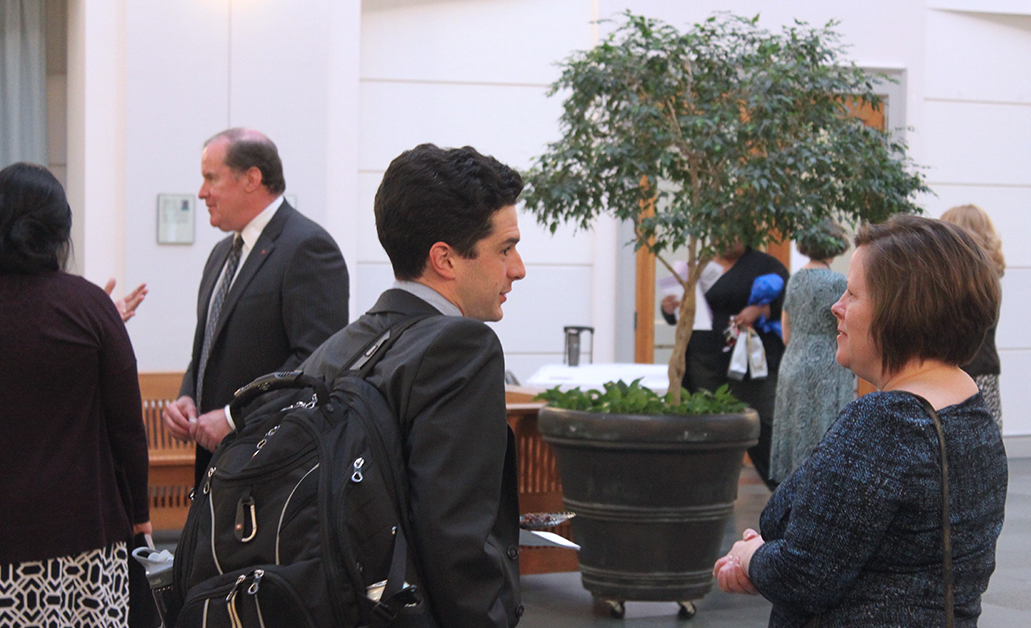 Clark reminded the students in the audience that their careers are long and they must be patient. Mahar advised that business development starts from day one as a junior lawyer and urged students to never turn down an invitation. "When you are at a boutique law firm, your business development starts from day one. When you become partner it is too late to think about what organization you will join or how to get yourself known in the industry," she said.
Before taking questions from the audience, Clark offered some advice for newly minted lawyers looking for jobs, "I am looking for someone who has an inquisitive mind. I am looking for someone who asks insightful questions, and that I could imagine building a rapport with."
After the conclusion of the lecture, students, alumni, faculty, staff, and guests were invited to a reception in the Keelty Atrium for a chance to personally speak with panelists.