March 30, 2017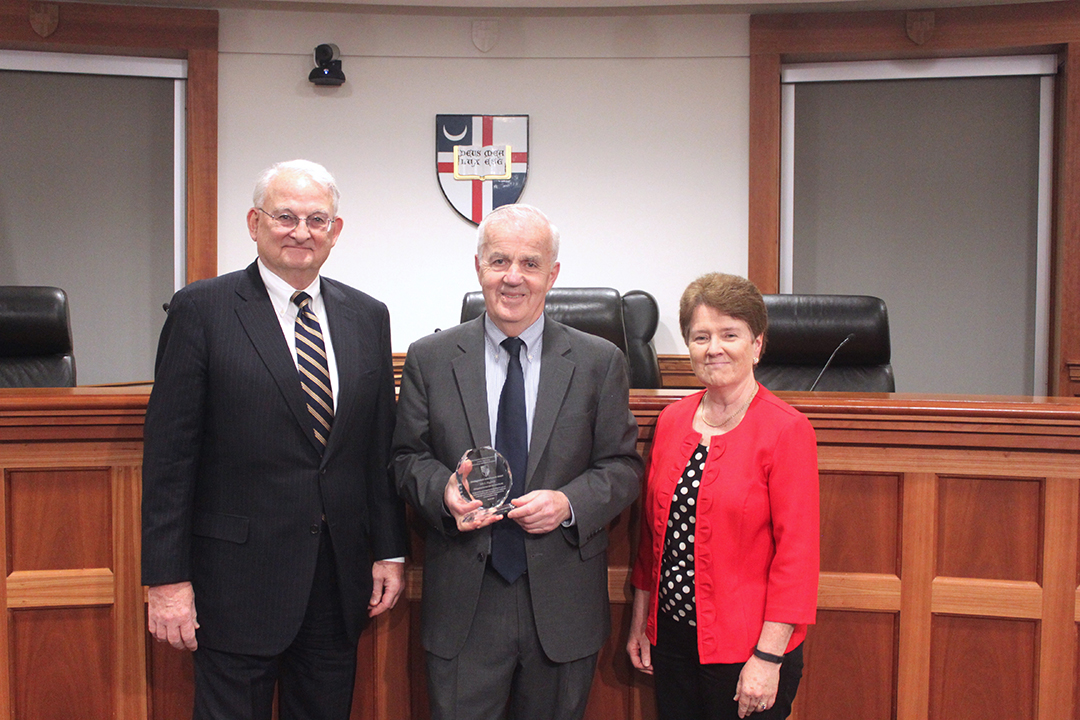 (From L to R) Roger Hartley, John Higgins, and Mary Anne Gibbons

On March 29, 2017, CUA Law students, alumni, and faculty gathered together for the semester's final installment of the CUA Law Advantage In Action Series, this time with a focus on labor and employment law and co-hosted by the Law School's John Fanning Center for Labor Studies. The CUA Law Advantage In Action Series was designed with the goal of connecting students and alumni around a particular area of the law to network and provide students with practical career advice and tips for breaking in to a specific field.
The labor and employment segment did just that, and even more. The evening began with opening remarks from Professor and Faculty Coordinator of the John Fanning Center for Labor Studies Roger Hartley.
"We are assembled here today to honor a most distinguished member of our labor and employment law faculty Professor John Higgins by awarding him our annual John Fanning Center for Labor Studies Distinguished Achievement Award," he said.
Hartley then welcomed last year's recipient, Mary Anne Gibbons '80, who introduced Higgins. "Higgins is an example of the many things you can do in the labor field. John has done it all, and he is one of the giants in the field," she said.
"This award is perhaps the highlight of my professional life," he said. Higgins spoke about how he taught for no pay at CUA Law while he was undergoing a presidential appointment.
"I didn't go to CUA Law, but I feel like I did. My experience with the faculty, the students, and the alumni here often makes me wish that I did."
Higgins retired from the National Labor Relations Board in 2011 after 46 years of service, including two stints as a Board Member and two as Acting General Counsel. Higgins began working for the NLRB as a Field Attorney in Memphis and then transferred to Washington, where he also served as Solicitor of the Board and as Inspector General.
Higgins began teaching at the Columbus School of Law in 1982 and has continued to do so after his retirement from the NLRB.
Presently, Higgins also is serving as Editor-in-Chief of the nationally acclaimed ABA book entitled The Developing Labor Law, 7th Edition. As with How to Take a Case Before the NLRB, Ninth Edition, Higgins is also responsible for coordinating and helping ensure the accuracy of book chapters prepared by management and union labor attorneys. He has served as Editor-in-Chief of this landmark text for the last 3 editions.
Following Higgins' remarks, CUA Law alumni who practice labor and employment law joined current students for a networking reception. This provided alumni an opportunity to connect with others in their field and also introduced students to alumni in an area that is of interest to them. Introductions were made, business cards were exchanged, and professional relationships were established.
This event was a joint initiative of the Offices of Alumni Relations and Career & Professional Development and the John Fanning Center for Labor Studies. The Columbus School of Law authorized the creation of the John Fanning Center for Labor Studies in the fall of 1985, and over the past thirty years, the Center has sponsored a wide variety of labor programs at CUA. Beginning next year, The John Fanning Center will extend invitations to all of its stakeholders - current students and labor and employment law alums - to become members of the Center and help govern it by proposing programs and other activities to support the growing number of CUA Law students interested in a career in labor and employment law.