March 30, 2017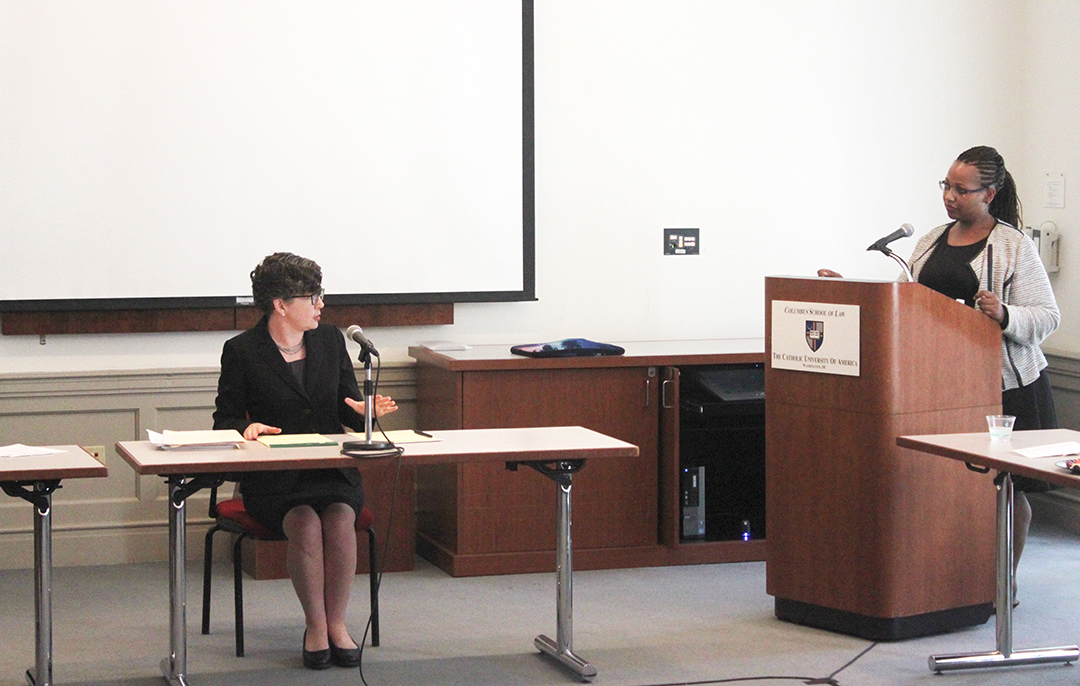 Brianna Mitchell (3L) delivered the final Student Scholars Series lecture of the semester on March 29. Mitchell's scholarship, "Child Labor on Your Televisions: How Corporations Bear a Social Responsibility to Protect Children on Reality Television," argued that media corporations have a social responsibility to ensure that the children who work for them are paid a reasonable wage and are informed about the potential pitfalls that come from being famous.
Mitchell explained that children on television are not protected by Federal Labor regulations due to the Shirley Temple Act. The Shirley Temple Act precludes the federal government from stopping or limiting the amount of time a child can participate in the performance side of the entertainment industry, including acting on television and film and live performances of musicals or theatrical shows.
"A few states passed laws protecting child actors under state regulations. However, children on reality television are not considered child actors," Mitchell said. "Instead, they are characterized as reality stars or children of reality stars, thereby precluding them from these protections."
Mitchell proposed that media corporations that hire children on reality television are in the best position to create meaningful change by implementing industry standards that are in the children's best interest.
"It could take years before the federal government or the states pass any law that would adequately protect the children on reality television," she said.
Co-Director of the Law and Technology Institute and CUA Law Associate Professor Elizabeth Winston served as the respondent for Mitchell's lecture.
After the lecture, Mitchell and Winston took questions from the audience, and students had the opportunity to engage in conversations with faculty and guests.
The Student Scholar Series was founded by CUA Law Professor Harmon in 2009. It was established in order to recognize notable legal scholarship produced by students during the academic year and to foster the practical skills associated with presenting and defending that scholarship in a professional conference-style setting.
Click here to view the presentation on CUA Law's YouTube channel.