March 28, 2017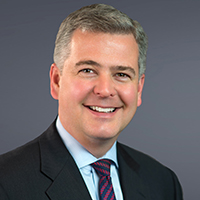 Mylan
recently announced the appointment of
Daniel M. Gallagher
'99, as chief legal officer. He will be joining the company on April 17, 2017.
Gallagher joins Mylan from Patomak Global Partners, a consulting firm providing strategic advice, compliance consulting, and litigation and regulatory enforcement services, where he was president. From Nov. 2011 to Oct. 2015, Gallagher served as a commissioner of the U.S. Securities and Exchange Commission (SEC). During his tenure at the SEC, he focused on initiatives aimed at strengthening the U.S. capital markets and encouraging capital formation. As commissioner, he called for reform on various corporate governance issues, advocated for conducting a comprehensive holistic review of equity market structure issues, and encouraged building the Commission's fixed income market expertise.

Gallagher commented, "Mylan has enjoyed remarkable growth during a very short period and has become a global powerhouse in the generic and specialty pharmaceutical industry. I have had the opportunity to get to know the company well over the last couple of years and believe Mylan is uniquely positioned in the industry as a result of its clear and compelling vision and strategy, unmatched global assets, strong culture and unwavering commitment to doing what is right. I am excited to join Mylan's leadership team at this time in the company's evolution and am honored to lead the company's world-class legal organization in support of Mylan's future success."

In addition to his tenure in public service, Gallagher spent a number of years in the private sector. Following law school, he joined the Washington, D.C. law firm Wilmer Cutler & Pickering, where he advised clients on broker-dealer regulatory issues and represented clients in SEC and SRO enforcement proceedings. He later returned to Wilmer (now WilmerHale) as a partner following his staff service at the SEC. Gallagher also served as senior vice president and general counsel of Fiserv Securities, Inc., where he was responsible for managing all of the firm's legal and regulatory matters.

Gallagher received his B.A. in English from Georgetown University and his J.D., magna cum laude, from the Catholic University of America, where he was a member of the Law Review.

Click here to read the full press release.