March 28, 2017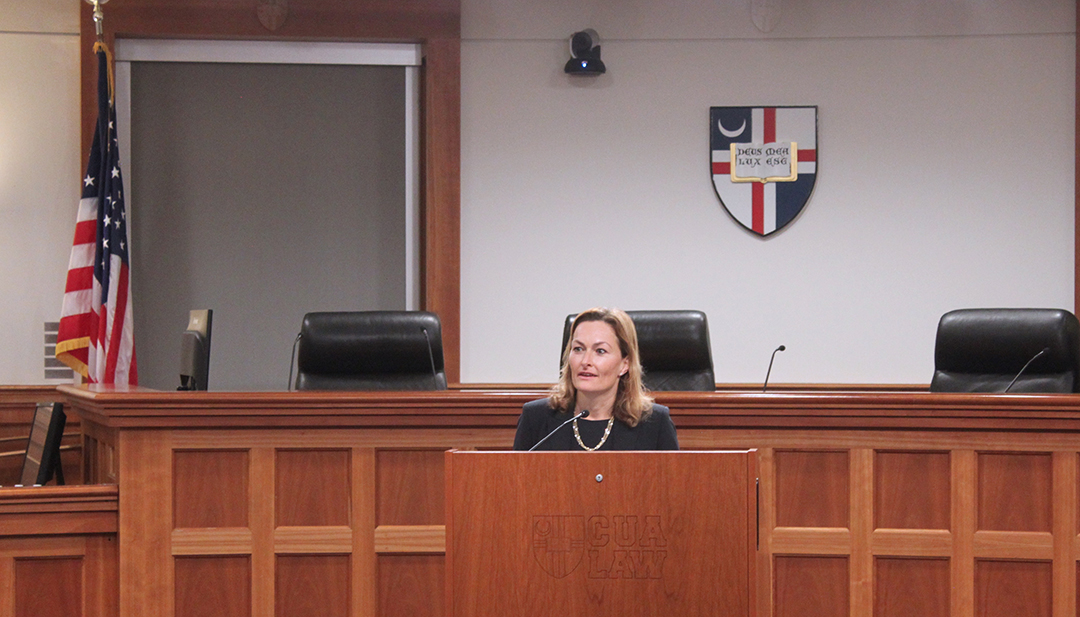 The Columbus School of Law's Intellectual Property Law Program honored Dean William Callyhan Robinson and his legacy on March 20, 2017 with a lecture by Judge Kara F. Stoll, Circuit Judge of the United States Court of Appeals for the Federal Circuit.
The audience was welcomed with opening remarks from CUA Law Professor and Co-Director of the Law and Technology Institute Beth Winston, and Doris Johnson Hines, Partner at Finnegan, introduced Judge Stoll.
"Dean Robinson, the founding dean of the Law School, was a prominent scholar in the area of patent law. In 1890 he authored The Law of Patents for Useful Inventions. More than a century later, it is clear that Dean Robinson's impact on the patent law endures, as his writings have been cited in opinions by the Supreme Court, the United States Court of Appeals for the Federal Circuit, United States District Courts, scholarly articles, casebooks, and treatises," Winston said.
"As I stand here today, I have to tell you that I wish I could have a conversation with Dean Robinson," Judge Stoll said. "We have a copy of his three-volume treatise in our chambers and court library, and I have consulted it for guidance. I would love to know his views on patents topics today because of these topics have evolved throughout time."
Judge Stoll discussed the importance of patents to society and how they represent a contract between an inventor and the government. "I feel a connection to Dean Robinson's work and the importance of patents to our society," she said.

Judge Stoll provided the students in the audience with tips on appellate advocacy and discussed the perspective of the appellate judge hearing the case. She spoke about how students should expect to address the courtroom, form arguments, the importance of improving writing skills, and the types of qualities she looks for when hiring law clerks.

Judge Stoll was appointed to the United States Court of Appeals for the Federal Circuit by President Barack H. Obama on November 12, 2014, was confirmed unanimously by the United States Senate on July 7, 2015, and assumed her duties on July 17, 2015.

Judge Stoll practiced law with the firm of Finnegan, Henderson, Farabow, Garrett and Dunner from 1998 to 2015, and became a partner at the firm in 2006. While in private practice, Judge Stoll specialized in patent litigation with an emphasis on appeals. Judge Stoll was an adjunct professor at George Mason University Law School from 2008 to 2015 and at the Howard University School of Law from 2004 to 2008. From 1997 to 1998, Judge Stoll served as a law clerk to The Honorable Alvin A. Schall of the United States Court of Appeals for the Federal Circuit. Judge Stoll worked as a patent examiner at the United States Patent and Trademark Office from 1991 to 1997.
After the program, students had a chance to establish professional connections with other alumni in attendance at a reception in the Keelty Atrium.
Click here to view the lecture.