March 27, 2017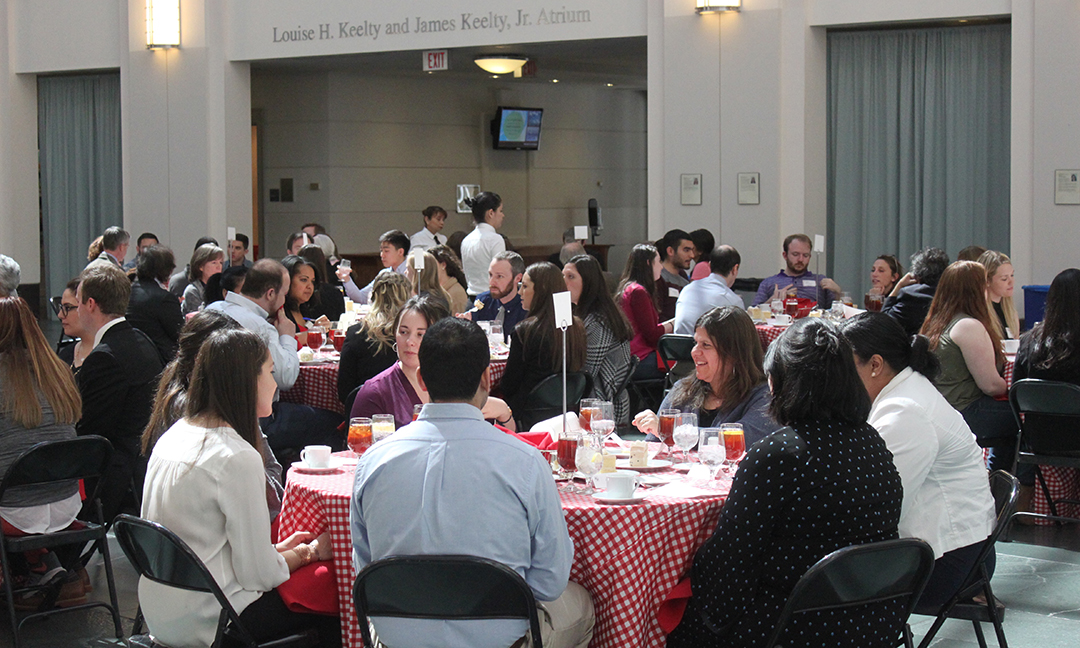 For the eighth year running, first-year law students gathered with faculty members and staff of the Columbus School of Law at an annual luncheon in the Keelty Atrium, a relaxed and informal occasion that provides an opportunity for everyone in the Law School community to get to know one another better.


The group was welcomed with brief remarks from CUA Law Dean Daniel F. Attridge, who reminded the audience that, "Today's event illustrates our connective community. We are all connected to one another as students, as faculty, and staff with the goal of preparing you, our students, for your careers and for your lives."
A blessing was provided by Rev. Raymond O'Brien.
"Rest assured students, as you sit here today, a number of these people will be your life long friends. We all share the common bond of your education," said the Dean.
During lunch, trivia questionnaires were distributed among the 14 tables, marking the start of the highlight of the yearly meal. Tables were also told to come up with a creative name.
Students, faculty, and staff were asked questions such as:
How many U.S. states boarder the Pacific Ocean? (Five)
In which state is it illegal to eat fried chicken with a fork? (Georgia)
Who has been the only bachelor President of the United States? (James Buchanan)

Students were awarded baseball caps and decals as prizes. As a bonus category, "Bear With us," otherwise known as table 10, won for most creative team name. Katie Crowley, Assistant Dean for Student Affairs and Dean of Students was host of the event.