March 21, 2017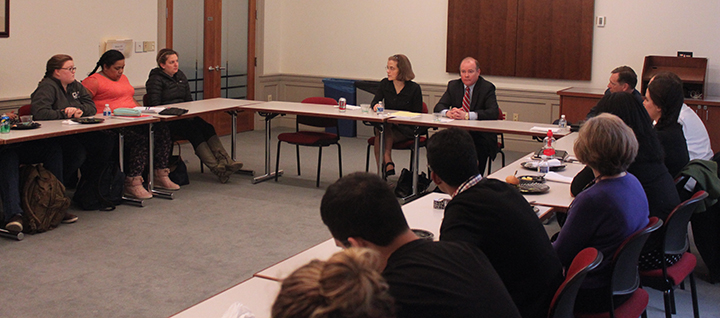 On March 20, 2017,
Susan M. Davies
, Partner, Kirkland & Ellis LLP and
John C. O'Quinn
, Partner, Kirkland & Ellis LLP joined students, faculty, and staff for a discussion on the
Supreme Court Justice nomination process
. Each speaker having served on teams managing the nominations of Supreme Court nominees, one nominated by a Republican President and one by a Democrat, shared their insight regarding the confirmation process of
Judge Neil M. Gorsuch
.
CUA Law Dean and Knights of Columbus Professor of Law, Daniel F. Attridge moderated the event. "I believe the nomination of Judge Gorsuch provided us with teaching moment, especially regarding the Senate's role of advise and consent with respect to a judicial appointment by the President," he said.

Davies is a litigation partner in Kirkland's Washington, D.C. office. She is a former Deputy White House Counsel to President Obama. Prior to her work in the White House, she served as both General Counsel and Chief Intellectual Property Counsel to the U.S. Senate Judiciary Committee where, among other things, she worked on the recently enacted America Invents Act. Davies also has held several positions in the Department of Justice, including the Antitrust Division, the Office of the Solicitor General and the Office of Policy Development. In the private sector, Davies has experience in a wide variety of matters with a focus in the areas of intellectual property, regulatory, legislative and appellate. She also does a large amount of work in the junction of antitrust law and patent law. Intellectual property-driven companies are facing more scrutiny in today's market, and Davies represents multiple Fortune 100 companies as they navigate the issues arising from these inquiries.

O'Quinn's practice focuses on litigation, including intellectual property disputes, commercial litigation, regulatory matters, and other complex litigation matters at the trial and appellate levels. He has extensive argument experience before both trial and appellate courts and has argued in most of the U.S. Courts of Appeals, including the D.C. Circuit and the Federal Circuit. In 2013, he was recognized by Law360 as a "Rising Star" in appellate litigation. O'Quinn has been to trial multiple times, where he has examined expert and fact witnesses. Representative clients include Abbott, Charter Communications, Cisco Systems, Inc., C.R. Bard, GlaxoSmithKline, IBM, Medtronic, Murata, POET LLC, Siemens, and Teva Pharmaceuticals.
After the lecture, Davies and O'Quinn took questions from the audience, and students had the opportunity to engage in conversations with faculty and guests.