March 20, 2017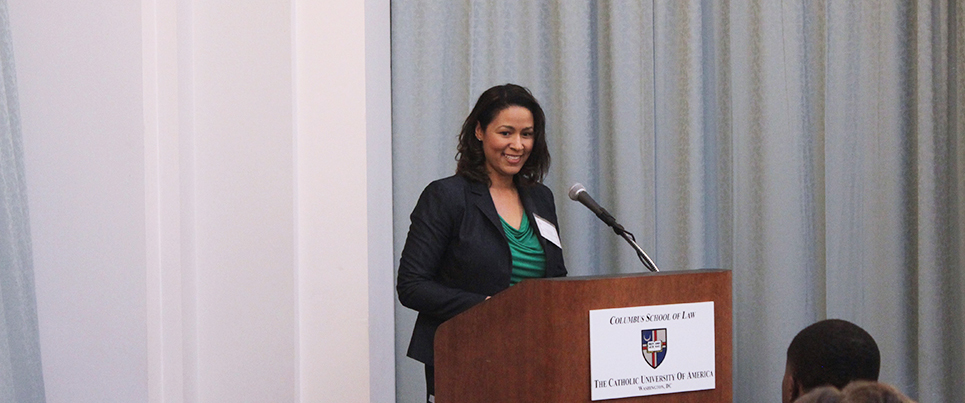 "My law school application essay focused on a photo of my grandmother that was taken in the early 1960s. She stood in a class photo, with a very graceful smile on her face, surrounded by white men. She was the only black and female student to graduate from her class at Duquesne University School of Law."
This was the powerful story Patricia Howard Fitzgerald '00 told students, alumni, faculty, staff, and guests gathered at the Columbus School of Law for the 23rd annual Black Law Students Association (BLSA) Alumni-Student Reception on March 16.
"Growing up that picture left an impression on me, and as I discussed in my law school application, I longed not only to follow in her footsteps, but to also make her proud in ways she had never dreamed," Fitzgerald said.
The audience was welcomed with opening remarks from CUA Law Dean and Knights of Columbus Professor of Law, Daniel F. Attridge and Co-Chair of Alumni Outreach of BLSA, Arthur Osueke (3L) introduced Fitzgerald. "Patricia Howard Fitzgerald was appointed as one of the three permanent Members of Employees' Compensation Appeals Board by Secretary of Labor Hilda L. Solis on July 2, 2012," he said.
"Prior to her appointment she was a staff attorney for the American Postal Workers Union where, since 2004, she advised the Director of Industrial Relations on matters concerning the negotiation and enforcement of the APWU/USPS national collective bargaining agreement. She also handled matters pertaining to the National Labor Relations Act, Family and Medical Leave Act, Privacy Act, and USERRA."
At Cornell University for her undergraduate degree, Fitzgerald studied Industrial and Labor Relations. It was there where she read about the struggles of the labor movement, the history behind it, and people who fought for their wages and working conditions.
"I was influenced in particular by the Founder and President of The Brotherhood of Sleeping Car Porters (BSCP), A. Philip Randolph, and his theory of using collective bargaining to improve the economics and uplift the African American race," Fitzgerald said.
BSCP was the first labor organization led by African Americans to receive a charter in the American Federation of Labor (AFL).
Earlier in her career, Fitzgerald was an associate attorney at Zwerdling, Paul, Kahn & Wolly, P.C., where she litigated cases on behalf of employees, labor organizations, and professional associations in various labor and employment law matters. She was also awarded a law fellowship at the Service Employees International Union where she assisted with litigation, legislative initiatives, and union organizing campaigns.
During her remarks, Fitzgerald also touched on the importance of diversity in the legal field. "It is so important for the labor movement to have attorneys of color reflecting the diversity of their membership."
Before she took questions from the audience, Fitzgerald offered some advice for the students in the room. "Network, network, network! Networking pays off. And Professor Roger Hartley is correct: the answer is always 'it depends.'"
"My grandmother never practiced law. She used her degree as a school administrator. She relished in my choice to pursue a career in law labor, and she was here beaming pride at my law school graduation. She applauded my pursuits, even when I chose working for the public interest over more lucrative opportunities."
Vice President of BLSA, Shanee Scott (3L) provided closing remarks. After the program, students had a chance to establish professional connections with other alumni in attendance at a reception in the Keelty Atrium.
Click here to view other photos from the event on CUA Law's Facebook page.