February 27, 2017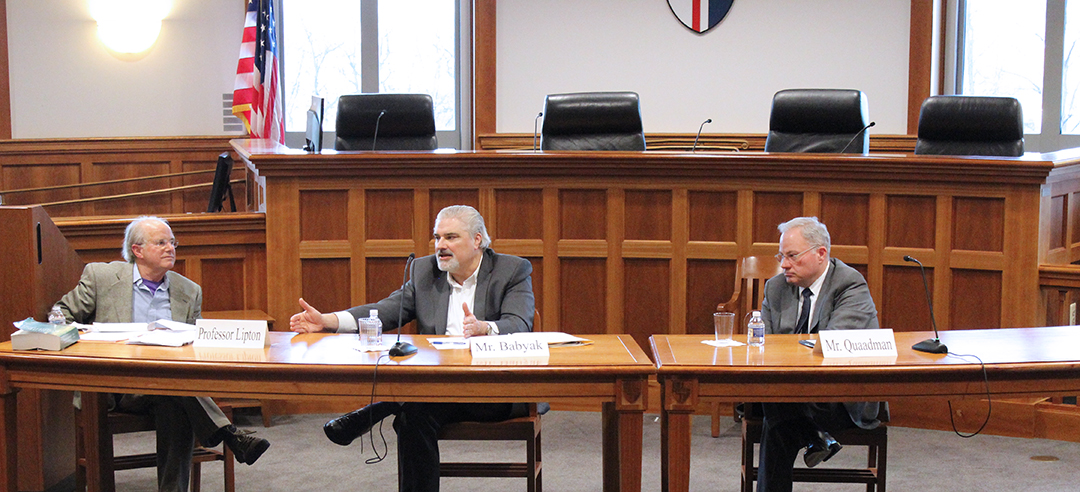 From L to R: David Lipton, Greg Babyal, and Thomas Quaadman
The Catholic University of America Columbus School of Law's Securities Law Program presented the first installment in the 2017 Lecture Series on the evening of February 23. Two speakers from diverse firms, both which analyze and promote financial market reform, speculated on the impact that the 2016 fall election results will have on the Dodd Frank Act. The panel discussion was moderated by Securities Law Director and CUA Law Professor David Lipton.
The distinguished speakers, well known both nationally and on the Hill, were Thomas Quaadman, Executive Vice President of the U.S. Chamber Center for Capital Markets Competiveness and Greg Babyal, Counsel and Head of Government and Regulatory Affairs at BLOOMBERG LP. The audience consisted of nearly 40 students, alumni and faculty.
The moderator, perhaps seeking to have his head clocked, initiated the discussion by essentially asking why we were discussing dismantling Dodd Frank when the economy is doing well. "Unemployment has dropped from 10 percent to 4.9 percent. Since the great recession, the GDP has increased 33 percent from $15 trillion to $20 trillion and around 11.8 million jobs have been created during the Obama regime," Professor Lipton said.

The panelist's answers were on point and delivered with thoughtfulness and sincerity. They discussed that some aspects of the Dodd Frank legislation will not be significantly changed. For example, the regulation of the derivatives markets is currently needed and working. The Consumer Financial Protection Board will likely remain largely as it now stands, but most likely with a rearrangement of its governing structure to make it comparable to other independent agencies.

Both panelists believe that the Volker Rule will be significantly altered in order to allow banks to be able to provide more funds for loans. In addition, regulations that are keeping annual economic growth to less than three percent could be potentially altered.

Professor Lipton said that his "best take away was that thoughtful and decent people can discuss issues fraught with sensitivities with both respect and productive analysis."

Following the lecture, students were invited to a reception with alumni in the Keelty Atrium for a chance to network and engage in conversations.