February 17, 2017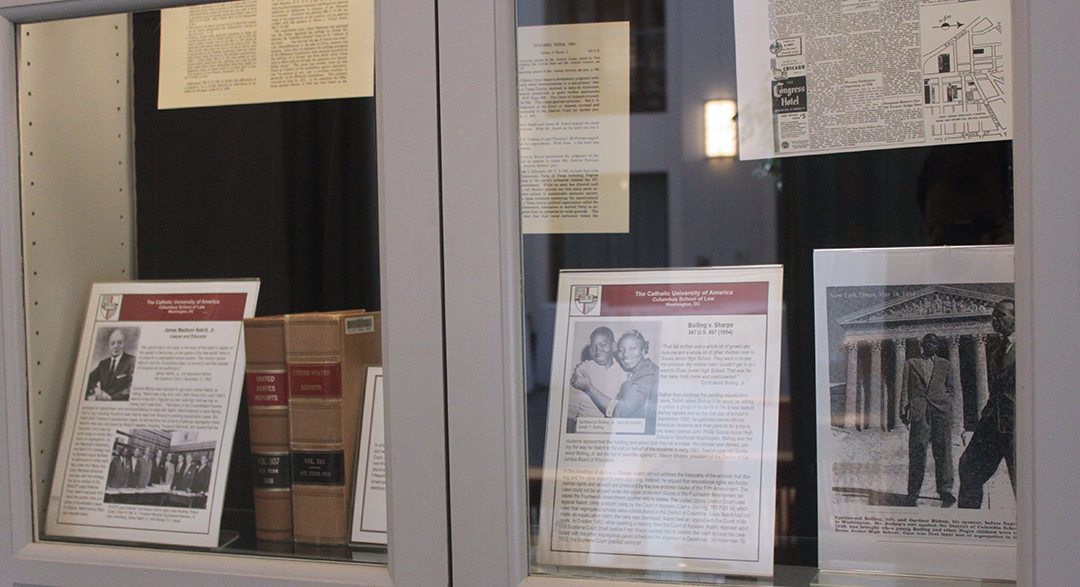 The Kathryn J. DuFour Law Library is honoring Black History Month and the chosen theme of "The Crisis in Black Education" in two ways. Just inside the library entrance, you'll see a display of selected books on African American education, including new titles on integration, affirmative action, and education equality. In the atrium, you'll find a special exhibit in the display cases outside Room 220. The exhibit tells the story of the District of Columbia case Bolling v. Sharpe, one of five cases that were combined into the landmark Supreme Court decision Brown v. Board of Education, which ended legal segregation in schools.
Frances Brillantine, Head of Access Services, said for the display she wanted to select a topic on African American education that also related to the law and to Washington D.C.
"I also wanted to focus on African Americans whom people might not know as much about. When people think of Brown v. Board of Education, they think of Thurgood Marshall, as they should, but there is more to the story. I knew that Brown v. Board of Education included a D.C. case, but I didn't know anything more than that. I started my research using several books on Brown v. Board of Education, and I was immediately drawn into Gardner Bishop's story. Bishop started his fight in 1947, organizing his own group of parents,apart from the PTA and the NAACP, and he kept on fighting for seven years. He and the Consolidated Parents Group organized protests, raised funds, and got the attention of the local newspapers, including The Washington Post. When Bishop realized he needed legal help, he approached Charles Houston. As a working-class barber, Bishop related in interviews how difficult it was for him to go to Houston and then James Nabrit for help. The stories of all three of these men are compelling, and I knew they would make an interesting display. Another interesting factor to Bolling is that it had to be decided separately from Brown, since the Fourteenth Amendment does not apply to the District of Columbia. Finally, there has been much debate as to the legacy of Brown, so that also tied in with this year's theme."
For photos and articles, Brillantine searched the historical Washington Post and New York Times, D.C. Public Libraries, and the Library of Congress, as well as Google images and Google historical newspapers. For case law, oral arguments, and briefs, she used a variety of law library online and print resources.