February 16, 2017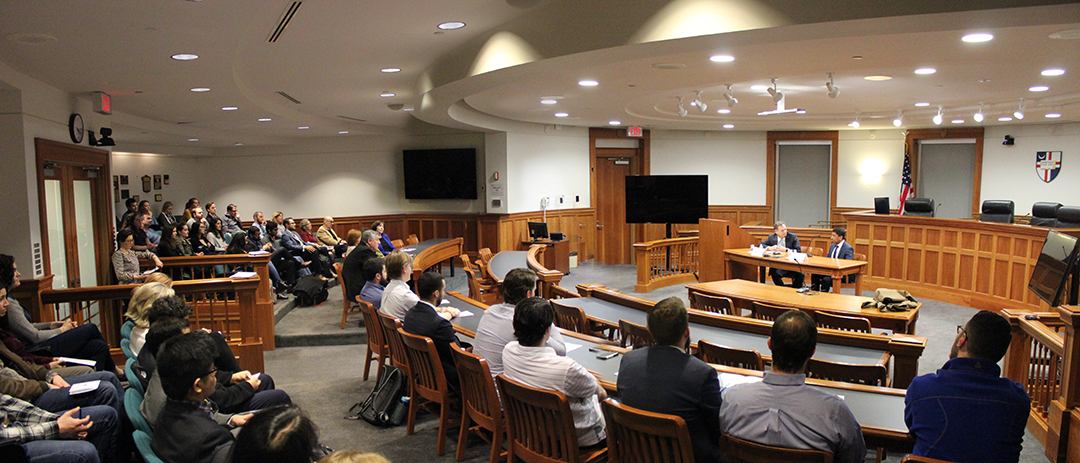 "The most important action you can do to advance your professional life is simply to do great work. We tend to try to plan our professional progressions tactically and strategically, but there is no substitute for doing great work."
This was some of the advice The Honorable Sri Srinivasan gave to the students at The Catholic University of America Columbus School of Law (CUA Law) during the Brendan F. Brown Lecture Series on February 15.
Organized as a conversation between the dean and the judge, the discussion covered topics including the challenges of representing clients who others have demonized, the best courses to take in law school, advice regarding mentor relationships, and the importance of faith.
Judge Srinivasan discussed representing challenging clients, such as ExxonMobil for accusations of human rights abuses, while in private practice. "That is what we do as lawyers," he said. "You can go back to the early foundations of the country to realize that it is part of the fabric of the law. The system is predicated on the notion that everyone is entitled to fair representation."
In talking about his own personal and professional journey, Judge Srinivasan spoke about his immigration to the U.S. as a child and his pathway to citizenship as a young adult, "In the early 1990s, I took the Oath of Citizenship from a federal judge in California. Twenty years later I can give the Oath of Citizenship as a federal judge. It is remarkable."
Judge Srinivasan also recommended that students take a wide breadth of survey classes while in law school and to work on maintaining their mentor relationships. "I recommend taking the doctrinal survey classes while in law school," he said. "Building a base of knowledge about a specific part of law can be really helpful later on in your career. "
Judge Srinivasan ended his conservation by discussing the principle of selfless service in Hinduism, "There is a fundamental aspect of the Hindu teaching that I am sure has had an affect on me," he said. "If you devote yourself to service without attachment to outcomes that is how you obtain fulfillment."
Judge Srinivasan is a United States Circuit Judge of the United States Court of Appeals for the District of Columbia Circuit. The United States Senate confirmed Srinivasan by a vote of 97-0 on May 23, 2013. Before his confirmation, Srinivasan served as a Principle Deputy Solicitor General of the United States and has argued 25 cases before the U.S. Supreme Court.
In 2016, Srinivasan was considered by President Obama as a potential nominee to the Supreme Court.
After the conclusion of the lecture, students, alumni, faculty, staff, and guests were invited to a reception in the Keelty Atrium for a chance to personally speak with Judge Srinivasan.
Click here to view the lecture on the CUA Law YouTube Channel.