February 15, 2017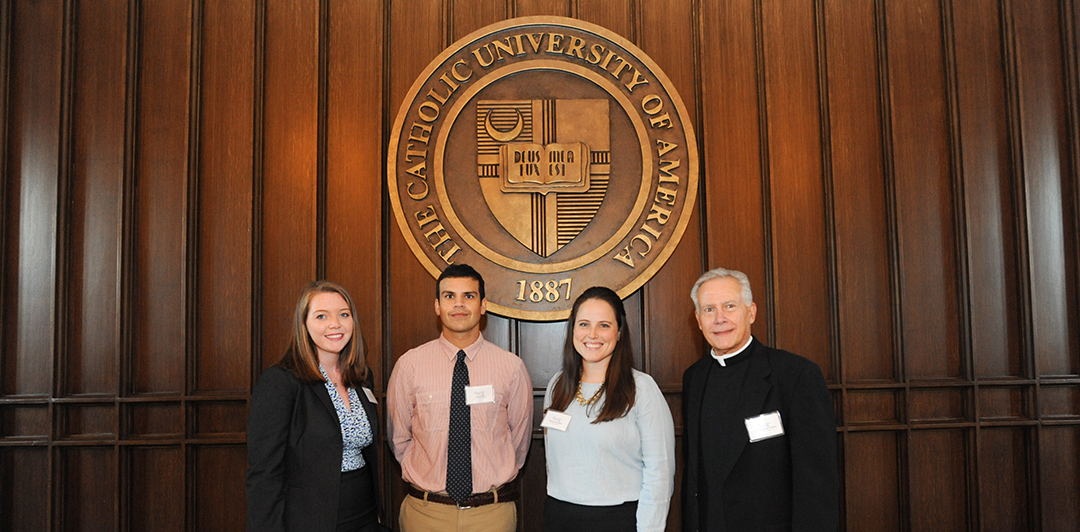 Father O'Brien (right) pictured with a recipient of the Father O'Brien Fellowship (left)
and two recipients of The O'Brien Scholarship (center)
In 1976, long before Washington, D.C., became the destination of choice for Millennials, the Reverend Raymond C. O'Brien, M.Ch.A, D.Min., a professor at The Catholic University of America Columbus School of Law (CUA Law), purchased a condominium in the Southwest part of the city. Forty years after the purchase, Father O'Brien sold the property and contributed the proceeds to charity. In late 2016, Father contributed $100,000, from the sale of the property, to the Law School in order to establish the O'Brien Endowment.
For the past twenty years, Father O'Brien has been consistently raising money to provide funds for law students interested in pursuing pro bono work over the summer. Criteria for receiving the Father O'Brien Fellowship include writing an essaying integrating the student's religious perspective with their future career as an attorney. Recipients, selected by three attorneys, receive $4,500 each to work with refugees, victims of human trafficking, and immigration applications. Religious perspectives of past recipients include Catholic, Jewish, Protestant, Muslim, and Hindu.
"I am incredibly thankful to be the recipient of the Father O'Brien Fellowship, which allowed me to choose an internship that would be best for my future, rather than finding a job merely for what I could be paid," Maggie O'Neill (3L) said, who interned for the Honorable Roger W. Titus at the United States District Court.
In addition to the Fellowships, The O'Brien Scholarship is available for first-year entering students. Each recipient receives $10,000. The Endowment is available to support both Fellowships and Scholarships with the anticipation that the Law School can offer additional funds in future years.
Father O'Brien has supported these endeavors in honor of his service-oriented grandparents, who were motivated by their religious faith and conviction. He believes it is only natural that at this mission-oriented Law School "we combine our money with our mission."
"My grandparents thought that you had a duty to give back. Gifts to the Law School, to support our mission and our students, are what they would have wanted. And while they are not here to see the fruits of their good works, their spirit permeates those serving now through the Fellowships and Scholarships."