February 09, 2017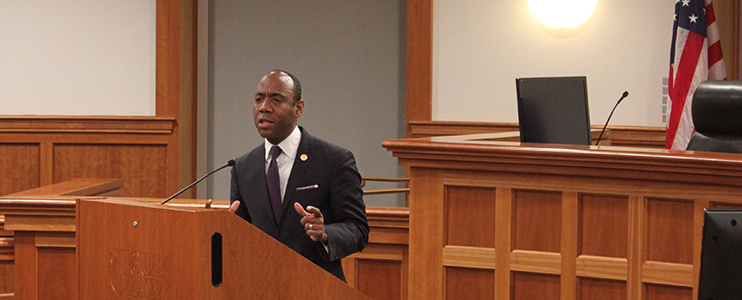 "We are in a moment in our nation's history where we are asking ourselves, 'Are we the same country our grandparents left for us?' We are at moment in our nation's history where we are being asked, 'Are we willing to step up? Are we willing to be the country we were meant to be?'"
These were some of the powerful questions posed to students at The Catholic University of America Columbus School of Law (CUA Law) by NAACP President Cornell William Brooks.
"The times are crying out to attorneys, to law students, to faculty, to step forward and address the social justice challenges of the moment," he said.
Brooks spoke before a crowded Slowinski Courtroom on February 8 for the Brendan F. Brown Lecture Series in an impassioned lecture entitled, "The Ballot and the Testament", where he discussed the right to vote and the NAACP's history of social justice.
"The teachings of Dr. King echo with relevance in these times," Brooks said. "The teachings of the intrinsic value of human beings, the notion of interdependence, and the moral order to the universe, echo in these times."
Brooks discussed the current mass incarceration epidemic and need for sentencing reform as issues of human dignity. "Our humanity cannot be reduced to our mugshot numbers, to our criminal record numbers. Our humanity cannot be stripped away by the dehumanizing treatment of our criminal justice system," he said.
"This is a moment to understand that hope is not a moral luxury but, in fact, a moral necessity," Brooks said.
He reminded the audience of the incredible sacrifices of those who have come before. "This is a moment for us to believe in our power as change agents based on the performance of civil rights leaders in the past and the success of the NAACP in securing court victories against voter suppression."
Before he took questions from the audience, Brooks closed the lecture by speaking on the importance of interdependence, "Dr. King taught us that we are interdependent. This notion that we need each other, that we are dependent on each other, and that we rely on each other. This is a moment where we have to come together. We are, in fact, interdependent: generationally, racially, ethnically…"
Brooks also offered a piece of practical yet sage advice to lawyers in training - "It is important, as law students, to not just network vertically, but to network horizontally. Fifteen years out of law school you will always be able to reach your classmates. The greatest resource you have are your law professors, but don't underestimate the power of the people sitting beside you."
After the conclusion of the lecture, students, alumni, faculty, staff, and guests were invited to a reception in the Keelty Atrium for a chance to personally speak with Brooks.
Click here to view Brooks' lecture on the CUA Law YouTube Channel.