February 03, 2017


Spring 2017 Externship Fair Draws Strong Interest From Employers and Students
Students from The Catholic University of America Columbus School of Law (CUA Law) had the opportunity to put their practical, focused, and connected legal education in action at the CUA Law Annual Externship and Clinic Fair. Held on February 1, 2017, the Externship and Clinic Fair connected employers to students.
These employers are made up of government agencies, private firms, non-profit organizations, and even CUA Law's own clinics. Some of these employers are also CUA Law alumni. The 2017 Fall Externship and Clinic Fair brought in various employers to meet with students on campus, some chose a résumé drop-off option, and others did one-on-one interviews prior to the event.
"Most of the employers at our Externship Fair come back to CUA Law year after year. They continually recruit our students because of the quality of their work and their tireless work ethic. CUA Law students have an excellent reputation within the legal community," Jill Frost, Director of the Office of Career and Professional Development said.
Through CUA Law's externship program, students earn course credits and get practical skills by working at non-profit organizations, government agencies, in congressional offices, for judges, law firms, trade associations, and corporations.
"The Externship Fair provides an excellent opportunity for students to learn how they can gain hands-on experience in a wide range of practice settings, and for employers to meet and recruit CUA students to participate in their externship programs. We are fortunate to have such strong support for CUA and for this event from among so many area employers," Lisa Martin, Director of the Experiential Curriculum said.
Student externs have the opportunity to assist with representation of clients, with legislative and other policy development, and with a wide range of other lawyering activities. This valuable exposure to lawyers and legal institutions creates professional relationships, which stretch beyond a student's time in Law School. Many use externships to explore and focus on possible career paths and to clarify their professional goals.

"Many students approached employers and asked what they could do to be stronger candidates and went outside of their comfort zones to talk to employers with whom they may not have thought they initially had any interest in. One student said she was so captivated with an employer that she missed her train," Rachel Lawrence, Experiential Learning and Pro Bono Assistant commented.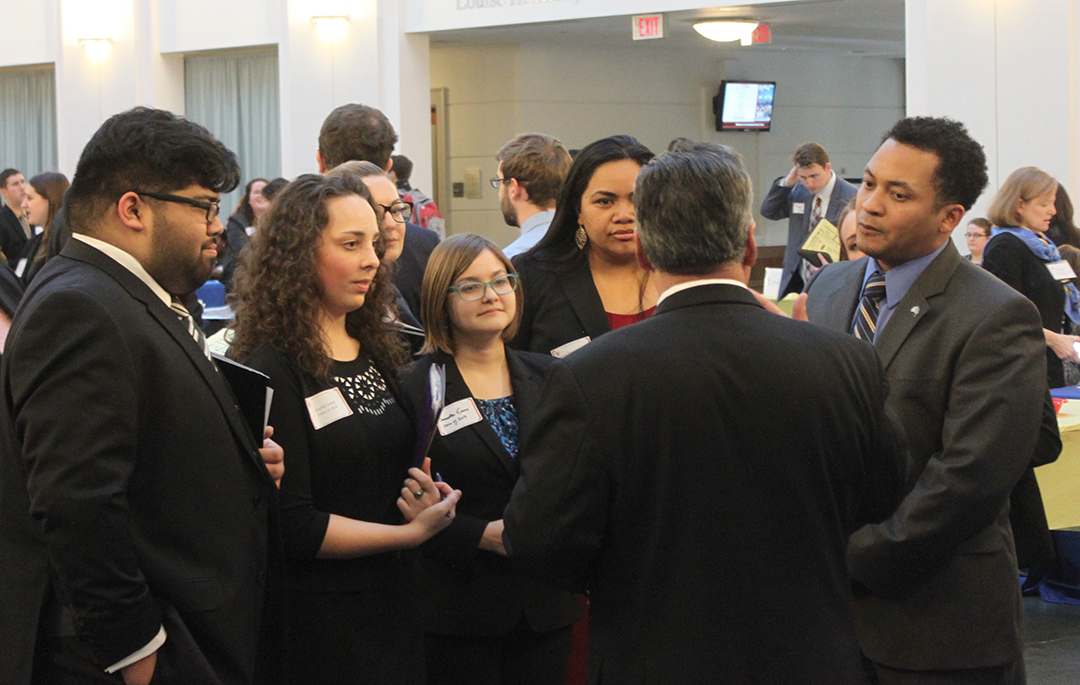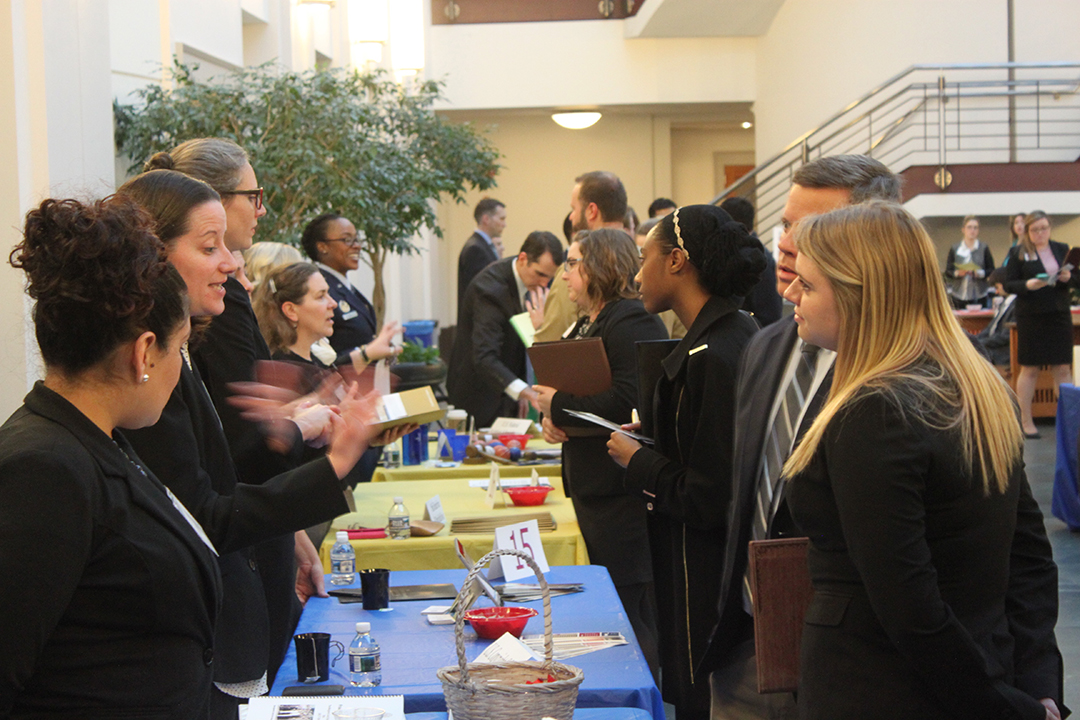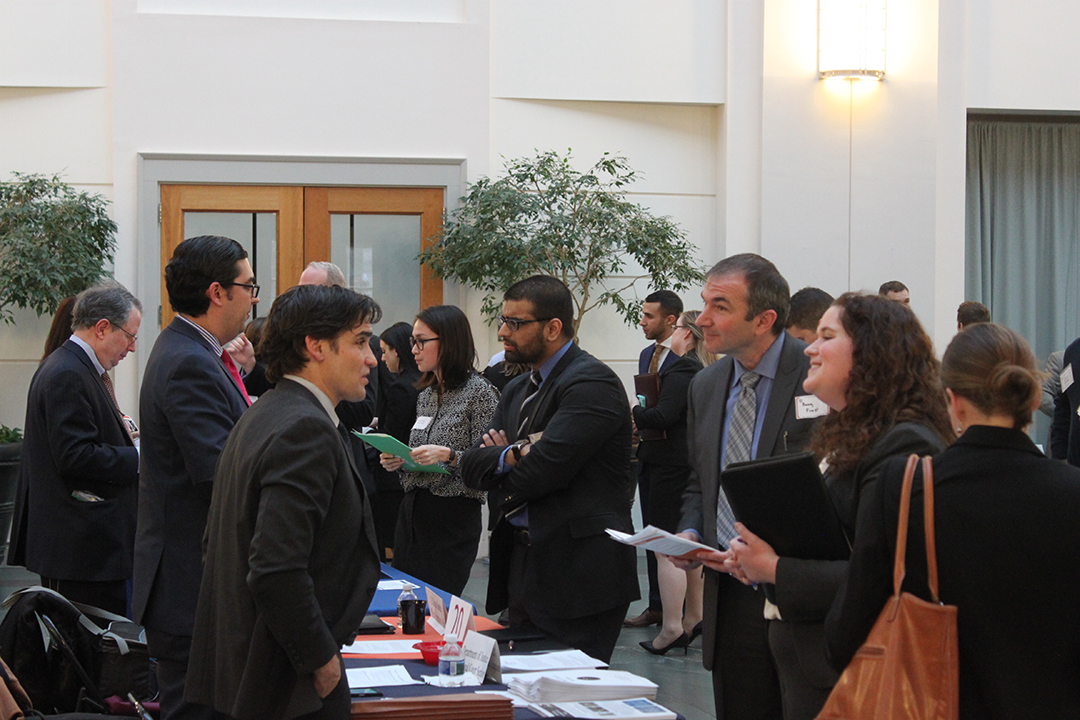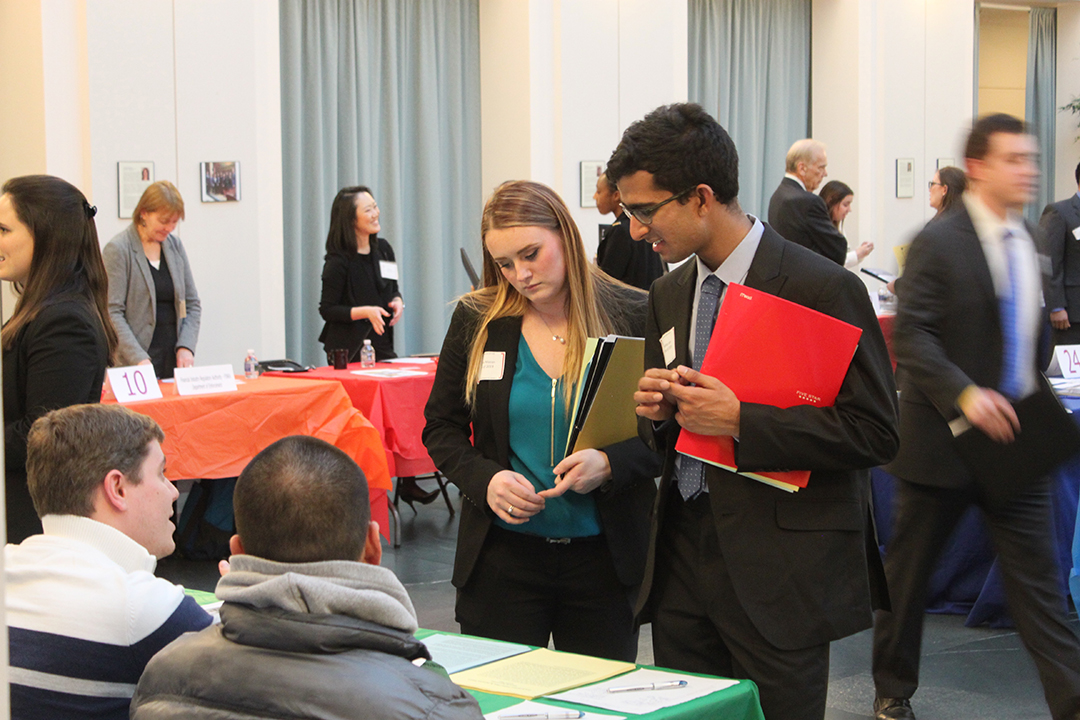 Spring 2017 Externship and Clinic Fair - Employers Represented
Academy of Nutrition and Dietetics, Policy Initiatives and Advocacy
American Federation of Labor-Congress of Industrial Organizations (AFL-CIO), General Counsel
Bread for the City, Legal Clinic
Catholic Charities of the Archdiocese of Washington, Catholic Charities Legal Network
Catholic University Columbus Community Legal Services (CCLS)
Catholic University Innocence Project Clinic and Clemency Project
Catholic University of America, Office of General Counsel
Catholic University of America, Compliance and Ethics Program
Earthjustice
Electronic Privacy Information Center
Financial Industry Regulatory Authority (FINRA), Department of Enforcement
International Centre for Missing & Exploited Children, The Koons Family Institute on International Law & Policy
Investment Adviser Association
Kids in Need of Defense (KIND), DC Field Office
Legal Aid Society of the District of Columbia, Pro Bono Program
Montgomery County State's Attorney's Office, District/Circuit Court
Prince George's County Police Department, Office of the Inspector General
Public Defender Service for the District of Columbia, Mental Health Division
U.S. Department of Justice, U.S. Attorney's Office for the District of Columbia
U.S. Copyright Office, Office of Policy and International Affairs
U.S. Court of Federal Claims, Office of Special Masters
U.S. Department of Energy, Office of the General Counsel
U.S. Department of Justice, Office of International Affairs (OIA)
U.S. Department of Justice, Commercial Litigation Branch, National Court Section
U.S. Environmental Protection Agency, Office of Enforcement
U.S. Equal Employment Opportunity Commission, Office of Federal Hearings
U.S. Federal Aviation Administration, Office of the Chief Counsel
U.S. Federal Communications Commission, Enforcement Bureau Investigations and Hearings Division
U.S. Federal Communications Commission, Wireless Bureau
U.S. Federal Election Commission, Office of General Counsel
U.S. House of Representatives, Transportation and Infrastructure Committee, Subcommittee on Railroads, Pipelines,and Hazardous Materials
U.S. Securities & Exchange Commission, Investment Management
U.S. Small Business Administration, Advocacy, Interagency Affairs
U.S. Air Force JAG Corps, Headquarters
World Bank Group, Integrity Vice Presidency
Resume Drop
Catholic Legal Immigration Network, Inc., Immigration Services for Religious Workers
U.S. Department of the Interior, Office of the Solicitor, Division of Indian Affairs
U.S. Office of Personnel Management, Office of the General Counsel
U.S. Senate, Committee on Energy & Natural Resources