January 24, 2017

The Catholic University of America Columbus School of Law's first Faith In Action event of the semester featured The Honorable Patricia Millett, of the U.S. Court of Appeals for the D.C. Circuit, who gave a talk entitled "Go and Do Likewise: Lawyering as a Life of Service."
During the January 23 event, Millett discussed the extraordinary legal system in the United States, the great responsibility of being a lawyer, and the importance of remembering that lawyers work for the people they represent.
"The legal system, as we sometimes forget in law school and throughout our legal careers, is the third branch of government. It is a branch of the people's government and it belongs to them," Millett said.
Millett also discussed that faith in action is making the justice system work for her clients. "Go tend to the wounds, lift someone up, care for them. You can do that in many, many ways. In the way you handle every single case, in the way you tell a client's story. Make their justice system work for them," she said.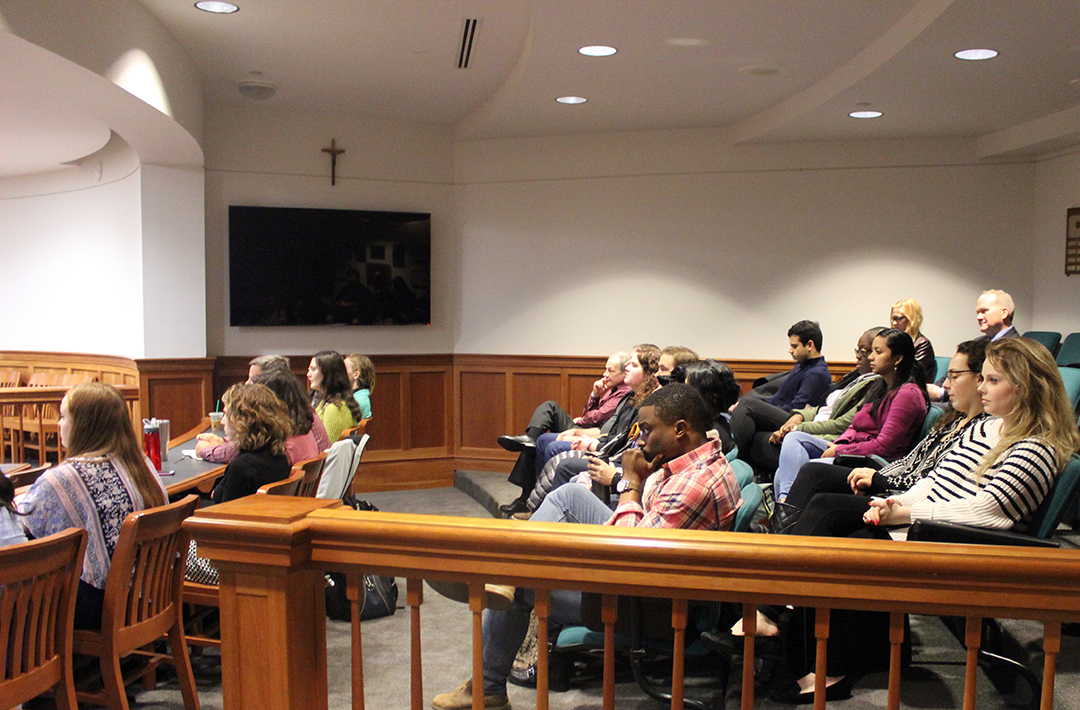 She also reminded students of the importance of service. "I would urge you to always do pro bono work. It is always hard to find time, but it will make you a richer human being. It will make you excited about law in ways that are easy to forget during the day to day of routine work."
Judge Millett was appointed to the United States Court of Appeals on December 10, 2013. She graduated from the University of Illinois at Urbana-Champaign (summa cum laude) in 1985 and from Harvard Law School (magna cum laude) in 1988. After working in a private law firm (Miller & Chevalier) for two years, she clerked for Judge Thomas Tang of the United States Court of Appeals for the Ninth Circuit. Following her clerkship, she worked for four years on the appellate Staff on the Civil Division in the United States Department of Justice and for eleven years as an Assistant in the Office of the Solicitor General. In September 2007, she became a partner leading the Supreme Court and appellate practices at Akin Gump Strauss Hauer & Feld LLP. She has argued 32 cases before the U.S. Supreme Court.
After the talk concluded, students and faculty had the opportunity to ask questions and speak with Millett about her experiences.