December 12, 2016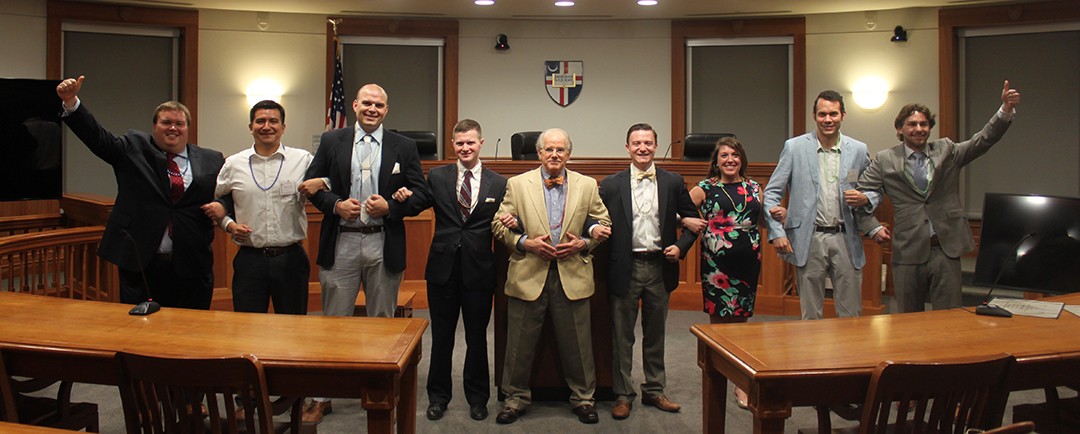 (Eight of the nine May Securities Law Program Certificate graduates pictured above with Professor Lipton) 
With the offer and acceptance of a position at the prestigious Division of Corporation Finance at the SEC, the ninth recipient of the
Securities Law Program
's Certificate in May has again brought the Program's placement record to 100 percent by the end of the Fall term. This is the seventh time in the last eight years in which the Program has fulfilled this record.
The other graduating students accepted offers by June at some major firms, FINRA, and other government agencies. Professor
David Lipton
, Program Director, credits the Program's placement record to the talent of the Program's adjuncts; the dedication and generous willingness of the alumni to lend a hand; and the tenaciousness confidence of graduates in seeking positions in the industry.
Professor Lipton notes that the success of the Program's placement record inures to the benefit of all of our students. In the past four years, approximately seven major national firms have agreed to interview on campus based upon the record of the Securities alumni at these firms.
These firms come onto the campus with the understanding that they will consider talented students from a broad array of studies and not just Securities Law. "Our students are known", Lipton explained, "to be practice ready."
In addition, the sole Certificate recipient who will be graduating in December recently accepted an offer to join the legal staff of the London Stock Exchange.
Updated on March 27, 2017:
Professor Lipton joyfully announced in late March that the last two students who graduated from the Securities Law Program over the past eight years have obtained employment. Both have acquired positions in the securities law field in Pennsylvania and Massachusetts. "It took a bit longer than I hoped, but we are now at one hundred percent placement for the past eight years," Lipton said.
Lipton noted he was exceptionally proud of the students and glad he was able to assist them in continuing to pursue their goals. He also thanked Jill Frost, the Director of the Office of Career and Professional Development, for her continuing efforts in helping to place our Securities Law Program students.