November 30, 2016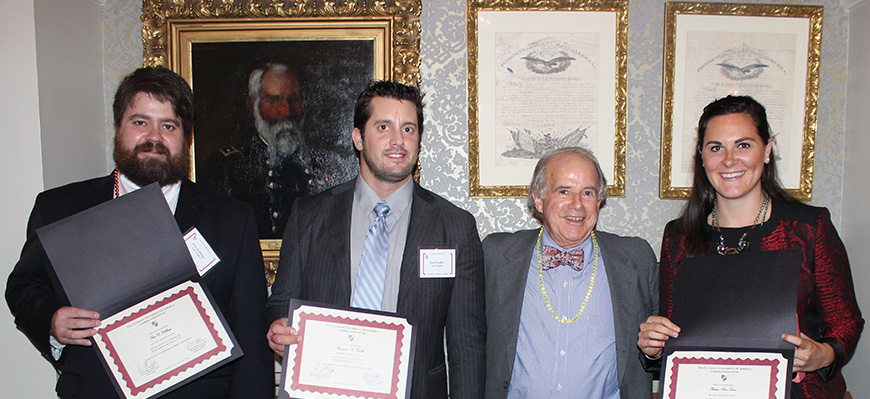 From L to R: Pete Dollinger (3L), Ben Fendler (2L), Professor David Lipton, and Patricia Leeson (3L)
(Photo from the Annual CUA Securities Law Program Luncheon on November 3, 2016)

Family, friends, and the CUA Law community gathered in the Slowinski Courtroom to celebrate the life of Benjamin Fendler on November 29, 2016. Ben, a second-year student in the Securities Law Program, passed away on November 20, 2016. Throughout the service, faculty and students led the community in prayer, remembrance, and song.
"It is particularly shocking and tragic whenever someone as talented and vibrant as Ben is called from this world at such an early age. We cannot help but to deeply grieve his passing. It is also important that we celebrate the many gifts that Ben has left us as a family member, friend, colleague, and student during his all too brief time with us," Daniel F. Attridge, Dean and Knights of Columbus Professor of Law said.
Professor David Lipton gave a touching eulogy, "Ben influenced a lot of people in this room and that is a remarkable thing to do in such a short period of time. Ben was a student of mine in the Securities Law Program. He competed for and made it on the coveted National Securities Moot Court Team, and he wrote, what I thought to be, the best brief I've read in awhile. He was a recipient of the Securities Program Scholarship and he was a recipient of the Smith Scholarship," Lipton said.
"In my world, Ben was a rising star. Ben had a passion to learn, a passion to share, and a passion to move."

Campus Ministry, the Counseling Center, and the Dean of Students for the Law School are available to provide support to members of the University community. Memories of Ben and condolences may be sent to Mr. and Mrs. Gene Fendler, 1102 Metairie Road, Metairie, La. 70005