November 16, 2016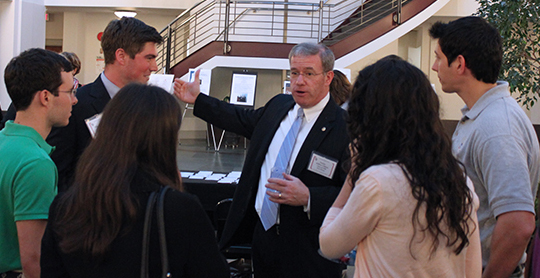 Jeff Chiesa (center) at a Law and Public Policy program at CUA Law in Fall 2013.
CUA Law alumnus, Jeffrey Chiesa '90, was tapped by the Governor Chris Christie administration to oversee the state takeover of Atlantic City.
Chiesa has worked alongside Christie in various positions throughout the last 25 years. Chiesa served as the Attorney General of New Jersey from 2012 to 2013 and as a U.S. Senator from New Jersey in 2013. He received his J.D. from The Catholic University of America's Columbus School of Law in 1990.
"Senator Chiesa brings important insights and management experience from years of service in both the public and private sectors, which makes him an excellent candidate to oversee the responsible management of Atlantic City's finances," Charles Richman, commissioner of the Department of Community Affairs, said in a statement.
Click here to read the full article.