October 17, 2016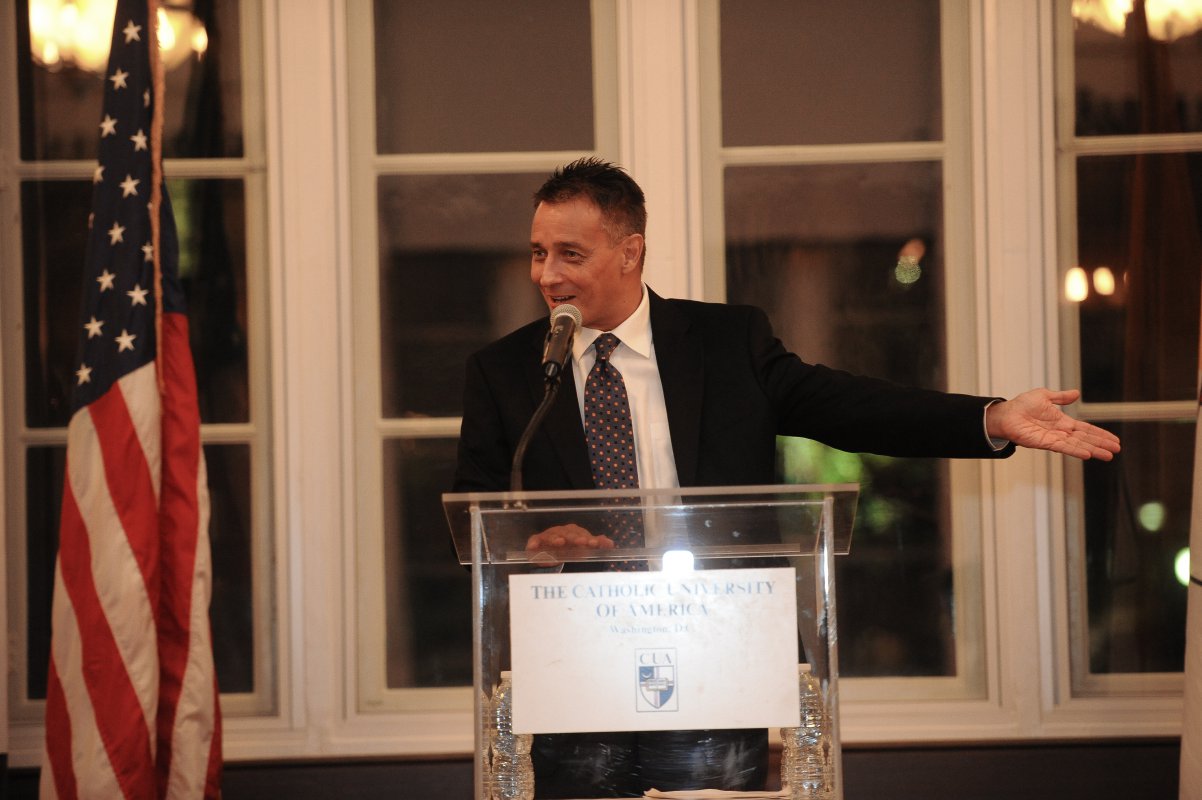 Francisco Hernandez, Jr. '90

A Celebration of Scholars and Benefactors, held October 13, 2016, at Heritage Hall in Father O'Connell Hall at The Catholic University of America, was an evening designed to honor and thank the people who have given many students the gift of a Catholic education. Francisco Hernandez, Jr. '90 and Nicole Valente, a junior nursing major, Class of 2018, both told their compelling stories to a room full of guests that included scholarship awardees, benefactors, and university representatives. Over thirty scholarship donors and scholarship recipients represented CUA Law at this University wide event.
Hernandez '90 relayed his story of receiving a full-tuition, need based scholarship that changed his life. He was in his second semester of law school, and was not sure if he could continue funding his education. That was until he received a phone call that changed his life.
Hernandez says it is now his duty to give back and to encourage others to as well.
"Yesterday, I called three friends who had never given to the Law School and asked for their contributions. Little by little you end up giving two scholarships per year to students and you change their lives, just like the scholarship changed my life," Hernandez said.
"It is really an honor to be here. This University instilled me the desire to do unto others as they have done unto me."
Nicole Valente also told the audience of the impact scholarships made on her life.
"If it wasn't for all the help that I have been given, I wouldn't be here today. I am here to sincerely thank you for your contribution to my success and the success of many other students who receive scholarships," Valente said.
President John Garvey thanked the audience for their benefaction and partnership, and explained that while the University is awarding more in donor funded scholarships than ever before, it is just a fraction of the overall need. For many of these students, receiving one of our named scholarships makes it possible for them to attend Catholic University.
"We form our students' intellect, we also shape their character. By providing scholarships to students at The Catholic University of America, you have made it possible for them to receive an education they can't get anywhere else," Garvey said.
"Nurses from the School of Nursing will serve thousands of patients with skill and compassion. Composers, performers, and conductors trained at the Benjamin T. Rome School of Music will make life more beautiful for thousands of people who hear their work. Lawyers educated at the Columbus School of Law will bring the much-needed virtues of justice, honesty, and mercy into their profession."

"Everyone deserves the opportunity to grow and learn and money should not stand in their way. So thank you again from the bottom of our hearts for being a part of the reason we are here today," Valente said.