October 14, 2016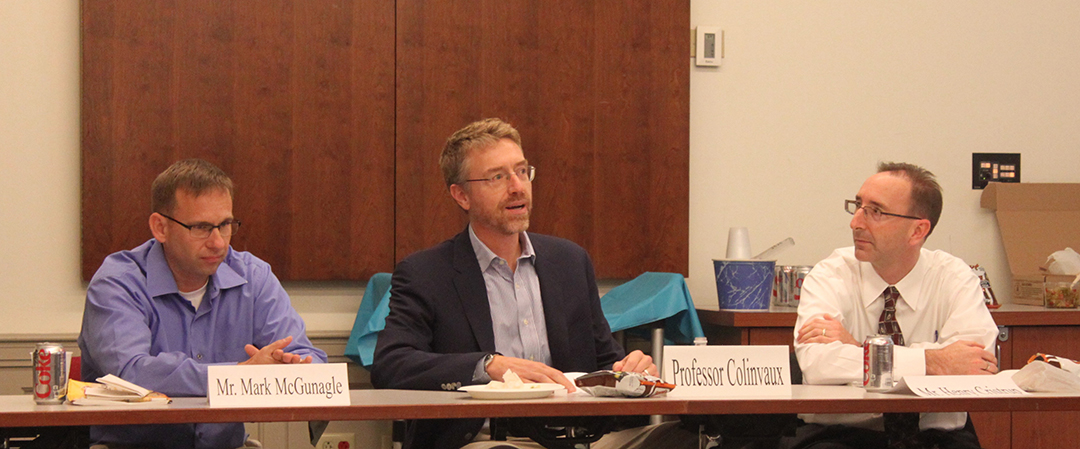 On October 13, 2016, The Law & Public Policy Program went "inside the beltway" with a discussion entitled "An Insider's View of the Legislation Process: The Role of Legislation Counsel". Professor Roger Colinvaux, director of the Law and Public Policy Program at CUA Law, moderated the discussion between Henry Cristrup, Office of Legislative Counsel at the U.S. House of Representatives and Mark McGunagle, Office of Legislative Counsel at the U.S. Senate.
Cristrup and McGunagle explained to CUA Law students the process of providing legislative drafting services to the committees, Members of the House of Representatives, and U.S. Senators. They each emphasized the importance of providing their services in a non-partisan, impartial, and confidential basis.
They also explained that their goal is to work with their clients (the committee, Members, and Senators) to understand their policy preferences in order to draft clear, concise, and effective legislation.
Throughout the presentation, students asked a number of questions ranging from how bill prioritization works in the drafting process, how to identify the client served, how a policy idea is reduced to legislative language, and the role of executive branch. After the presentation, students had a chance to have informal conversations with the speakers.