October 11, 2016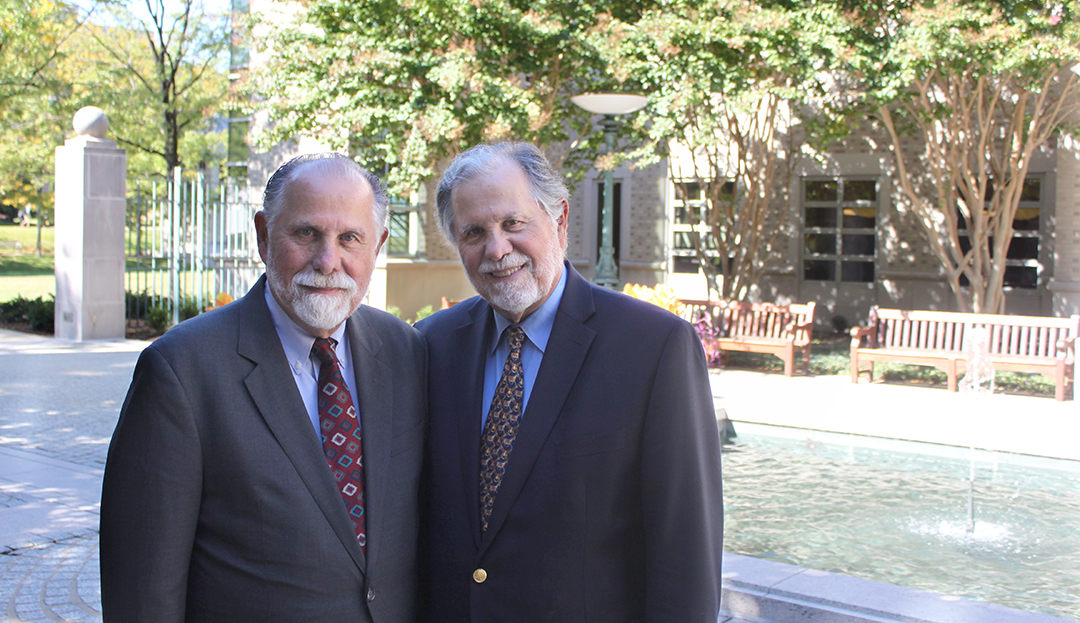 Twin brothers Anthony and Michael Ambrosio have remained loyal and generous supporters of the Columbus School of Law as alumni. In honor of their Class of 1966 Law School Reunion, the Ambrosios have pledged $100,000 to establish The Anthony and Michael Ambrosio CUA Law Class of 1966 Endowed Scholarship. Michael Ambrosio has also included a gift of $1 million to CUA Law in his estate plans, joining the Law School's Columbus Society. The Columbus Society recognizes and thanks alumni and friends who have made special gifts in their estate plans to benefit The Catholic University of America Columbus School of Law.
Endowed scholarships support more than just one student for one academic year-they support hundreds of students over hundreds of years-becoming a permanent testament to the donor by supporting future generations of students.
"We're delighted that Michael and Anthony Ambrosio are creating an endowed scholarship fund to mark the 50th anniversary of their law school graduation. Their generosity directly supports our highest fundraising priority -- scholarships to make our first-rate legal education more affordable for the best and brightest of our outstanding students," CUA Law Dean and Knights of Columbus Professor of Law Daniel F. Attridge said.
The Ambrosios both serve as chairs for their 1966 Reunion Committee and look back fondly at their time at CUA Law.
"Throughout our fifty years in the legal profession my brother Anthony and I have looked back at our experience at CUA Law with a sense of pride and gratitude. At CUA Law we learned to think about the law as a means to secure justice. We loved learning the law in classrooms with interesting and inspiring professors," Michael Ambrosio said.
This Friday, October 14, the Ambrosios will kick off Reunion week at CUA Law by giving a lecture to CUA Law students entitled First Year Friday: Legal Ethics and Malpractice: Holding Lawyers Accountable to Clients and the Public Interest. They will conclude the Reunion Weekend serving as conveners for the Robinson Society Luncheon on Sunday, October 16.
Making legal education more affordable to all admitted students is critical to the enrichment, strength, and diversity of the CUA Law community.