October 05, 2016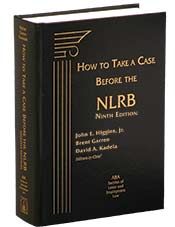 The Catholic University of America Columbus School of Law's adjunct faculty member John Higgins recently served as Editor-in-Chief for the recently-published treatise How to Take a Case Before the NLRB, Ninth Edition. In his role as Editor-in-Chief, Higgins coordinates, checks, and generally oversees publication of the book's chapters submitted by the both union and management attorneys, all of whom are members of the Labor and Employment section of the American Bar Association.
Presently, Higgins also is serving as Editor-in-Chief of the nationally acclaimed ABA book entitled The Developing Labor Law, 7th Edition. As with How to Take a Case Before the NLRB, Ninth Edition, Higgins is also responsible for coordinating and helping ensure the accuracy of book chapters prepared by management and union labor attorneys. He has served as Editor-in-Chief of this landmark text for the last 3 editions.

CUA Law Professor Roger Hartley has explained that these two books have become the standard reference guides used and cited by thousands of labor lawyers in the United States. "Any attorney with a labor practice knows these books and is aware of Higgins' commitment to make them the most complete and most accurate treatises possible. All of us at law school are very fortunate to have Professor Higgins on the CUA Labor and Employment Law Faculty."
During his nearly fifty-year career with the NLRB, Higgins served as a member of the National Labor Relations Board, as NLRB Deputy General Counsel, and as Solicitor of the NLRB. Higgins has taught at CUA Law since 1982. He teaches the following courses: Practice and Procedure before the NLRB, Public Sector Labor Law, Local Government Law, and co-teaches the Labor and Employment Law Litigation Capstone course.