October 04, 2016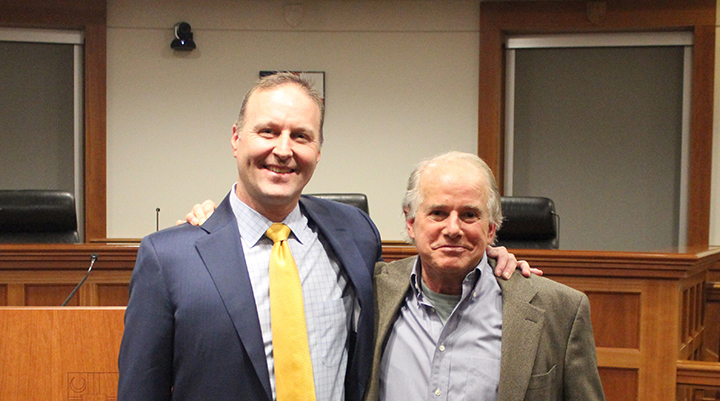 Chris Concannon '94 (L) and Professor David Lipton (R)
The Catholic University of America Columbus School of Law (CUA Law) alumnus, Chris R. Concannon '94, was recently named future president and chief operating officer of CBOE Holdings Inc.
Concannon currently serves as CEO of BATS Global Markets Inc. On September 26, 2016, CBOE Holdings announced that it would acquire BATS in the first half of 2017, whose core trading software is considered among the best in the industry, for cost savings, technology and earnings growth. CBOE said it would buy BATS for about $3.2 billion, just five months after BATS made its market debut. BATS handles about a quarter of all U.S. trading in exchange-traded funds, among the hottest growth areas for exchanges, and also gives CBOE a new revenue stream from selling market data to customers. Both BATS ' trading system as well as trading volume have been enhanced under Concannon leadership.
"We're excited about what we have ahead of us," Concannon said on a call with analysts and reporters following the announcement. And then in his characteristic buoyant manner, he added, "[w]e're excited about how to be disruptive in a new way."
Concannon returned to CUA Law to give a talk before securities law students and alumni in Spring 2016.
Concannon will host a Securities Program Luncheon at BATS on October 27, 2016. Click here to register.

Click here to read the full Bloomberg article.