September 15, 2016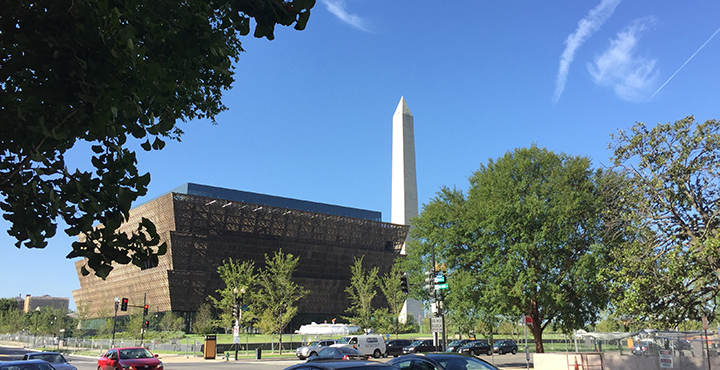 When most students graduate law school they likely do not envision a life as a museum curator. Mary Elliott '99 was no exception.
Elliott told Frost Illustrated that when she was first approached to apply for a job at the new Smithsonian National Museum of African-American History and Culture, she initially scoffed at the idea.

"I was so deep into doing my own research..." Elliott said, further recognizing that her law degree and license to practice law in Maryland might have easily led her down an entirely different path.

Eventually, Elliott, who has a lengthy, background in researching and presenting African American history and culture, decided to take on the position of Museum Specialist at the Smithsonian's National Museum of African American History and Culture. She helped research, conceptualize and design the "Slavery and Freedom" inaugural exhibition. She also contributed to the exhibition script, consulted with expert scholars, and identified and secured collection donations including the antebellum slave cabin that will be featured in the museum.
As the September 24 grand opening of the museum approaches, Elliott told the NNPA Newswire what is going through her mind.
"I think about family, relatives, ancestors, those I knew personally and those before them," Elliott said. "I think about my church family and my community and I get so full, because I cannot wait for people to see the museum not just as a building, but to hear people say about our history that, 'I never looked at it that way, wow,' and to have them think a little differently about their approach to American history and understanding the African American experience."

"We don't hold back on violence during the period of slavery," Elliott said. "People will see how this ebbs and flows and that this violence [today] is nothing new and to understand it in a historical concept to wrestle with how to end it… and to also understand that African Americans are Americans who have contributed to the development of this nation."
Elliott has over twenty years of experience in researching and presenting African American history and culture. Her personal research focuses on African Americans from antebellum slavery through the Jim Crow Era, with a specific concentration on migration and community development. Her research has taken her to Virginia, South Carolina, Louisiana, Mississippi, and Oklahoma, covering subject matter including slavery and freedom in America, Reconstruction, the all-Black towns of Oklahoma and the National Negro Business League.
Click here to read the full Frost Illustrated story.

Click here for more information regarding the museum opening.