September 12, 2016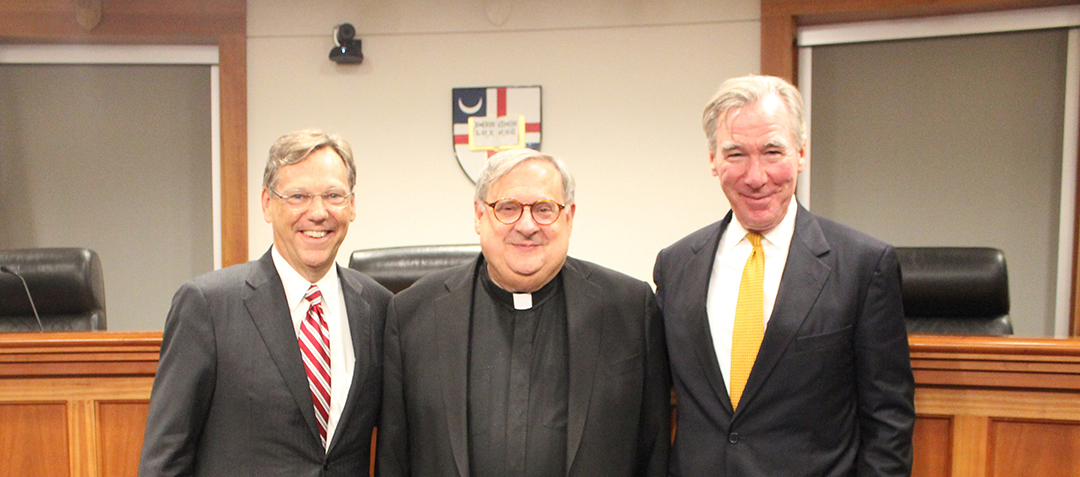 ( From L to R: Dean Daniel F. Attridge, Monsignor Peter J. Vaghi, and President John Garvey)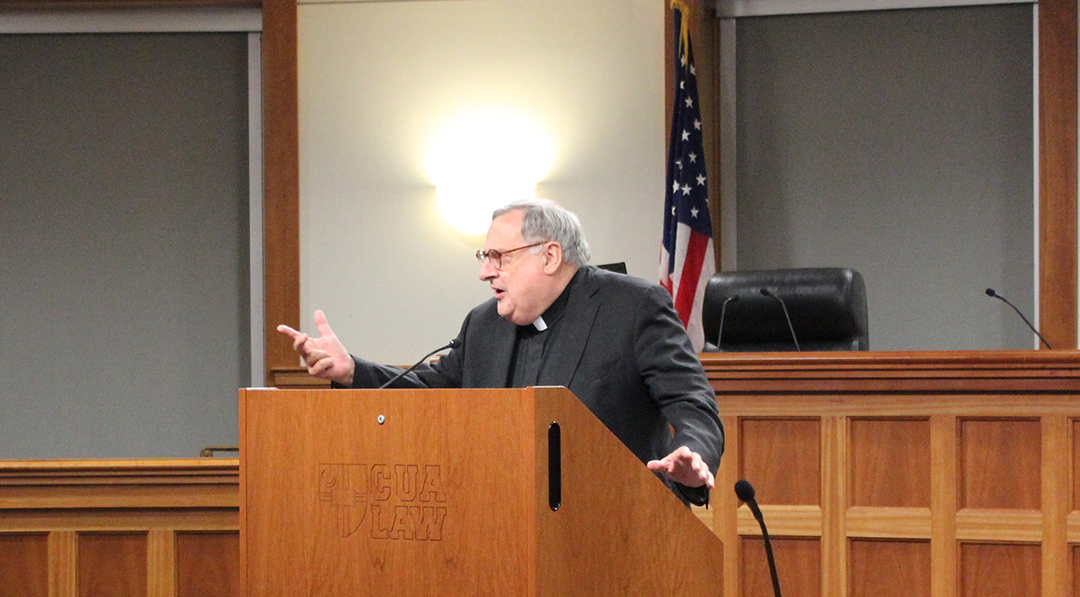 Delivering the 46th Saint John XXIII Lecture at the Columbus School of Law on September 8 "Friendship with Jesus and Each Other," Monsignor Peter J. Vaghi explored what friendship means to us in the busy and digital world that we inhabit.

"I hope to give and present some approaches to answering this question," Monsignor Vaghi said.
"Some would say that friendship is a lost art or it is merely reduced to a word used on Facebook. They would ask rather, in fact, it is possible to be friends with a God that we do not see if we are increasingly unequal or find it difficult it be friends with persons that we do see?"
He reminded the audience that God is always present and "friendship with God is walking with God."
Monsignor Vaghi also discussed that there is no better way to flourish a friendship with God than by building a friendships among each other.
"To say that Jesus is alive means to rekindle our enthusiasm to following him, to renew our passionate desire to be disciples. What better opportunity to renew our friendship with Jesus than by building friendship among ourselves?" Monsignor Vaghi, in citing Pope Francis, said.
"It is in our human interest to develop an attempt to learn what the concept of friendship uniquely means for us. It is worth all the effort in appropriating a genuine relationship with God and each other," he continued.
Monsignor Vaghi warned that though social networking sites are convenient, there is a risk of becoming more distant from each other.
"Social networking sites cannot replace the one on one relationship that is the traditional mark of the unique friendship with each other and with God. Virtual contact cannot and must not take the place of direct human contact," he said.
"I wish you to invoke the memory of Saint John XXIII in asking him to intercede for this great Law School, this great Catholic University, and for each one of us, without exception, as we continue our efforts to grow in friendship with one another and our God," Monsignor Vaghi concluded.

Monsignor Vaghi was introduced by CUA Law Dean and Knights of Columbus Professor of Law Daniel F. Attridge. Monsignor Vaghi currently serves as chaplain of the John Carroll Society, a group of professional men and women in service of the Archbishop of Washington. Additionally, Monsignor Vaghi gives monthly theological reflections and has organized and led 20 religious pilgrimages to holy places throughout the world. He has written a number of articles for America, Priest and Our Sunday Visitor. He has also contributed to two collections of writings on priestly spirituality: Behold Your Mother and Born of the Eucharist. He also serves on the Board of Trustees for The Catholic University of America.
Following the lecture, there was a reception held in the Keelty Atrium where students, faculty, alumni, and staff had a chance to greet Monsignor Vaghi.