August 26, 2016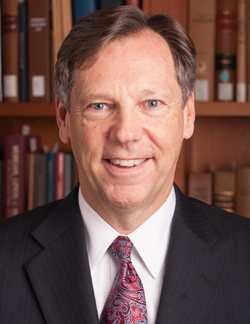 The Women's Bar Association of the District of Columbia will honor CUA Law Dean and Knights of Columbus Professor of Law Daniel F. Attridge and five other D.C. law school deans at the Stars of the Bar Fall Networking Reception on Wednesday, September 14, 2016.
WBA will pay tribute to the deans in recognition of the tremendous work they have done towards achieving gender parity in the legal profession and the vital role they play in preparing the next generation of lawyers. This year's theme, "looking back, and moving forward," highlights the strong 100-year history of the WBA and notes the importance of acknowledging the work still left to do in order to achieve equality for women in the profession.
"I am a long time admirer of the special role that the Women's Bar Association plays in advancing the careers of female attorneys. So it is a great honor to accept on behalf of CUA Law the WBA's award recognizing the vital role that our faculty and staff play in offering a first-rate legal education to generations of future lawyers, " Dean Attridge said.
The Stars of the Bar Reception kicks off the WBA's program year. It is attended by more than 300 professionals, including firm, nonprofit, and government attorneys, judges, law students, and leaders in the D.C. legal community. The event will take place in the lobby of the Columbia Square Building at 555 13th Street, NW, Washington, D.C., from 6:00 to 8:00 pm, with a brief awards program at 7:00 pm. There is no charge to attend the event.
Honorees Include:
Dean Daniel F. Attridge, Catholic University of America Columbus School of Law
Dean Katherine S. Broderick, University of the District of Columbia David A. Clarke School of Law
Dean Danielle Holley-Walker, Howard University School of Law
Dean Blake D. Morant, George Washington University Law School
Dean Camille Nelson, American University Washington College of Law
Dean William Treanor, Georgetown University Law Center
Click here for more information regarding the reception.