August 23, 2016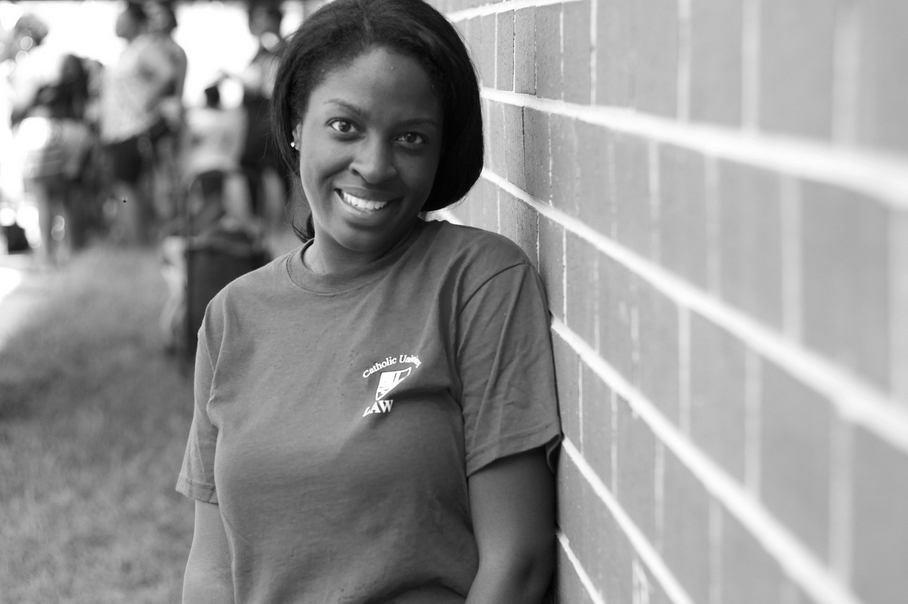 Photos courtesy of Olot Photography
Large Turnout for Back to School Carnival Organized By CUA Law Student


The Back to School Carnival organized by Veda Rasheed (3E) was a huge success. Over 200 families attended the event held on August 20 on the field of the Richard England Boys & Girls Club located at 4103 Benning Road, N.E., Washington, D.C. Rasheed worked for months to plan the Carnival to provide those in need of school supplies with the tools necessary to be successful in the classroom.
"I really enjoyed the event. It was great being able to be here. We were able to get a lot of nice stuff for the kids," Tia, a local mother said.
The Carnival provided free haircuts, shoes, uniforms, school supplies, backpacks, free immunizations, dental screening, and school registration. There were family-fun events including moon bounces, face painting, cotton candy, snow cones, popcorn, hot dogs and hamburgers, a dunk tank, DJ's, a rock climbing wall, and a games station.
Former BLSA President Arthur Osueke (3E) attended and helped hand out supplies.
"It was such a joy to experience the sense of community that the fair provided for everyone in attendance. Rasheed and the other carnival organizers enlisted attorneys, school board members, volunteers and countless others to help give back to her community. It was evident that an abundance of work went into putting this together," Osueke said.
Representatives from the following groups attended: Boys & Girls Club of Greater Washington Richard England Clubhouse #14, Community of Hope, Rocketship DC, KIPP DC, My Schools DC, District of Columbia Public Schools, Northeast Performing Art Group, Stand As Ten Thousand, Assistant Police Chief Dianne Groomes , Ward 7 State Board of Education Representative Karen Williams, ANC Commissioner Sheila Carr, Washington Bar Association, Young Lawyers Division, National Bar Association, Kingman Boys and Girls Club Atheltics Department, Metropolitan Police Department 6D, Pilgrim Rest Baptist Church were in attendance.
"The Community of Hope was gave information out concerning mental health and the Washington Bar Association was registering people to vote," Rasheed said.
As a part of CUA Law's annual Orientation Community Service Day, incoming evening students helped sort school supplies and packed backpacks in support of the Carnival. Many school supplies were donated by faculty, staff, alumni, and students.
"I want to thank CUA Law for all their help with supplies. We were able to send a lot of kids back to school this year ready to learn," Rasheed said.

CUA Law encourages all students to get involve with community service and Pro Bono projects. For more information on how you can get involved contact Pro Bono Coordinator Aoife Delargy.