August 16, 2016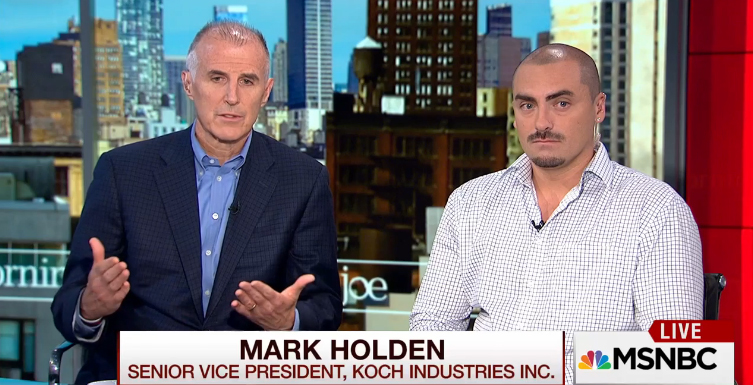 (From L to R Mark Holden and Weldon Angelos)
CUA Law alumnus, Mark Holden, class of 1988, appeared on MSNBC's "Morning Joe" on August 15. Holden, senior vice president, general counsel and corporate secretary of Koch Industries, Inc., and Chairman of the Board of Freedom Partners Chamber of Commerce, Inc., discussed the need for criminal justice reform and the recent commutation of nonviolent offenders.
Holden was joined by Weldon Angelos who was recently released from prison after serving nearly 13 years of 55 year sentence. Angelos' judge recommended a commutation the day he was sentenced for his nonviolent crime.
"The good news is that we have prove of concept that criminal justice reform works because of all the different states that have done it," Holden said. "They have had a lot of success reducing crime rates, reducing incarnation rates, reducing recidivism rates, and at the end of the day that keeps communities safer, and most importantly, keeps law enforcement safer. "
Mr. Holden earned a bachelor's degree in political science from the University of Massachusetts. He earned his law degree from the Columbus School of Law at the Catholic University of America, where he was an associate editor of the Catholic University Law Review.
Click here to watch the full interview.