July 25, 2016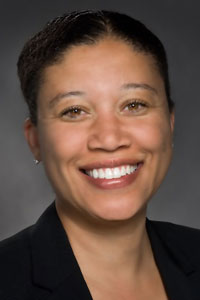 Photo provided by San Diego City College
CUA alumna, Denise Whisenhunt '97, was recently appointed as interim president of San Diego Community College District. Whisenhunt previously served as San Diego City College's vice president of student services.
Whisenhunt has held a variety of leadership positions in the district for more than 15 years.
"Denise Whisenhunt is the perfect person to serve as interim president of City College," SDCCD Chancellor Constance Carroll said. "She knows the college well and enjoys widespread respect throughout the district for her leadership, hard work, and talent.
"She also has extensive professional experience, connections with the community and a strong commitment to advocacy for students," Carroll said. "I am truly looking forward to working with her in this new role during a critical period of transition for the college."
Whisenhunt earned a political science degree from the University of California, San Diego, and is a graduate of the Columbus School of Law at the Catholic University of America.
Click here to read the full article