July 05, 2016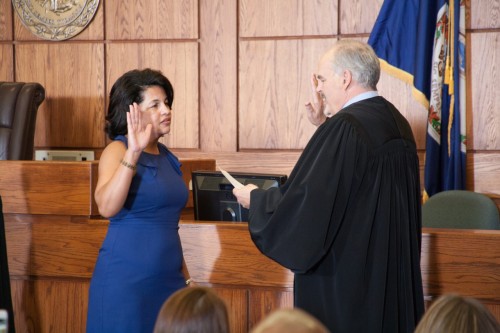 Photo Provided by Prince William County Bar Association
CUA Law alumna Petula C. Metzler '04, was appointed by the Virginia General Assembly to serve as the 31st Judicial District Judge in Prince Williams County General District Court. She is the first African-American invested to Prince William County's General District Court and was recognized with an award from the Northern Virginia Black Attorneys Association. She started her new position on July 1.

Metzler began her legal career as a law clerk to the Honorable Lon E. Farris of the Prince William Circuit Court, and it was Judge Farris who administered her oath of office (see photo above). Following her clerkship, she worked for Blankingship & Keith LLP in Manassas where she specialized in civil litigation, eminent domain and land use issues. She has also served as a guardian ad litem for children and as a circuit court conciliator. Most recently she was an associate at Compton & Duling LC.

Metzler is an Army veteran and mother of one, who began law school at the same time her son started kindergarten. In 2004, she graduated from The Catholic University of America Columbus School of Law, and received her B.A., with distinction, in English from George Mason University. She is a past president of the Prince William County Bar Association, a long-time member of the Executive Committee of the Virginia State Bar Conference of Local Bar Associations, and is on the faculty of the Virginia State Bar Harry L. Carrico Professionalism Course. Metzler was named a "Rising Star" by SuperLawyers Magazine in 2009, 2013 and 2014.

Click here to read the full article regarding Metzler's appointment.