June 03, 2016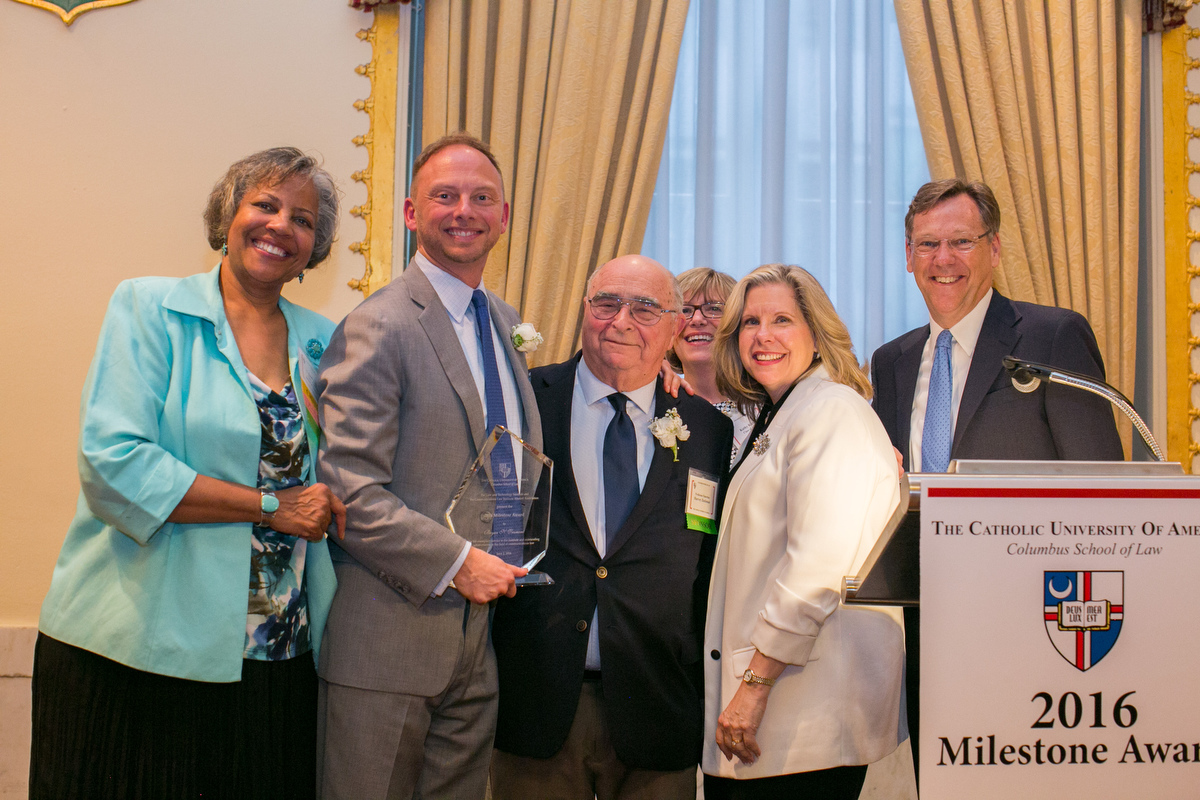 The Communications Law Institute Alumni Association and the Law and Technology Institute
Honor Bryan N. Tramont with 2016 Milestone Award


The Communications Law Institute Alumni Association ("CLIAA") and CUA's Law and Technology Institute ("Institute") paid tribute on June 2, to Bryan N. Tramont, managing partner of Wilkinson Barker Knauer, LLP and CUA Law adjunct professor, for his exemplary service to the Institute and outstanding achievements in the field of communications law.

At an evening reception attended by more than 200 friends, family, colleagues, and CUA Law alumni, students, and faculty at the Mayflower Hotel in Washington D.C., Tramont was presented with CLIAA's 2016 Milestone Award in grateful recognition for his strong support of the Institute (formerly the Institute for Communications Law Studies), founded by Professor Emeritus Harvey L. Zuckman in 1981. The Milestone Award, first presented in 1996 to the late Honorable James Quello, former Chairman of the Federal Communications Commission (FCC), has only been awarded on three prior occasions.
Tramont is a recognized leader in the communications bar and currently serves as an adjunct professor at the Institute, where he has taught for over 15 years and helped shape its curriculum. He is invaluable to the Institute as a supporter of its programming, including annual symposiums, moot court competitions, and scholarly publications, and as a mentor to its students and alumni.

"Bryan has not only given his professional time but his personal time and commitment to the Institute, including very generous donations to the Zuckman Scholarship Fund," commented S. Jenell Trigg '97, Chair of the 2016 Milestone Award and member of CUA Law's Board of Visitors, in her welcome remarks.
"Bryan's work ethic is unmatched, his commitment to principle, integrity, and ethics is unchallengeable. The degree of his loyalty and service is like none I have ever experienced perhaps since the time I was a solider," the Honorable Michael K. Powell, former chairman of the FCC, said as part of his tribute to the honoree who served as his chief of staff.
Additional tributes to Tramont were paid by Dean's Level Sponsor representatives Joan Marsh, vice president, federal regulatory at AT&T; Daniel Zachem '85, on behalf of Kathryn Zachem who is senior vice president, regulatory and state legislative affairs for Comcast Corporation; Rebecca Murphy Thompson '00, executive vice president and general counsel for the Competitive Carriers Association; Brad Gillen executive vice president for CTIA, and Kathleen Grillo, senior vice president and deputy general counsel, public policy and government affairs for Verizon Communications.
The dynamic program also featured remarks via video from current FCC and Federal Trade Commission (FTC) commissioners who were unable to attend in person - the Honorable Maureen K. Ohlausen with the FTC and the Honorable Mignon Clyburn with the FCC who both commented on Bryan's professional accomplishments and commitment to his students. The Honorable Richard Wiley, founding partner of law firm Wiley Rein LLP, former Chairman of the FCC and 2012 Milestone Award recipient, and the Honorable Kathleen Abernathy '83, Executive Vice President for Frontier Communications, former FCC Commissioner and 2001 Milestone Award recipient, rounded out the program with comments about Tramont's unique dedication to his practice, his friends, and his community. Tramont and guests were also treated to a videofeaturing Tramont's former students as they reflected on their personal ties to a beloved teacher and mentor.
Tramont frequently spends his personal time advising students and alumni on cutting-edge issues and assisting them in securing highly-competitive internships and jobs, all while encouraging them to "pay it forward" to fellow students, alumni, and members of the communications bar. Embodying his "pay it forward" philosophy, Tramont challenged guests to give to CUA Law's Harvey L. Zuckman Scholarship Fund by making his own matching gift. His efforts and those of the 2016 Milestone Award Planning and Host Committees were a great success which raised a record-breaking grand total of more than $200,000, with net proceeds for the Zuckman Scholarship Fund of over $160,000.
Tramont thanked the audience and said he has been blessed to be surrounded by people who haven't taken the easy way out. He urged the crowd to continue to "pay it forward" by meeting a student for coffee or offering advice to a young professional.
Proceeds of the 2016 Milestone Award Ceremony and Reception will benefit the Harvey L. Zuckman Scholarship Fund, which honors the legacy of the Institute founder and provides financial aid to deserving CUA law students interested in communications law. To contribute to the Zuckman Scholarship Fund, click here.