June 01, 2016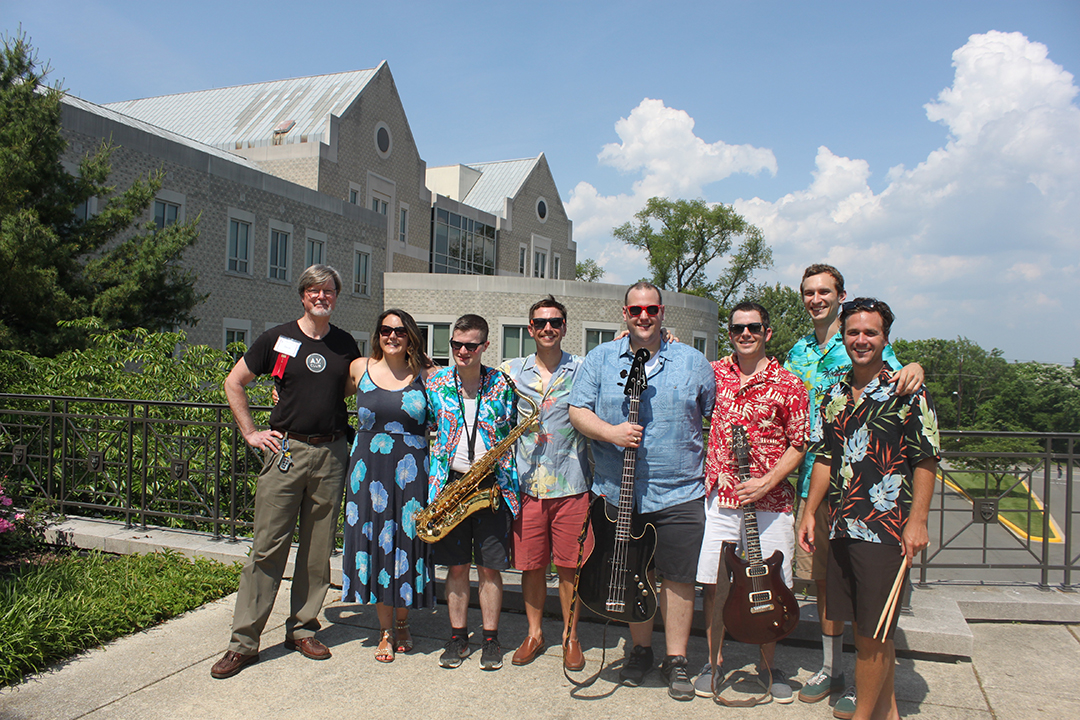 (From L to R: David Luce, Elizabeth Ottman, Dan O'Connell, Nic Zawarski,
Mike Dinet, Dan Lechner, William Russell, and Christian Baron)
In front of their family, friends, and peers, CUA Law's student band, Tortious Tones, performed at the commencement reception on May 27. The band played approximately 40 songs for two hours.
"We are really excited to do this. Who gets to say that they played with their band at their law school graduation?" Mike Dinet '16, bass guitar, said.
The band was first conceived when Christian Baron '16 and Nic Zawarski '16 performed the Jackson Browne song "Lawyers in Love" at the 2014 Columbus Award Night. Word got out that Baron and Zawarski were talented musicians and soon there was a five-member band performing at the Student Bar Association's annual Crabfest in October 2014.
"I saw the band perform at Crabfest and decided to join shortly after. A day later I was practicing with them and we had a gig that same week," Elizabeth Ottman, rising third-year law student and lead vocalist, said.
After the successful Crabfest performance, the newly minted Tortious Tones, decided to play the local D.C. circuits. They have played at venues such as DC9, Bayou, Town Tavern, and the 9:30 Club. The band practices once every two weeks in Georgetown.
The current line-up of the band includes: Dan Lechner ((Class of 2016) Guitar), Nic Zawarski ((Class of 2016 Vocals and Keyboard), Mike Dinet ((Class of 2016) Bass Guitar), Elizabeth Ottman ((3L) Vocals), Christian Baron ((Class of 2016) Drums), William Russell ((Class of 2016) Bongos, Kongas, other Percussion), and Dan O'Connell ((Class of 2016) Sax).
Although most of the members are moving away from the Washington, D.C., area now that they have graduated, the band plans to perform at the Second Annual Law Rocks concert at the 9:30 club on September 22, 2016, and CUA Law's 2016 Reunion Weekend on October 15, 2016. Law Rocks' concert is part of the Annual Conference of the International Bar Association and raises money for the IBA Human Rights Institute and local D.C. nonprofits.