June 09, 2016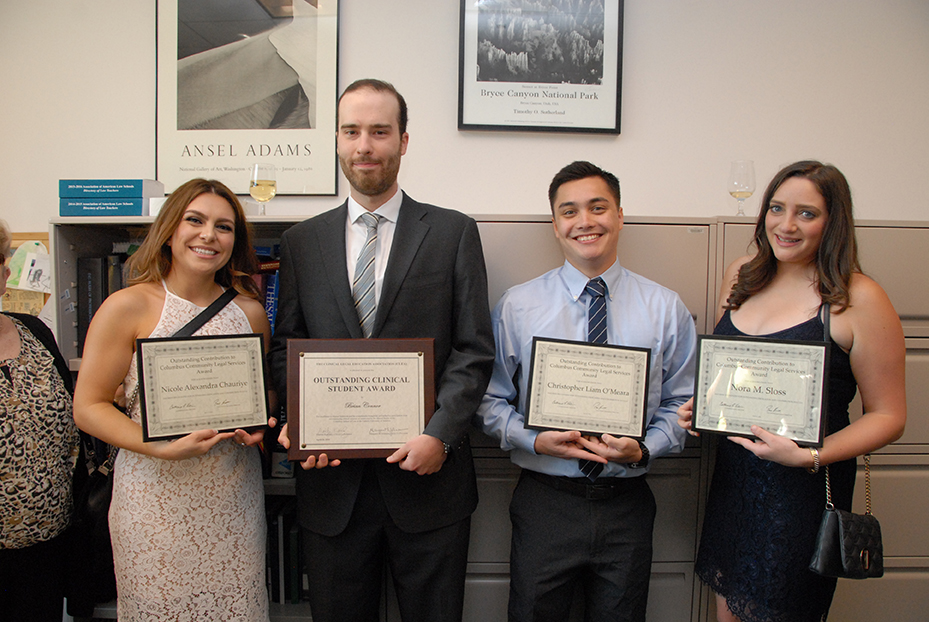 (From L to R: Nicole Chauriye, Brian Connor, Christopher O'Meara, and Norah Sloss)
On the morning of Commencement the Columbus Community Legal Services (CCLS) held its annual breakfast reception, a Celebration of Learning Through Serving, in honor of the CCLS class of 2016 graduates.
During the breakfast Brian Connor '16 was presented with the Clinical Legal Education Association 2016 Award. The award, created by the Clinical Legal Education Association (CLEA), honors one law student at each law school who has excelled in a clinical course and who has demonstrated high quality representation of clinical clients. The full-time clinical faculty at each law school with faculty who are members of CLEA are asked to nominate a single nominee from their law school.
Nicole Alexandra Chauriye '16, Christopher Liam O'Meara '16, and Norah M. Sloss '16 were also presented with the Outstanding Contribution to Columbus Community Legal Services Award for their dedication to CCLS and their commitment to their clients.
"The recipients of this year's Clinical Legal Education Award and Columbus Community Legal Services Awards have excelled in their casework, demonstrated unwavering commitment to their clients, and went above and beyond to promote justice for those who are traditionally marginalized from our justice system," CUA Law Professor Stacy Brustin said.
Click here to see other photos from the reception.