May 27, 2016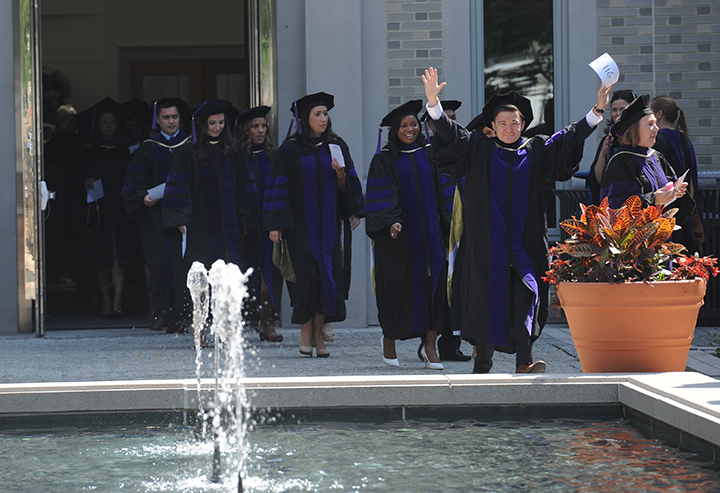 New graduates emerged strong and confident on May 27, as students concluded their law school careers to the cheers of family and friends during the Law School's 127th Commencement at the Basilica of the National Shrine of the Immaculate Conception in Washington, DC.

CUA Law Dean and Knights of Columbus Professor Daniel F. Attridge reassured graduates they are ready to use their legal training in service of others. "You are ready to make the most of your training and the opportunities that you have been given. You will soar on eagles' wings. Nothing less is expected from those who receive a degree from the Columbus School of Law," he said.

Alessandro Pacheco, Student Bar Association President and a member of the graduating class, presented Professor and Director of the Comparative and International Law Institute Geoffrey Watson as Faculty Marshal. He noted, "The class of 2016 is immensely grateful to Professor Watson for inspiring, guiding, and challenging us every day and has selected him to lead us today. Thank you, Professor Watson, for everything you have done for your students and the Columbus School of Law."

Pacheco also introduced classmate Stephanie Fekete, who gave the address on behalf of the Class of 2016. Fekete served as a member of the Law and Public Policy Program, a member of the Council on Professional Conduct, and the executive editor of the Catholic University Law Review. In her remarks, Fekete reminded classmates of the great responsibility they now hold as lawyers to help others, "It is time for all of us to step forward, proudly accept that diploma, and walk out these doors as lawyers. But being a lawyer is not about us - it is about them. It is about the people, the organizations, the government, or whomever else we choose to dedicate our craft."

The commencement address was offered by Paul D. Clement, a partner at Bancroft PLLC and 43rd Solicitor General of the United States. Clement is no stranger to public service nor to arguing at the highest levels for the protection of religious liberty, most recently on behalf of the Little Sisters of the Poor and other groups in their legal challenge to the federal government's contraceptive mandate. He has argued more than 80 cases before the United States Supreme Court, more Supreme Court cases since 2000 than any lawyer in or out of government. One of those cases was Hobby Lobby v. Burwell, a landmark Supreme Court decision protecting the rights of individuals and organizations to exercise religion while earning a living.

After conferral of the degree Doctor of Humane Letters, honoris causa, by John Garvey, President of The Catholic University of America, Clement emphasized that a law degree is a ticket to making a difference in the lives of others and urged graduates to continue to volunteer and engaged in pro bono work as they embark on their careers. "I would encourage each and every one of you to volunteer your time and talents to help others," he said.

Clement advised graduates that their professional lives should not come at the expense of their families, friends, and other pursuits that make life worth living. "Every one of you, no matter how successful in law school, had one lowest moment. Remember to whom you turned for solace, support, and good counsel in that moment. Thank them today and keep them close tomorrow and every day after," he said.
"When you feel the pull of professional obligation putting a distance between you and family and friends, leave work early, pick up the phone, send them a text or really shock them and send a letter, " Clement concluded.
Professor Watson introduced the class of 2016 candidates, with conferral of the degrees by Dean Attridge and President Garvey. 138 successful J.D. candidates received their diplomas. Another 10 students who were awarded LL.M. degrees and 3 were awarded M.L.S. degrees.

The ceremony concluded with CUA President Garvey offering his congratulations to the class, and a parting word of advice. "Be honest. We are good at words. We are not always smarter than our clients but what we have to offer them is this: We know what the rules are - about taxes, the environment, about payment systems, or stock fraud - and we know how to steer people through them. - In their fillings, in their oaths, in their promises, in their representations, and in their trusts. All words. And our job is to speak them truly," he said.
At the end of the ceremony, the Law School's newest alumni and hundreds of families and friends streamed out of the Shrine and back to the Law School for a reception on the lawn.
Candid photos will be available on the CUA Law Facebook page, during the weekend of May 28th.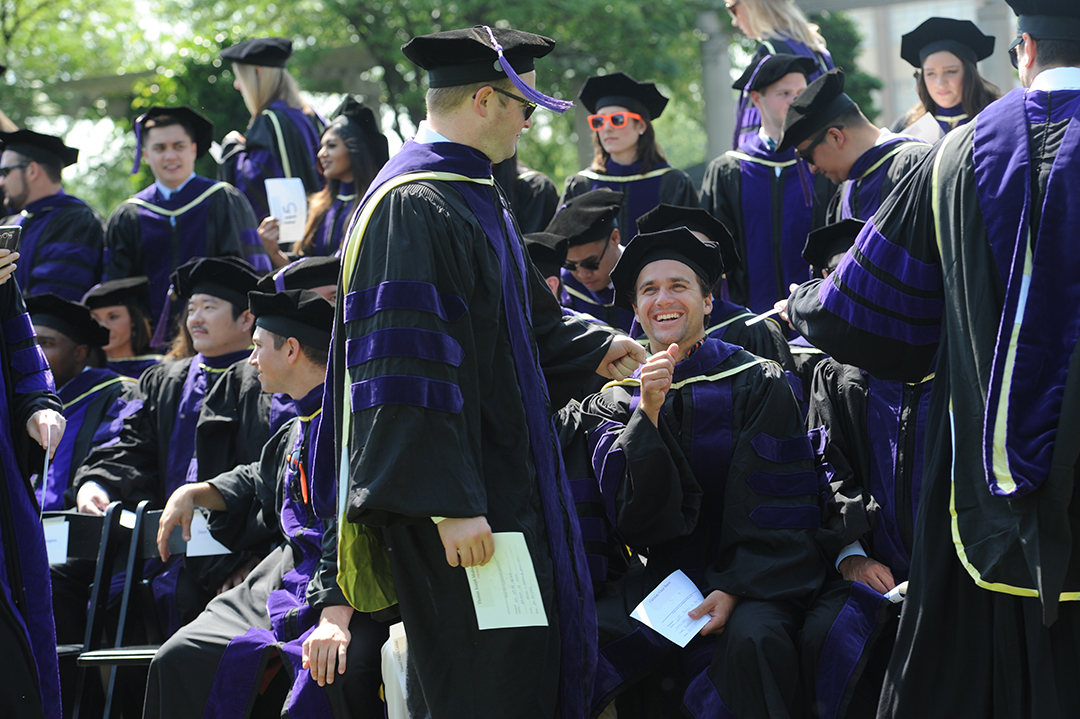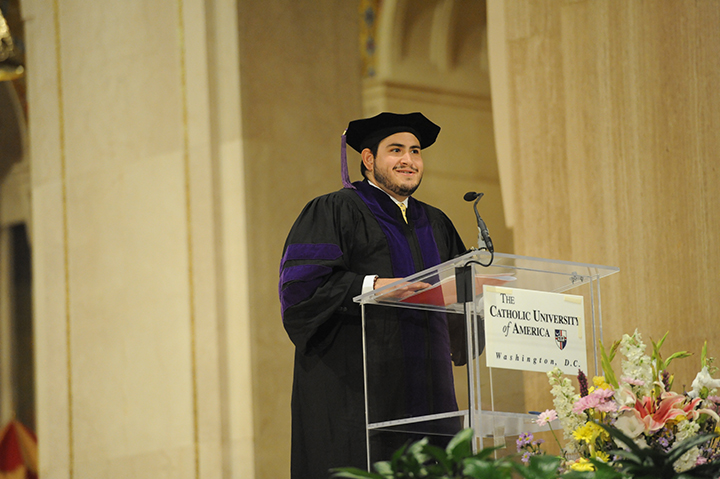 Allessandro Pacheco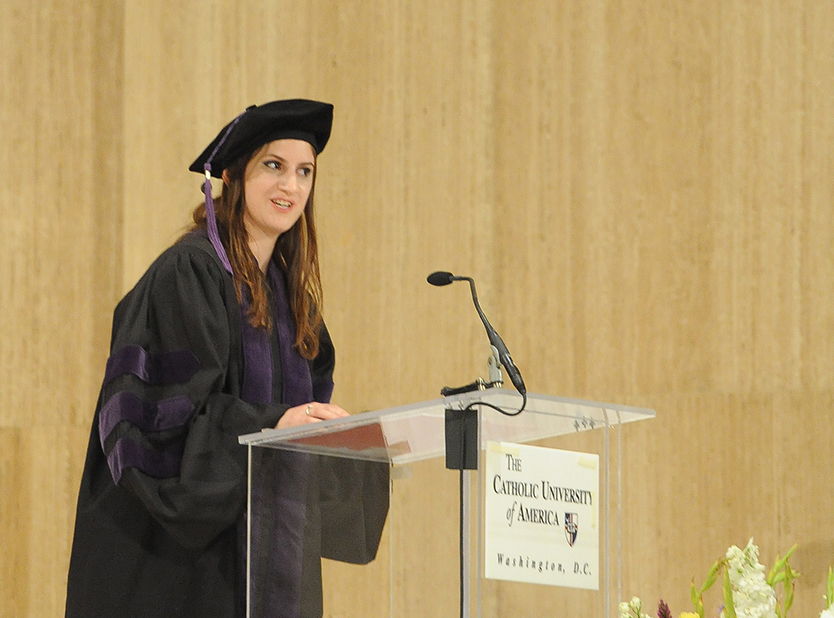 Stephanie Fekete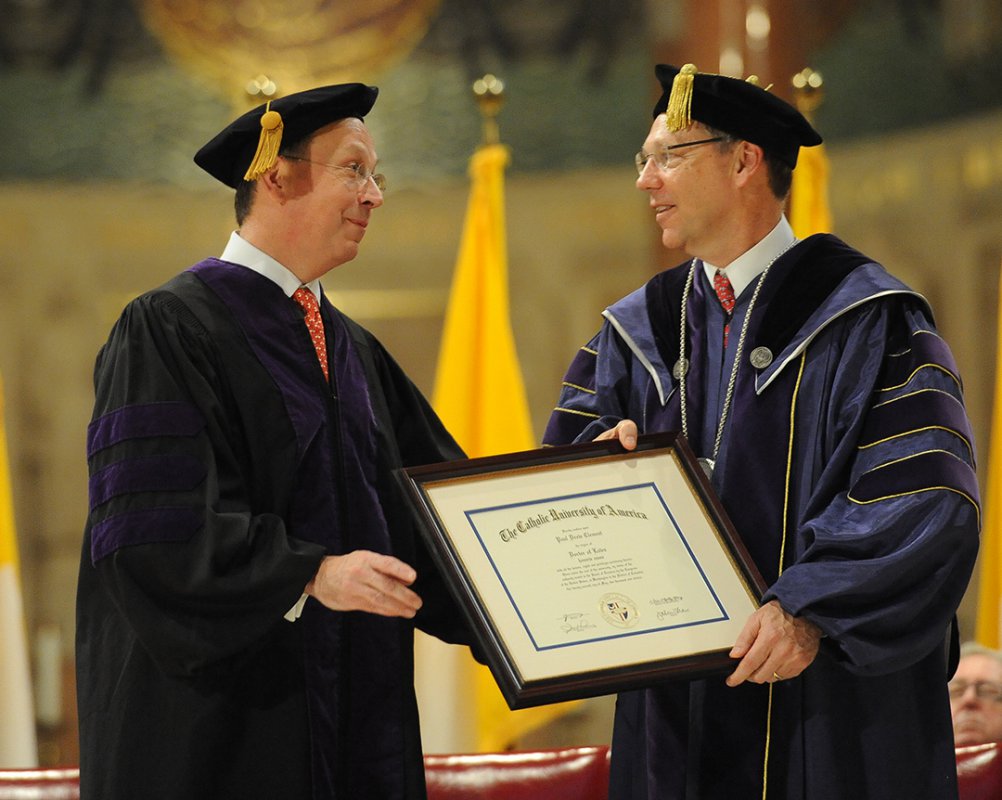 Paul D. Clement with
Dean Daniel F. Attridge