April 15, 2016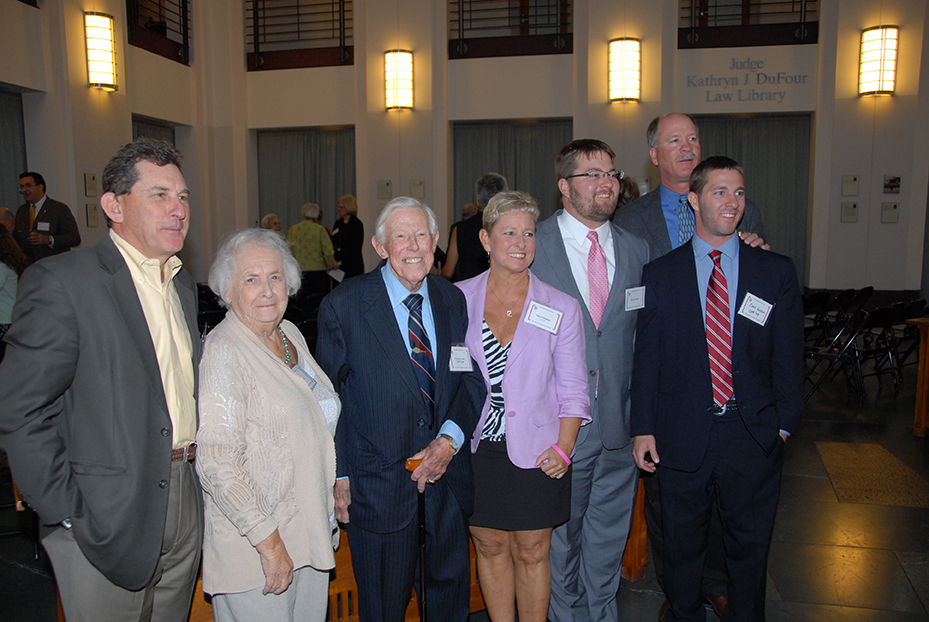 By: Joseph J. Ferraro III, Marketing and Communications Director, Columbus School of Law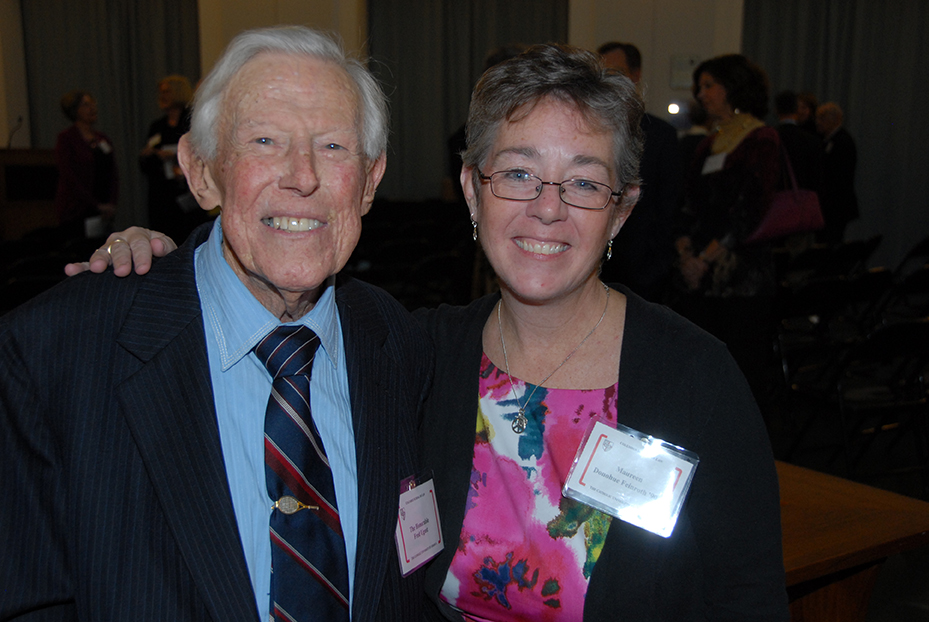 The first time I met Judge Ugast was at the October 20, 2013, Faculty in Transition Reception. The reception honored faculty, who were retiring. At the reception CUA Law alumna Maureen Donohue Feinroth, 1990, spoke about what it was like to clerk for the Hon. Fred B. Ugast, who was appointed to the Superior Court of the District of Columbia by President Richard Nixon in 1973. Ugast served as chief judge from 1986 to 1993 and took senior status in 1993. His association here at CUA began with earning his undergraduate degree here and a Master of Arts in Philosophy as well. Ugast also had many CUA Law alumni clerk for him over the years and held the honorary position of Judge-in-Residence at the Law School from 1993 to 2013.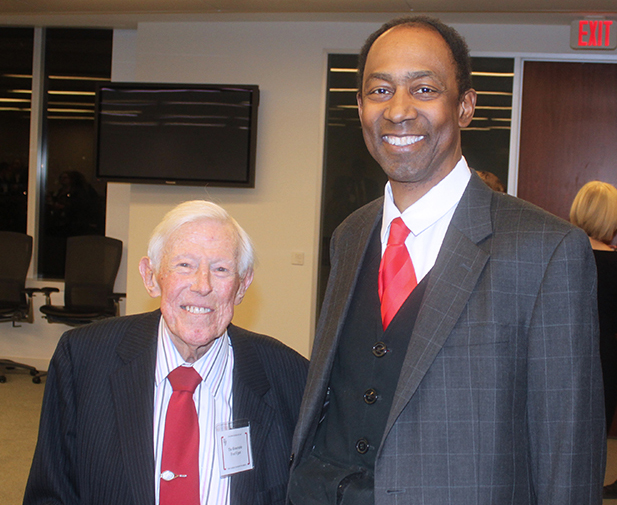 The second was at a Law School reception celebrating the long relationship with the D.C. Superior Court. The reception was hosted by the Columbus School of Law's Alumni Association, Dean Daniel F. Attridge, and the Hon. Fred B. Ugast. Also in attendance was the Hon. Lee Satterfield, who has served as chief judge of the D.C. Superior Court since 2008.
It was a very special evening with Judges Ugast and Satterfield sharing their stories about the court and the law school with attendees of the reception.
In talking with him at both occassions I quickly discovered how personable he was and how passionate he was about the Law School and the students here. These limited interactions left me feeling the need to reach out to some that had worked with him to share their thoughts and feelings. This way those that didn't know this man (who was larger than life, but humble and kind in person) would get a feeling for who he was and how special he was to the Law School.
His colleagues here at CUA Law especially remember him with extreme fondness and respect. Ellen Scully said, "Thanks for the opportunity to provide some reflections on Judge Ugast. It allowed me to appreciate what a giant he was. I knew him professionally in his capacity as a jurist; Chief Judge; a member of the Inns of Court; and a Judge in Residence at the Law School. I realize now that I thought of him as a friend."
"That Judge Ugast was chosen by his peers to succeed a charismatic and beloved Chief Judge speaks volumes. He never missed a beat and the court continued to innovate and cement its reputation around the country as a premier trial court."
"It was at the Law School that I got to know Judge Ugast. It was not long before he became part of the fabric of the school. He attended all the faculty meetings and practically all the events. When spouses were invited his wonderful wife Mary would come as well."

"He was so engaged in Inns of Court. The students assigned to his team were probably at first wondering how this unassuming man who was so low key, down to earth could have wielded so much power. As the year progressed I think they realized that they had worked with an amazing individual. He was a humble in the true sense of the word; gracious; open; loyal; man. A man who achieved extraordinary success in his profession. Although he was not one to talk much about himself he could certainly talk about his family. So they probably knew about his wonderful wife, Mary, and his six children."
Ellen closed by saying, "I wish we had celebrated him more when he was with us. Not for his glory, but as a role model for our students."
Louis J. Barracato said, "I knew Judge Ugast as a lawyer, Judge and colleague, and my life has been made better because he was a friend. We shared many years on the Thurgood Marshall American Inn of Court. He was a loyal member who shared his experiences, intellect, and charm with everyone in the Inn, but especially the students. He was always available to discuss legal issues, personal concerns, and jobs. The students valued greatly his involvement at the school. He counseled and taught my trial team members very valuable lessons in advocacy as well as life. I will miss him."
David A. Lipton said, "This wonderful man, who was small in stature, but a giant in the court, was appointed by Ralph Rohner as a Judge in Residence. I loved his dropping unexpectedly into my office with his leprechaun smile and his healthy red face to ask me about what was going on in the School and in my life. While he was an adjunct, it impressed me that he missed very few faculty meetings. His charm and good spirit was infectious and his presence always put a smile on my face. The School will hopefully create a scholarship in Fred's name to honor his contributions to the court, the Law School, and to all who knew him."
Fred B. Ugast, former CUA alumnus, DC Superior Court Chief Judge, and CUA Law Judge-in-Residence, passed away April 6, 2016. The viewing will be on Sunday, April 17, at Devol Funeral Home, 2222 Wisconsin Ave., N.W., Washington DC 20007, from 3 p.m. to 6, p.m. The funeral Mass will be at the Shrine of the Blessed Sacrament, 3630 Quesada St., N.W., Washington, DC 20015, on Monday, April 18, at 11 a.m.
To learn more about the Hon. Fred B. Ugast, click here.