April 14, 2016

On the evening of April 12, 2016, students, alumni, faculty, staff, and guests gathered at the Columbus School of Law for "A Conversation with Director James B. Comey, Jr." The event was part of the Brendan F. Brown Lecture Series. Named to honor the sixth dean of the Columbus School of Law, Brendan Francis Brown (1949-54), this lecture series invites outstanding professionals, who have made a contribution to public life, to share their perspectives on a wide variety of current topics.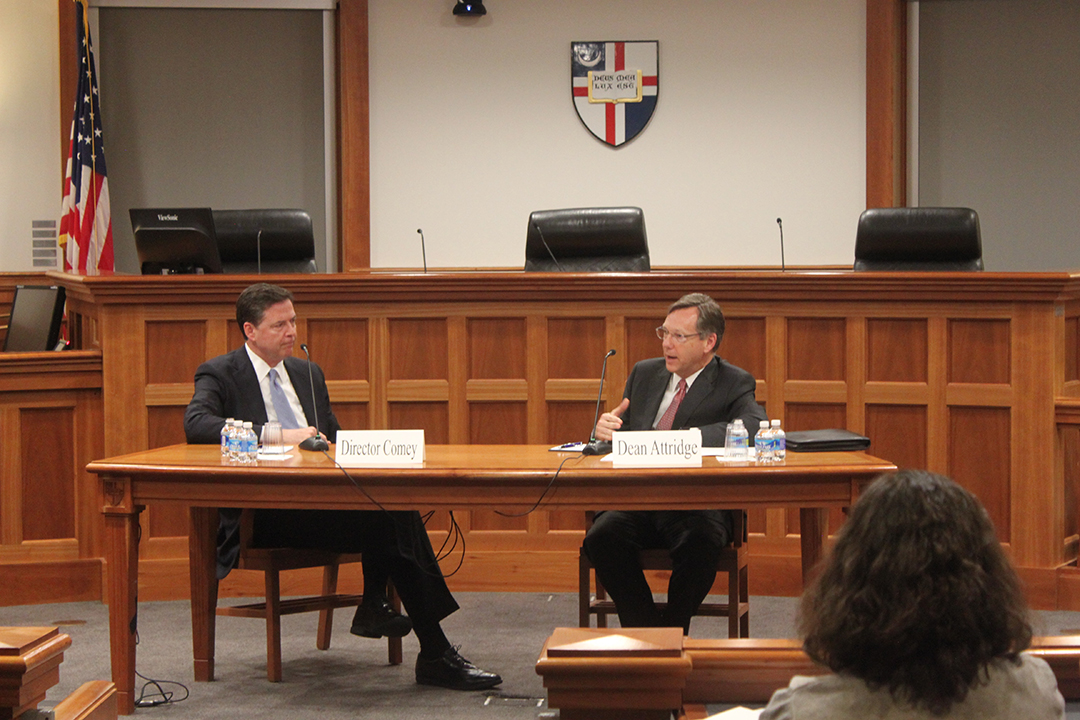 The audience was welcomed with opening remarks from CUA Law Dean and Knights of Columbus Professor of Law, Daniel F. Attridge, who introduced Director James B. Comey, Jr., the seventh director of the FBI and former deputy attorney general at the Department of Justice. During his introduction of Director Comey, Dean Attridge shared a perspective from Robert Stevens, former Chairman, President, and CEO of Lockheed Martin who worked with the Director when he served as Lockheed's General Counsel. "Comey has demonstrated limitless energy and impeccable judgment in taking on seemingly insurmountable tasks and has delivered success after success with personal grace and unfailing good humor," Attridge read.
Director Comey began the discussion by addressing what leadership means to him and what leadership qualities he seeks when recruiting new talent to the FBI. Comey stressed that under his leadership, the FBI has become more focused on the person as a whole rather than bullet points on a resume. "What matters most in a leader is whether you possess a common set of attributes that will able you to connect well with people, listen well to people, make sound judgments, and be a person of integrity, balance, and restraint," Comey said.
Comey further emphasized two pairs of attributes that he believes are the hallmarks of a true leader: kindness & toughness and confidence & humility. A good leader, he explained, cannot have one without the other. "Kindness alone is a recipe for one of the greatest tragedies of human existence, which is unfilled potential," Comey stated.
Comey continued to discuss the mark of a good leader is possessing sound judgment. He told the students in the audience that they are in the process of learning the basics of good judgment and this should be cultivated over time.
He concluded his talk on leadership by encouraging students to consider a career in public service and pursuing a life that helps people. "It is a ton of fun to do good for a living and it can be addictive," Comey said.
During the second half of the discussion, Dean Attridge asked Director Comey a series of pertinent questions regarding his personal leadership abilities, the recent Apple litigation cases in California and New York, cybersecurity threats, wiretapping, overcoming unconscious bias, and career advice for students.

Comey concluded the event by explaining that the themes throughout his leadership and career have been guided by faith. He implored law students to make time for their loved ones and to practice humility. "We must understand that people are deeply flawed in all parts of life, and I am no exception to that," Comey said.
Following the lecture, students, alumni, faculty, staff, and guests were invited to a reception in the Keelty Atrium.
If you missed the event and would like to view the recording, click here. And to view some of the various press coverage of the event click here.