April 11, 2016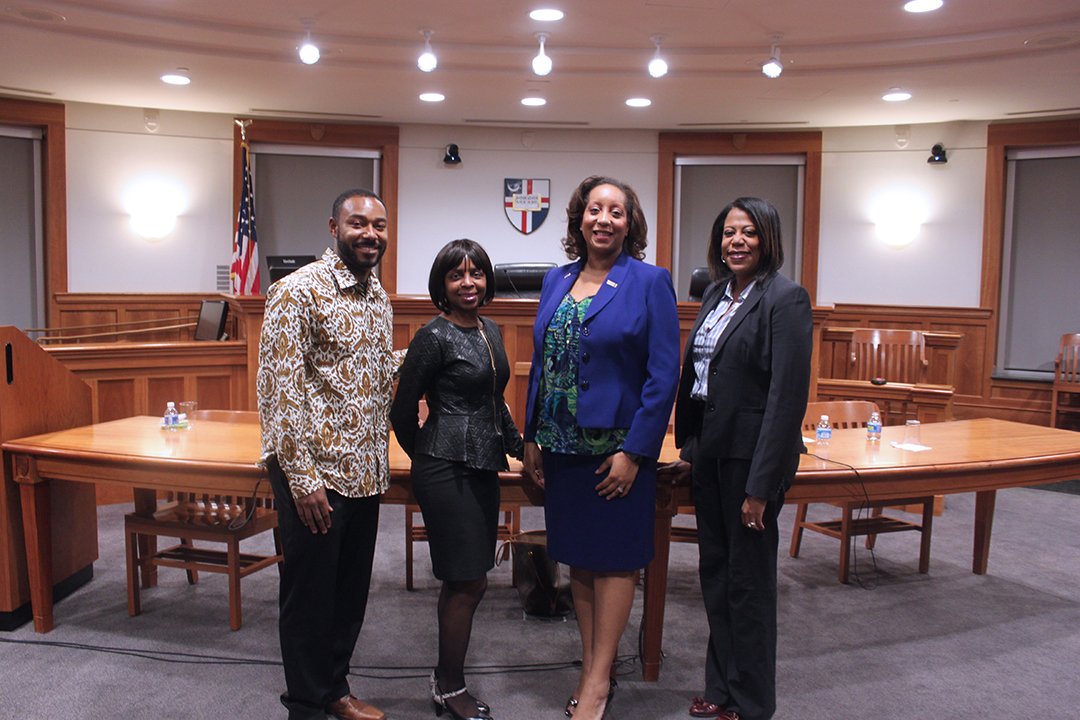 (From L to R Justin Hansford, Tyra Wright, Lisa A. Hall Johnson, and Sherri Beatty-Arthur)
On the evening of Thursday, April 7, students gathered to attend a panel on Judicial Activism at the Columbus School of Law. The panelists included the Honorable Tyra Wright '97, Administrate Law Judge in Michigan, the Honorable Sherri Beatty-Arthur, Administrate Law Judge with the District of Columbia of Administrative Hearings, and the Honorable Lisa A. Hall Johnson, Associate Judge for Prince George's County District Court.
The event was presented by the Black Law Student Association (BLSA) and co-sponsored by the Greater Washington Area Women Lawyers Division. The panel was moderated by Assistant Professor at Saint Louis University Law School and Fulbright Scholar Justin Hansford.
Evening Vice President of BLSA, Marques Banks (3E) kicked off the event by providing opening remarks. "With the Supreme Court having a vacancy on the bench, we wanted to talk about the role judges play and some of the ethical dilemmas they may face regarding judicial activism," Banks said. Hansford introduced the panelists, who gave a brief overview of their careers.
"I knew the very first day that I loved my job as an Administrative Law Judge, and I felt everyday that I made a difference," Wright said.
The panelists discussed how their backgrounds influence judicial discretion, what judicial activism means to them, and why it is important to have diversity on the bench. "It is so important to have diversity on the bench because you see all pieces and you can address all pieces," Hall Johnson said. "That is part of why our system is so good."
Following the panel, students were invited to a reception with alumni in the Keelty Atrium for a chance to network and engage in conversations.
Click here to view the panel.