April 11, 2016

I Dean's Award I First Lap Award I Mary E. Card I Vincent Miraglia I Extra Mile Awards I
I Marathon Award I Melissa Hamann I Cardinal Hickey I Faculty & Staff Awards I Columbus Award I
As the academic year winds down, the 2016 Columbus Award Night continued the longstanding spring tradition of honoring CUA Law students, faculty, and staff for their service to the law school community. The evening featured class skits, and live music. Awards for Pro Bono service, professional excellence, and service to the law school were awarded to students, faculty and staff.
The April 8 evening event was smoothly guided by Master of Ceremonies Will Russell (3L and Third Year Representative, Student Bar Association), who began the night looking into a Star Wars theme, which transitioned into the world of Harry Potter. Hogwarts has many similarities to the world of CUA Law, which ranged from the Great Hall (CUA Law's Atrium) to our very own Hermione Granger (Lauren Stewart (2L and new SBA President)).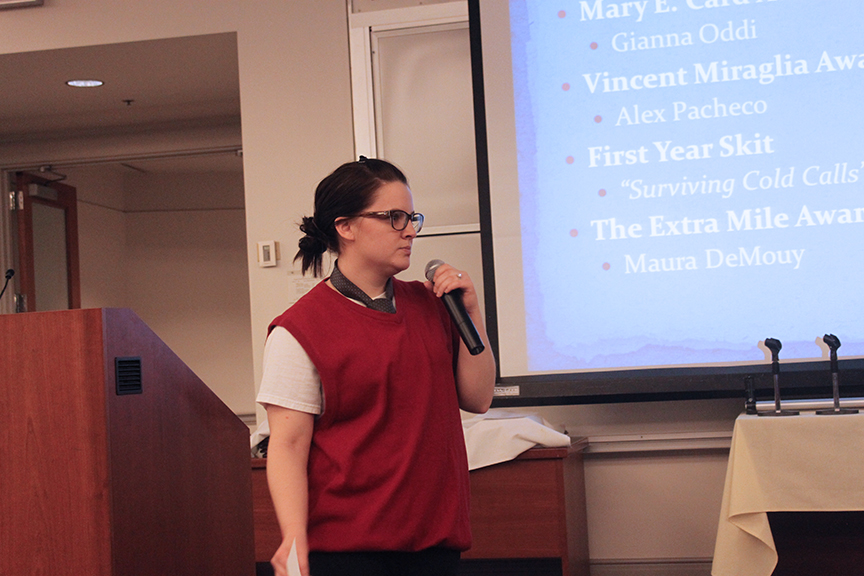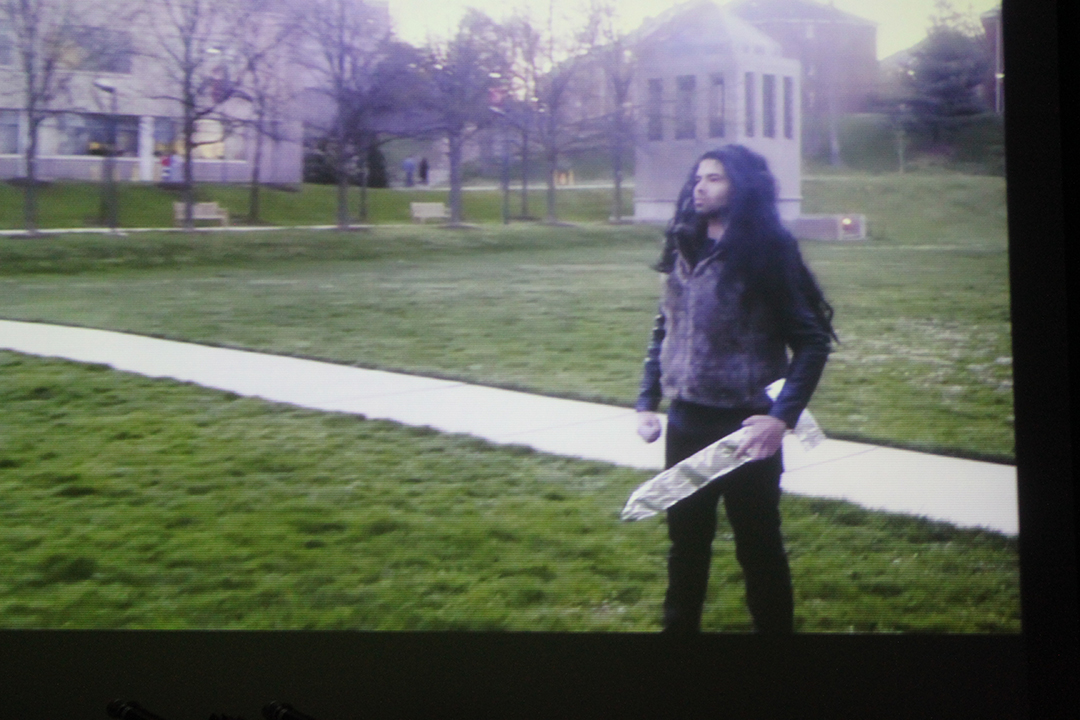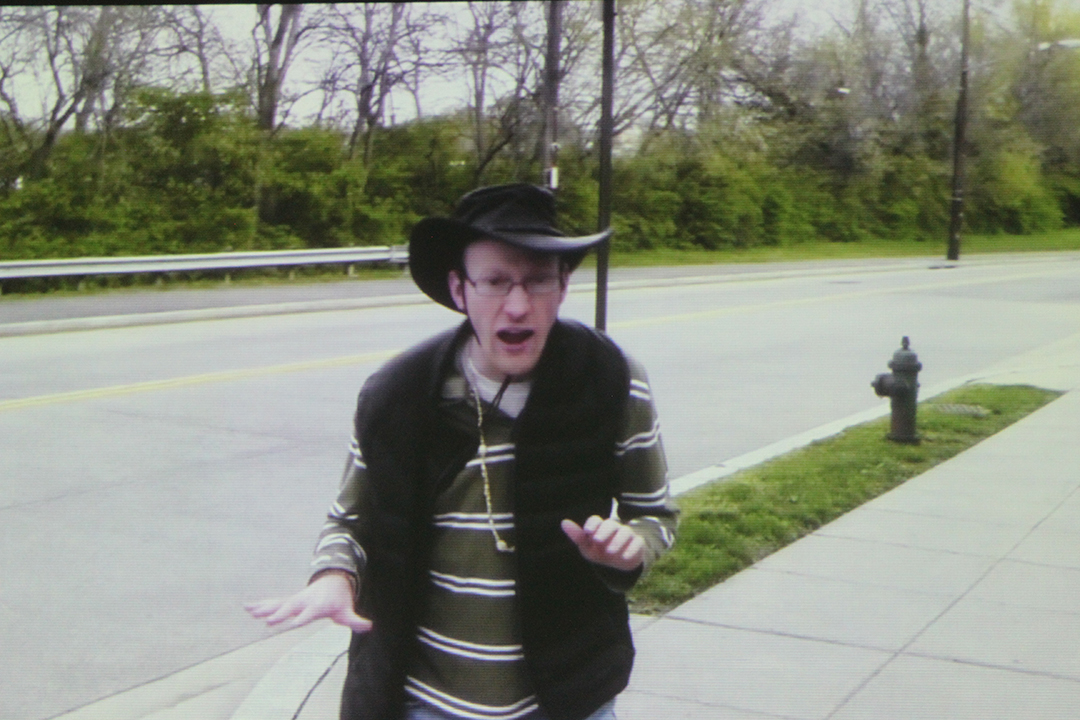 Traditionally the first, second, and third year classes compete to stage the most entertaining and creative skit. This year's skits included a trip to Professor Perez's classroom, a visit to the law school version of the Game of Thrones, and closed with adventurer Jason Miller (3L) in "Man v. 3L Year", which included a commercial for Snickers starring Stuart Schept. The 1L class skit titled "How to Survive Cold Calls", which was a live skit, earned the coveted Joan Vorrasi Award for Best Skit.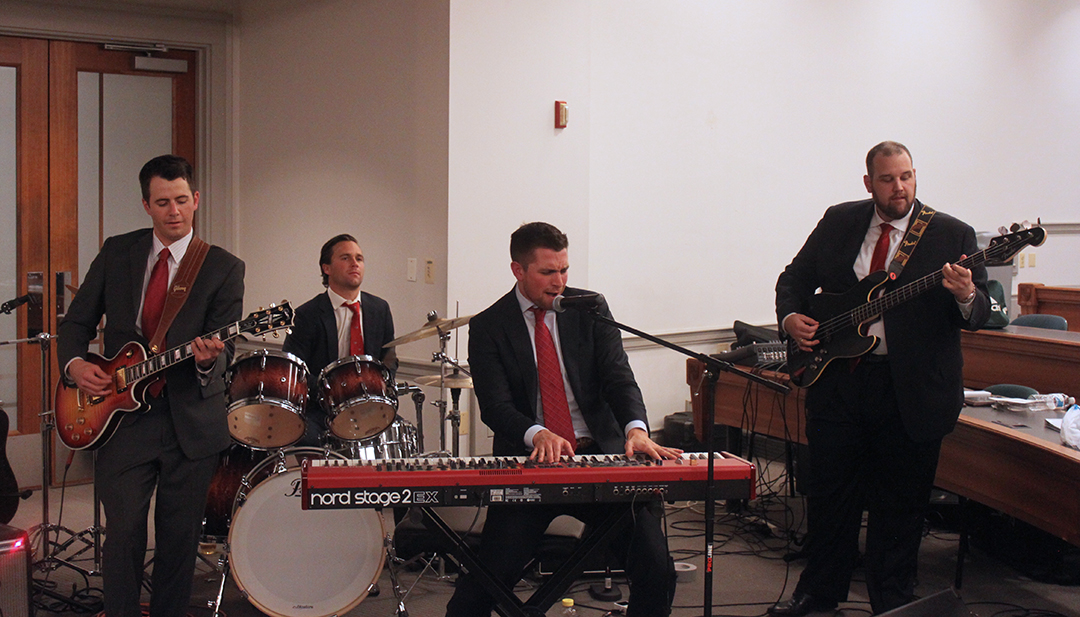 Music was provided during the evening by CUA Law's own house band, The Tortious Tones, comprised of 3Ls Christian Baron, Mike Dinet, Dan Lechner, and Nic Zawarski. The Tones playlist included a performance of Jackson Browne's Lawyers In Love and they closed the evening with Tones vocalist, Elizabeth Ottman (2L).

The 2016 Columbus Award Night categories and winners are listed below. To view other photos from the evening's festivities, click here.
Dean's Award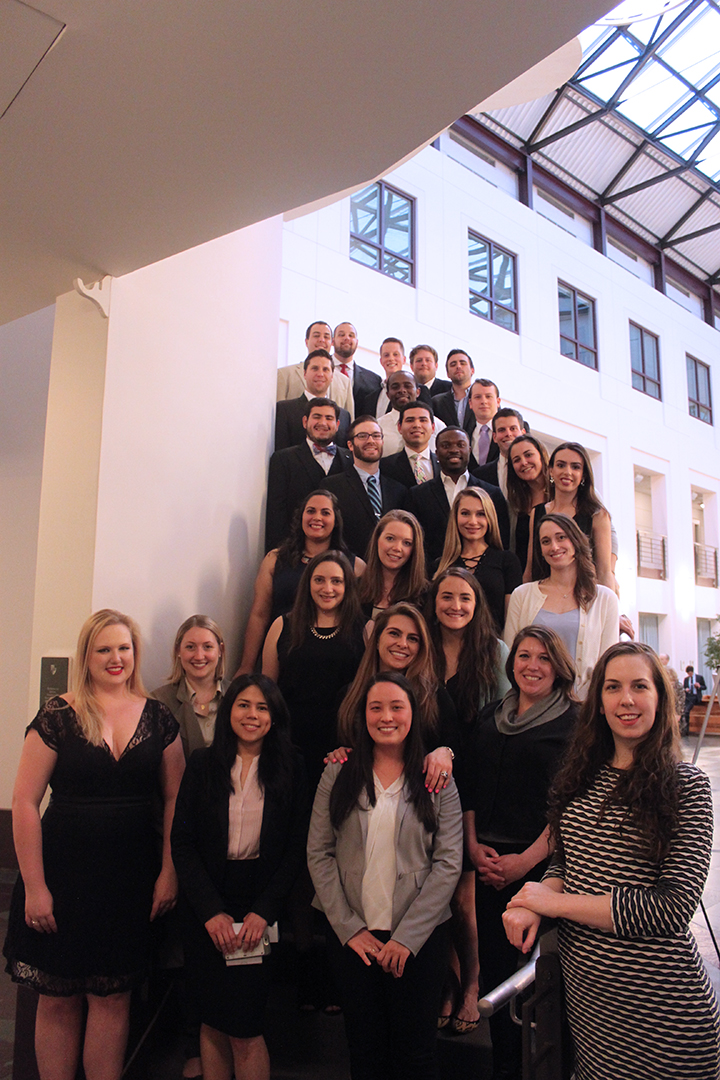 Alessandro Pacheco, Student Bar Association

Shelby Von Hofe, American Constitution Society

Tiffany Tse, Asian Pacific American Law Students Association

Arthur Osueke, Black Law Students Association

Russell Hsiao, Catholic University Journal of Law and Technology

Jennifer Bruneau, Catholic University Law Review

Christopher Mills, Communications Law Students Association

Richard Kisielowski, Council on Professional Conduct

Blaec Shaw, Criminal Law Students Association

Alexandra Cerussi, Delta Theta Phi
Monika Ledlova, Delta Theta Phi

Shelby Von Hofe, Democratic Law Students Association

Matthew Higginson, Evening Law Students Association

Brendan Johns, Environmental Law Society

Ileana Russo, The Federalist Society

Michael Dinet, Habitat for Humanity

Maria Rolong, Immigration and Refugee Interest Society
Alexandra Early, Immigration and Refugee Interest Society

Jonathan Thomas, Intellectual Property Law Students Association

Alexander Hastie, International Law Students Association

Brian Connor, Irish American Law Students Association
Rebecca Neville, Irish American Law Students Association

Maria Rolong, Latin American Law Students Association
Yoliara Ramos Soto, Latin American Law Students Association

Zachary Bennett, Law and Public Policy Society

Jessica Lau, Legal Services Society
Norah Sloss, Legal Services Society

Margaret O'Neill, Military and National Security Law Students Association
Katelyn Semales, Military and National Security Law Students Association

Brendan Johns, Moot Court

Zachary Bennett, Phi Alpha Delta
Tom Narvaez, Phi Delta Phi

Stephen Schumacher, Republican National Lawyers Association

John Vivian, Saint John Paul II Guild of Catholic Lawyers

Daniel O'Connell, Securities Law Students Association
Kimberly Thomasson, Securities Law Students Association
Michael McDonald, Securities Law Students Association

Christopher Geissler, Sports and Entertainment Law Society

Kimberly Ulan, Street Law

Norah Sloss, Students for Public Interest Law
Nicole Chauriye, Students for Public Interest Law

Yoliara Ramos Soto, Women's Law Caucus
Elizabeth Ottman, Women's Law Caucus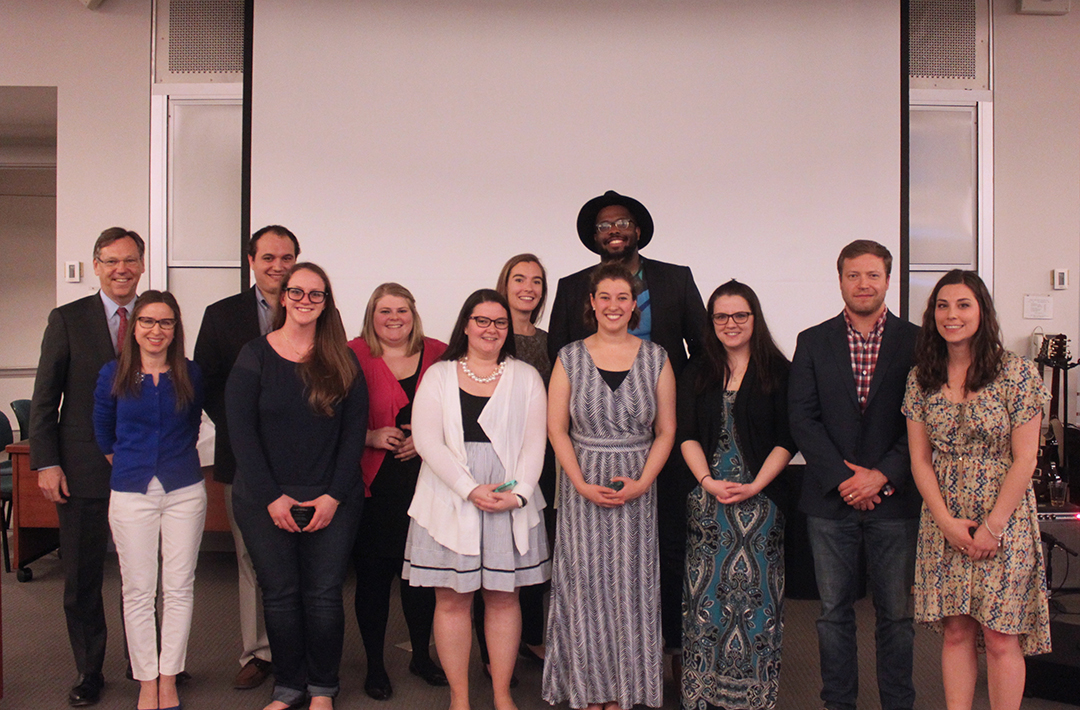 First Lap Awards For dedicated service to the law school community during the first year of law study
Katherine Almen
Mike Berman
Sydny Bryan
Kwambina Coker
Laura De La Torre
Sarah Ensenat
CJ Finelli
Ashley Greaf
Latena Hazard
Casey Hughes
Olivia Krebs
Erica McCrea
Elizabeth Ross
Frank Russo
Zachary Schulze
Anne Logsdon Smith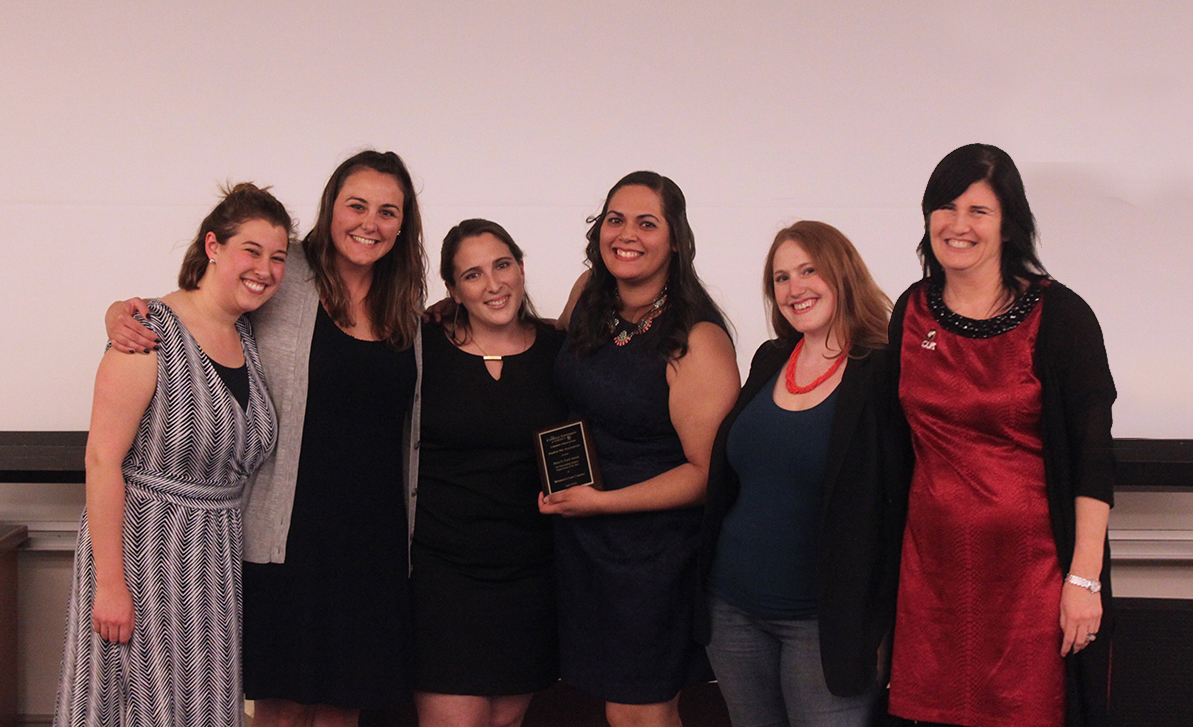 Mary E. Card Award for Outstanding Student Organization of the Year
Women's Law Caucus
(Also in attendance at the Columbus Awards Night was the namesake for this award Mary E. Card '96 (far right).)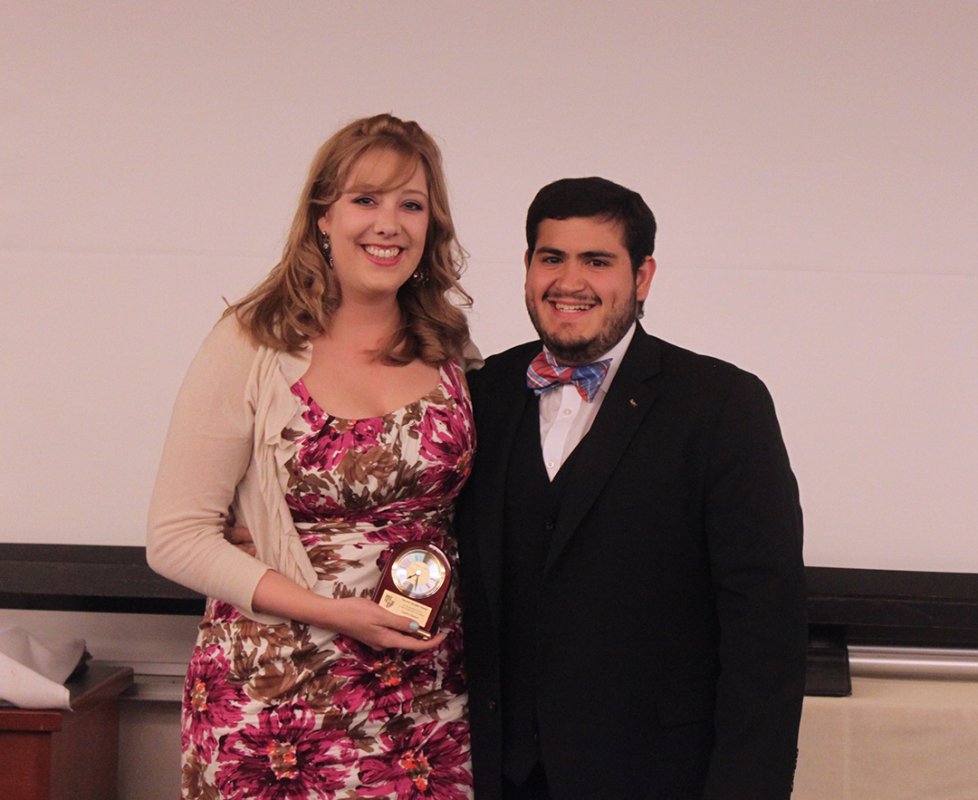 Vincent Miraglia Award for Outstanding Service to the Student Bar Association
Lauren Stewart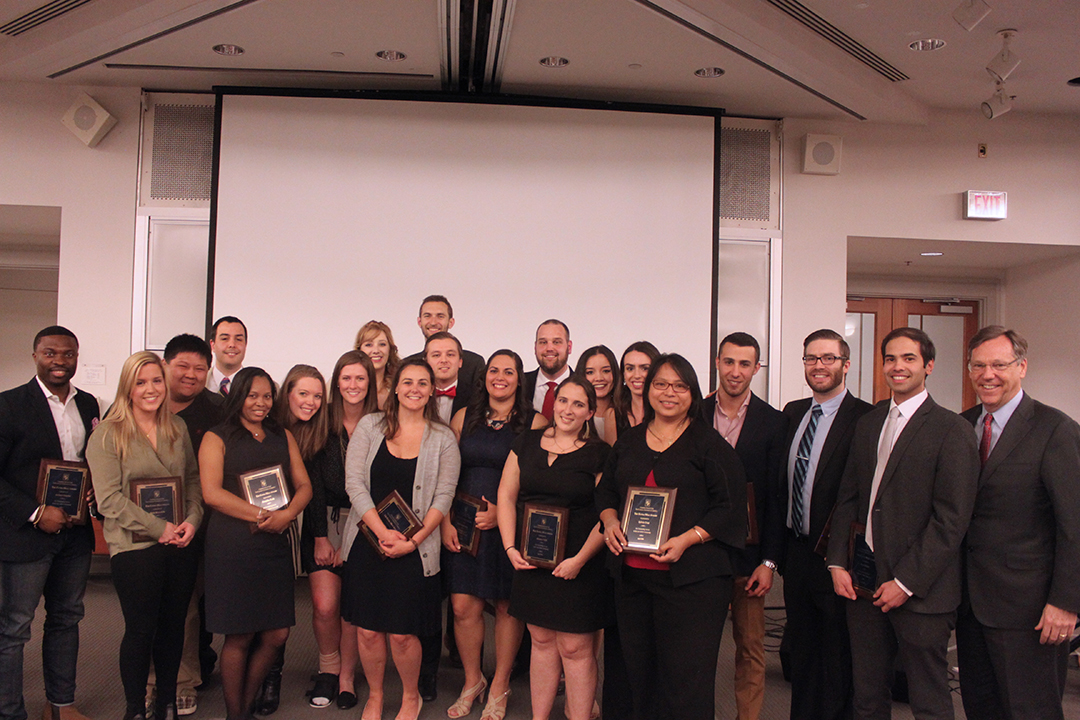 Extra Mile Awards
For outstanding service to the law school community
Marques Banks
Adam Bereston
Sonit Bhatt
Alex Cerussi
Sylvia Cruz
Mike Dinet
Jaclyn Haughom
Russell Hsiao
Drew Howell
Brendan Johns
Ronalda Kosh
Erin McAuliffe
Caroline Mrohs
Daniel O'Connell
Maggie O'Neill
Gianna Oddi
Arthur Osueke
Liz Ottman
Yoli Ramos Soto
Adilene Rosales
Erin McAuliffe
Will Russell
Yi Shen
Lauren Stewart
Jack Vivian
Parker Williams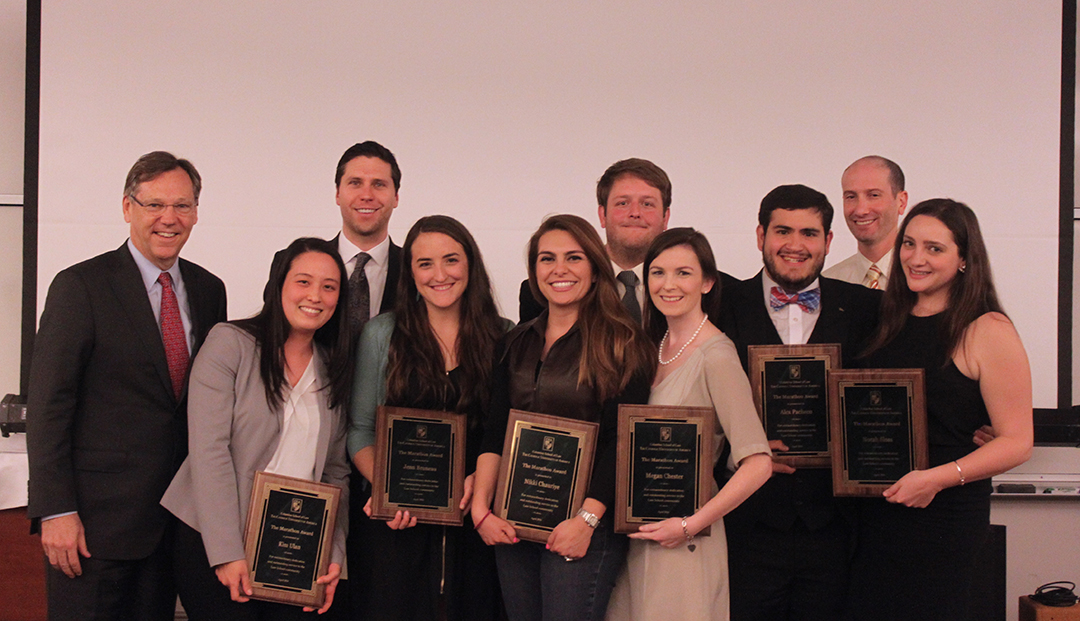 Marathon Award
For extraordinary and outstanding service to the law school community
Jenn Bruneau
Nikki Chauriye
Megan Chester
Matt Higginson
Rich Kisielowski
Alex Pacheco
Norah Sloss
Kim Ulan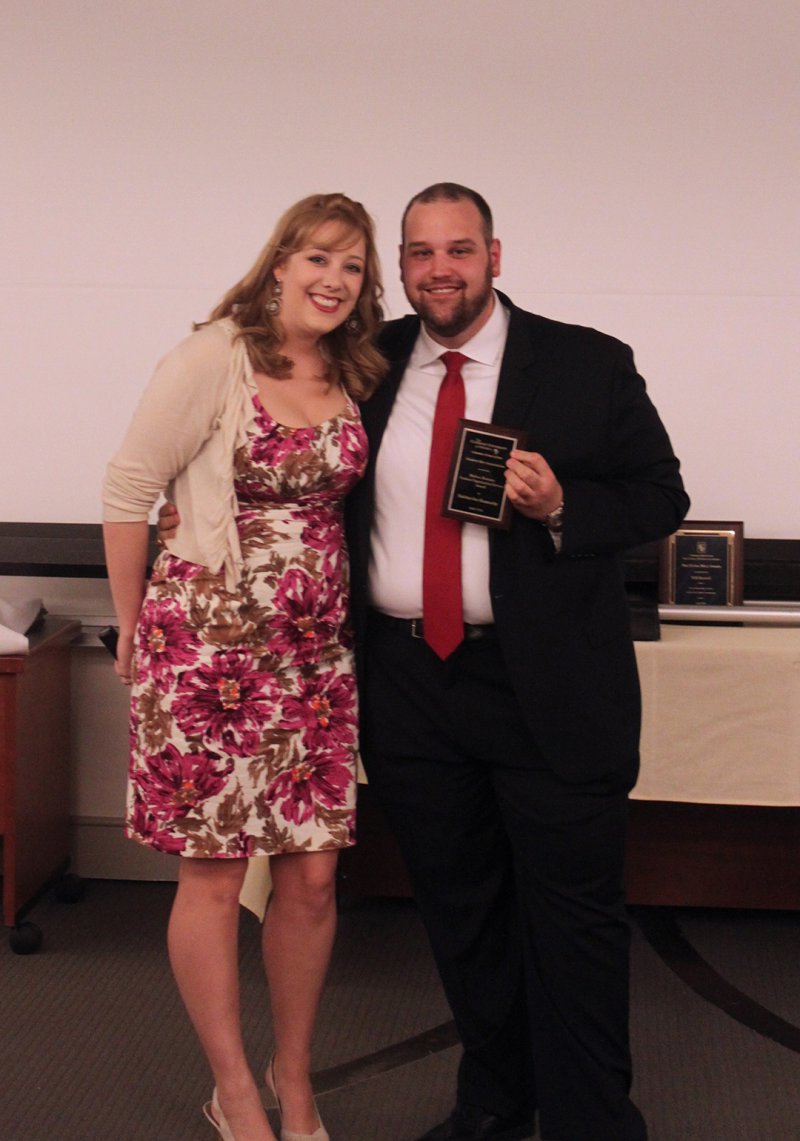 Melissa Hamann Award for Outstanding Community Service by a Student Organization Habitat for Humanity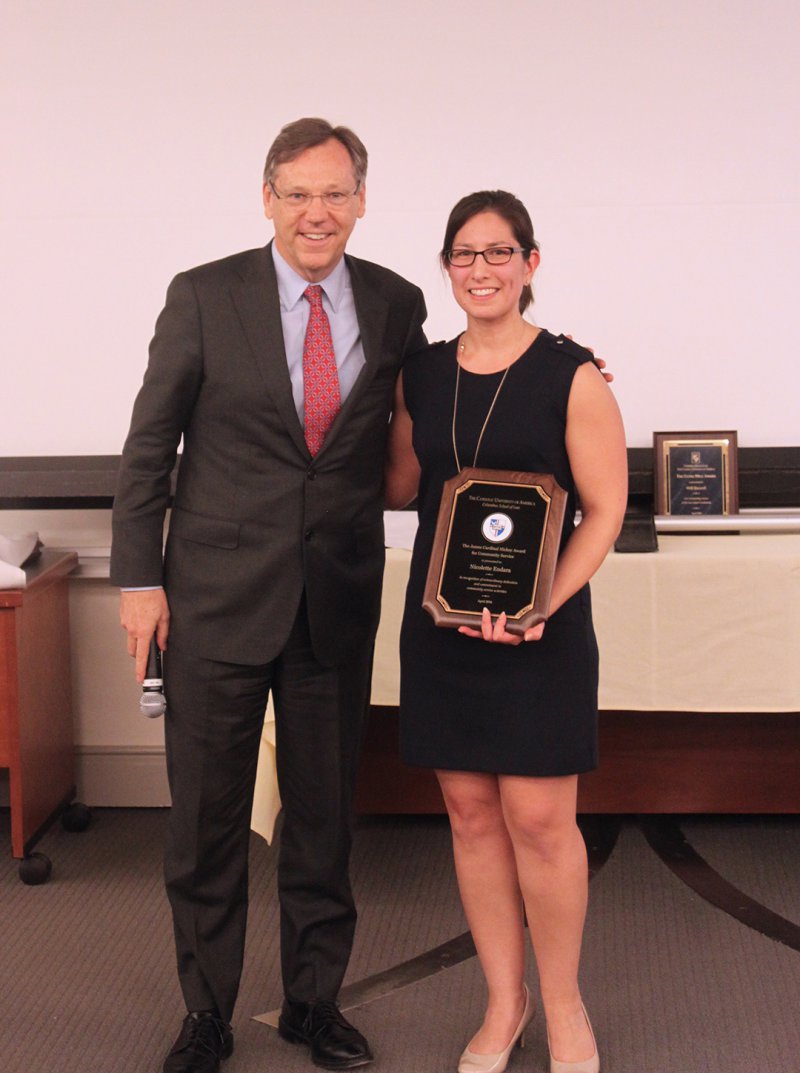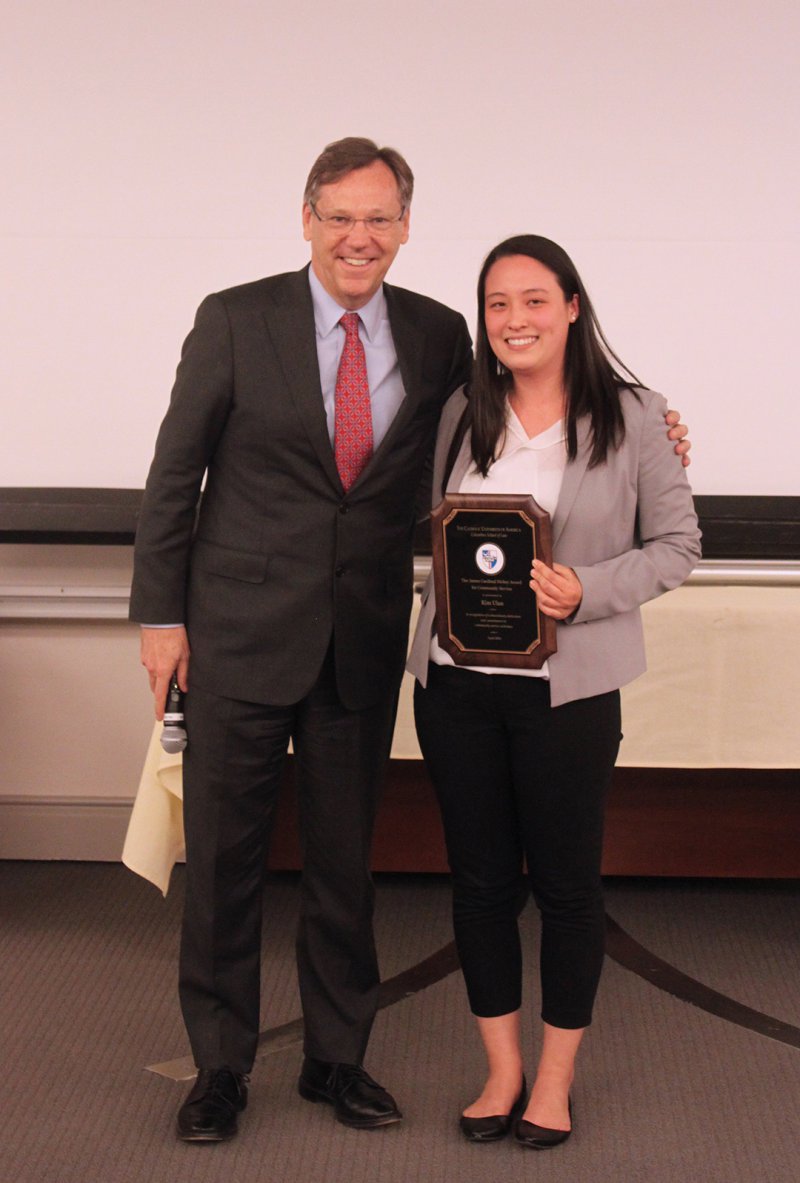 Cardinal Hickey Community Service Award
Nicolette Endara and Kim Ulan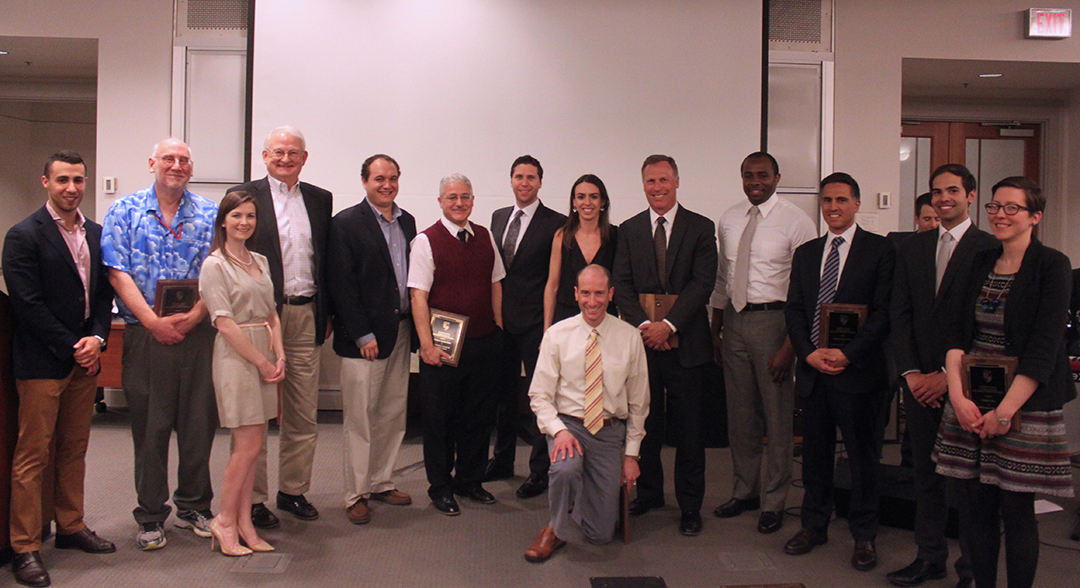 Faculty and Staff Awards
Professor Antonio Perez - Outstanding Professor of First-Year Classes Professor Roger Hartley - Most Supportive Professor Professor Dan Zachem - Outstanding Evening Professor Professor John Sharifi - Outstanding Adjunct Professor Rachel Porter - Staff Member of the Year Stuart Schept - Administrator of the Year Professor Geoff Watson - Professor of the Year