April 07, 2016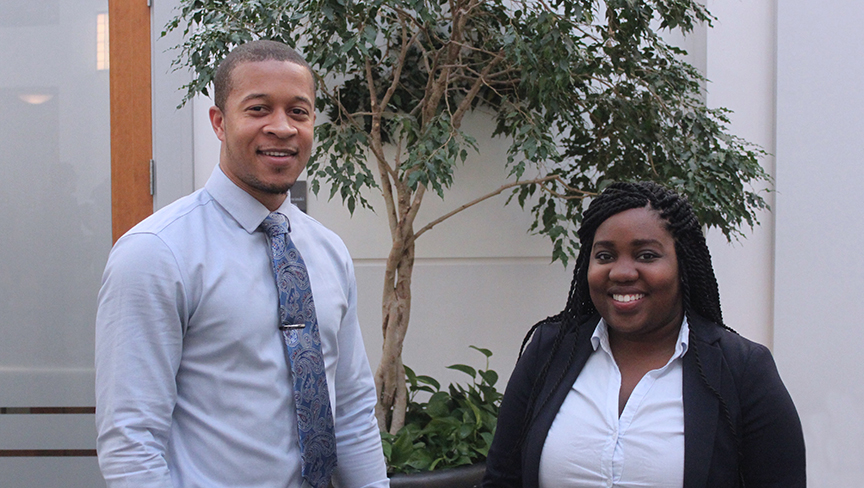 CUA Law students, Junou Odige (2L) and Anthony Hood (2L) were awarded the 2016 Peggy Browning Summer Fellowship. The program provides stipends to law students who dedicate their summer to advancing the cause of workers' rights by working for labor unions, worker centers, labor-related not-for-profit organizations, union-side law firms and other nonprofit organizations. It is a ten-week summer fellowship available to 1st and 2nd year law students intended to encourage them to consider labor law as a viable career choice.
Odige will be working at the Service Employees International Union (SEIU) and Hood will be at the American Federation of Government Employees (AFGE). The fellows gain practical skills, while the mentor organizations and their clients benefit from the services provided.

Both Odige and Hood noted how appreciative they are for the mentorship and guidance of CUA Law Professor Roger Hartley.
"I'm very excited about the fellowship. After taking Professor Hartley's Labor and Employment course I gained a real appreciation for labor and employment rights," Odige said.
"Professor Hartley spearheaded my interest in labor law. He told me about the Peggy Browning Fellowship Program and he sent me to the National Law Students Workers' Rights Conference in Maryland last year," Hood said.
Odige and Hood each plan to pursue a career in labor and employment law after graduation.