April 08, 2016

(From L to R: Daniel F. Attridge, Andrew Miller, Tamara Guillen, Raymond C. O'Brien, Sylvia Cruz, and John Vivian)

Rev. Raymond C. O'Brien Delivers 2016 Mirror of Justice Lecture
On the evening of April 6, CUA Law Professor Rev. Raymond C. O'Brien delivered the 2016 Mirror of Justice Lecture titled, "Integrating Faith and Profession."
The audience was welcomed with opening remarks from CUA Law Dean and Knights of Columbus Professor of Law, Daniel F. Attridge. "This year our lecture will be given by Father O'Brien, whose dedication to teaching and scholarship is nothing short of legendary in this building," Dean Attridge said.
President of the Saint John Paul II Guild of Catholic Lawyers, John Vivian (2L) also offered remarks and introduced Father O'Brien. "Father O'Brien is one of the most prominent academics in the fields of family law, elder law, and decedents' estates," Vivian said. "We are very privileged to have somebody of his notoriety on the faculty here at CUA Law."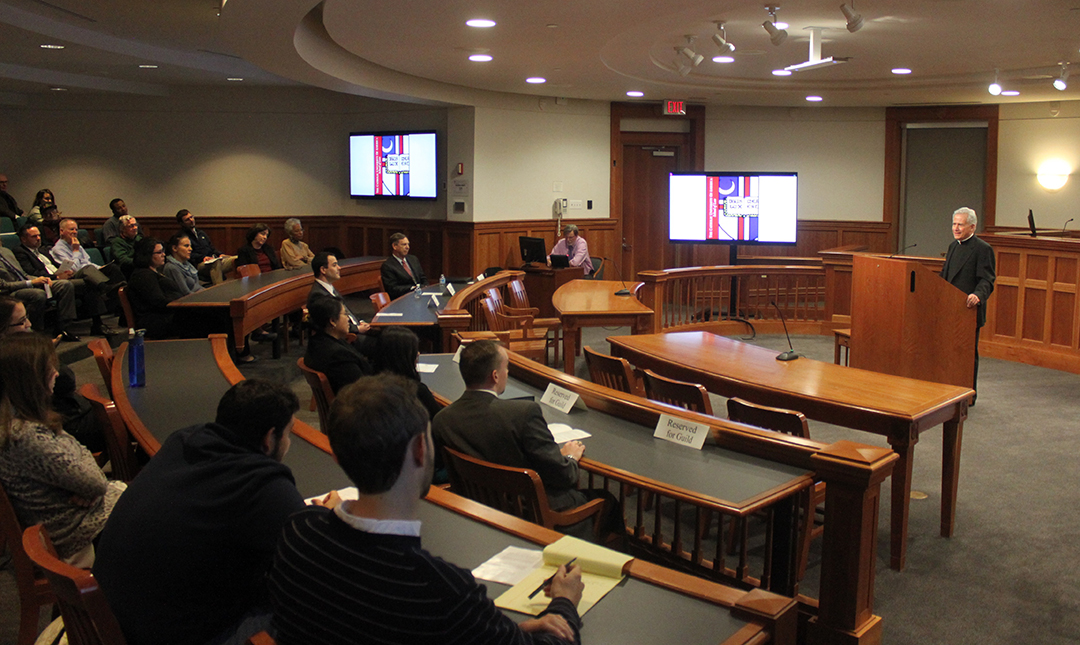 During his address, Father O'Brien spoke about how faith has provided him with meaning, answers, and served a guiding hand throughout challenging times in his life.
"I believe that Christ did live, Christ did die, Christ rose again, and Christ will come again," O'Brien said. "I also believe that Christ walks with me every single day, and I am never alone. This has sustained me through a lot of grief and anger."
Father O'Brien discussed his experience with the outbreak of the AIDS epidemic in the late 1970s and early 1980s. "I watched Cardinals from Africa sit in front of me and sob because entire villages were being wiped out, but they didn't cry anymore than I did," he said.
Father O'Brien recalled being inspired by Mother Teresa to visit the AIDS floor at George Washington University Hospital, where he would provide counsel and legal assistance to AIDS patients. He later published many books chapters on family law as it relates to AIDS, as well as numerous law review articles, and spoke at the Fourth International Conference on AIDS.

"I would have 34 clients by the time it was all over," Father O'Brien recalls. I did wills. I did applications to Social Security. I talked about Medicaid. I fought with insurance companies and I would call prestigious people like Dan Attridge and I would say 'You have to help me because the insurance company won't pay and Kirkland & Ellis LLP, would step up to the plate and help me get that money for that person."
As Father O'Brien grappled with difficult situations in his life and career, he continued to be a person of faith. "I got to be a man of prayer, I got to be a man of service, I got to be man of fidelity, and I got to be man of the people," he explained.
Father O'Brien ended his speech by telling the audience that their professions will be enhanced if they are a person of faith. The surprises and difficulties in life will never be dealt with alone if one has faith. "It will give you the ability to see things and make a difference in your life and the lives of others, " he concluded.
Founded in 1989 by the Saint John Paul II Guild of Catholic Lawyers, a student organization of Catholic University's Columbus School of Law, the Mirror of Justice Scholars Award recognizes law school faculty members whose commitment to the teaching of the law and whose scholarship advances our insights towards achieving justice through law in contemporary society.
The award and lecture are founded on the consciousness of the demands of justice that arise from our professional responsibility as students of law. The Mirror of Justice Award and Lecture are dedicated to the ideals of charity and wisdom that are summed up in the titled of the Guild's Patroness: Mary, Mother of Justice.

Click here to view the 2016 Mirror of Justice Lecture.