April 05, 2016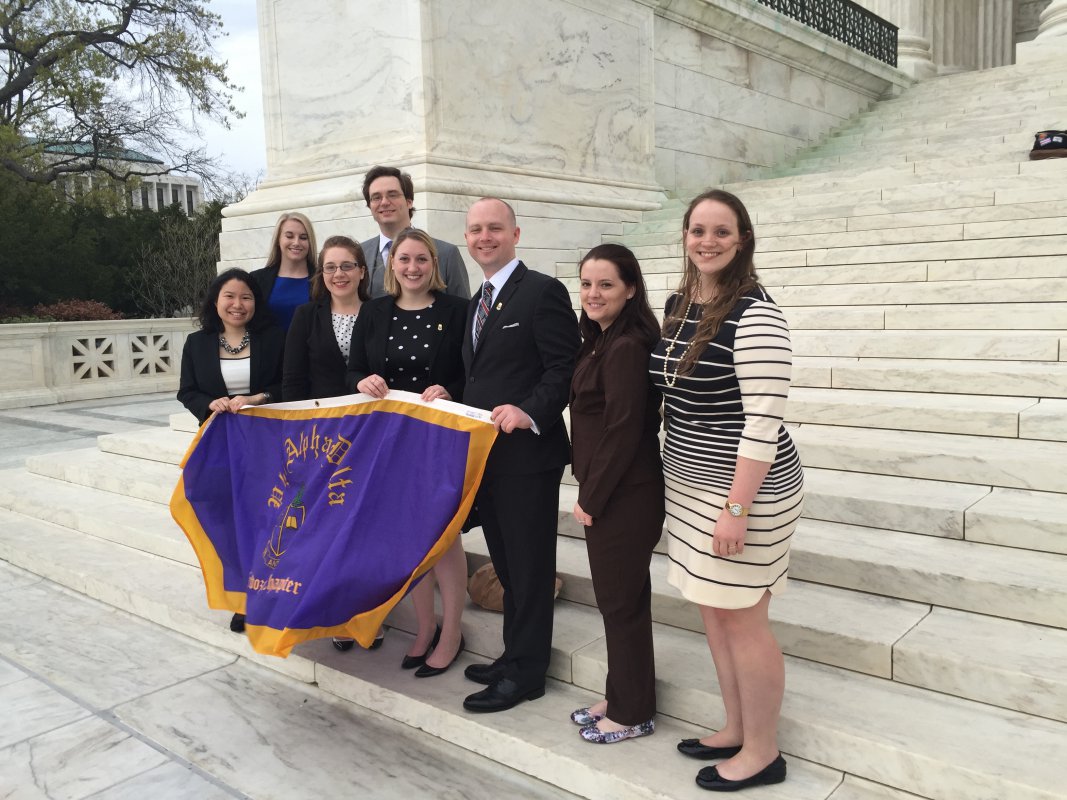 CUA Law's Benjamin Nathan Cardozo Chapter of Phi Alpha Delta Law Fraternity, International (PAD) participated in a district-wide initiation ceremony in the Upper Great Hall of the Supreme Court of the United States on Friday, April 1, 2016. The chapter was represented by Justice Zachary Bennett '18, Vice Justice Daniel Boatright '17, Clerk Gillian Tishuk '17, Marshal Jocelynn Moore '17, and Faculty Advisor CUA Law Professor A.G. Harmon. The chapter's new initiates were Sydny Bryan '18, Debbie Chu '17, Elizabeth Ross '18, Ileana Russo '17, and Victoria Verfuss '18.
The class of approximately 100 inductees also included Veterans Law Judge Bradley Hennings of the Department of Veterans Affairs, Board of Veterans' Appeals, who was inducted into the Robert E. Redding Alumni Chapter of the National Capitol Area. Other chapters in attendance included the William Howard Taft Chapter of the Georgetown University Law Center; the John Jay Chapter of the George Washington University Law School; the George Mason Chapter of George Mason University School of Law; the Clarence Darrow Chapter of the University of Maryland, Francis King Carey School of Law; the Louis Dembitz Brandeis Chapter of the American University, Washington College of Law; the John Mercer Langston Chapter of Howard University School of Law; the J. Harry LaBrum Chapter of the University of Baltimore School of Law; the Jean Camper Cahn Chapter of the University of the District of Columbia David A. Clarke School of Law; and the George Wythe Chapter of William and Mary Law School.
The event was sponsored by Phi Alpha Delta sister and U.S. Supreme Court Associate Justice Elena Kagan. The initiation ritual was followed by a reception at 201 Bar hosted by Taft Chapter.
Founded in 1902 and comprising more than 600 pre-law, law school, and alumni chapters worldwide, Phi Alpha Delta is the oldest and largest professional law fraternity in the United States. Prominent PAD members have included U.S. Presidents, Supreme Court Justices, governors, and members of Congress. PAD's District XXIII, which includes the Washington, DC, Maryland, and northern Virginia region, is one of the fraternity's largest and most active districts.