April 05, 2016

(From L to R Kevin Link (co-coach), Chris Geissler, Andriana VanderGriend, Will Lane, and Dan O'Connell (chancellor))
A vibrant and well-prepared Securities Law Program National Moot Court team triumphed over 22 other law school teams to rise to the final rounds, along with seven other teams, this past weekend at the Forty-First Annual Irving R. Kaufman Memorial Securities Law Moot Court Competition held in New York City.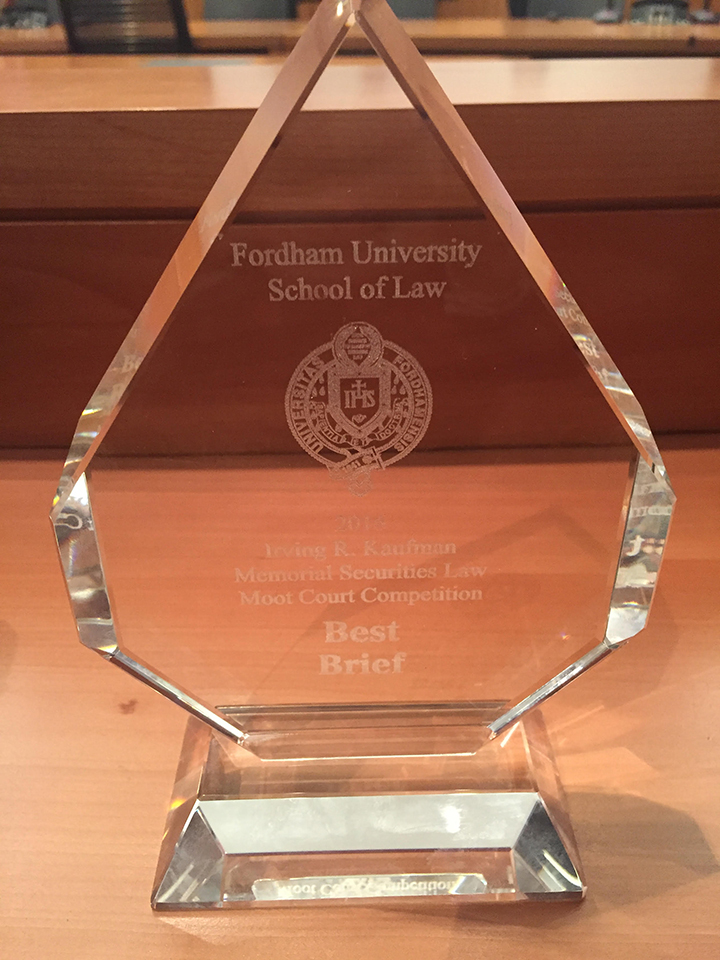 Not only did the team make the final rounds, but they brought back to CUA Law a Best Brief trophy, the third time CUA Law won this particular award. The team was comprised of Chris Geissler (3L), Andriana VanderGriend (3L), and Will Lane (2L). Under the guidance of co-coaches Kevin Link '12 (a former two-time team member), Securities Law Program Director David Lipton, and Securities Law Program Moot Court Chancellor Dan O'Connell (3L) (also a former team member), the team spent the better part of the spring semester writing the winning brief and practicing for the competition.
Many alumni and non-CUA trained team boosters joined the co-coaches in judging a never ending series of practice moots. Additional moots were also organized for the team by members of the firm of Dechert LLP, Professor George Borden of the firm of Williams and Connelly LLP, and lawyers from the Division of Enforcement at FINRA (organized by co-coach Kevin Link).
Professor Lipton was delighted with the team's success but was most impressed, "just observing three, unrelated law students, pull together into an accomplished, polite and effective team of comrades." Lipton expressed his deep appreciation to the team, the coaches, the chancellor, and all of the Law School's alumni and boosters who helped prepare this year's team.